The Best Leggings With Pockets That Will Hold All Your Stuff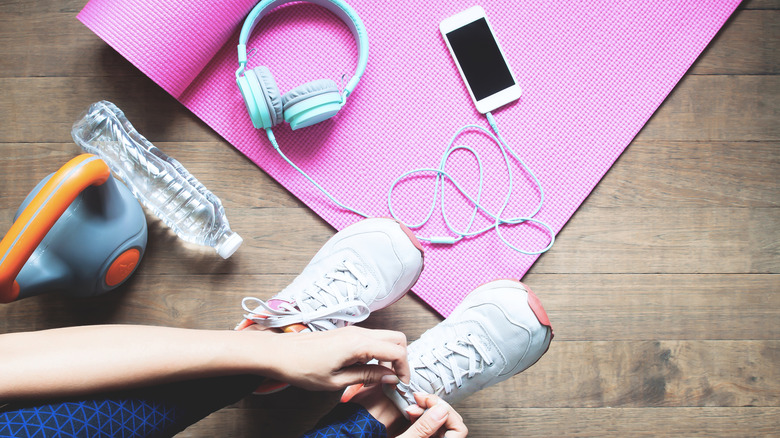 Shutterstock
We may receive a commission on purchases made from links.
It seems that often women's clothing lacks pockets, which makes it exciting when something comes with them. Chances are, you've probably heard somebody reply, "Thanks, It has pockets!" when you've complimented a dress or other outfit. You've also probably heard that leggings are life (at least for some people). If you're like many people, you probably have quite a bit of stuff you like to carry each day, like your phone, money or a credit card, and maybe some lip balm or hand sanitizer. Unfortunately, when it comes to leggings, often, you don't get the benefit of pockets that other outfits provide, which can leave you wondering how to carry all the things you need during a typical day. 
If leggings are life for you, there is some good news if you'd also enjoy having a few pairs that also have pockets. Women's Health recently reported that some of these incredibly versatile pants do come with pockets. However, Marie Claire pointed out that pockets on leggings can't be hideous or bulky to work well with the sleek bottoms. It seems the best leggings styles with pockets build them into the side seam of the pants, either mid-thigh or slightly higher by the hip. A few also use the back of the waistband as a location to stash your stuff during a long run or walk.
Scroll down to see some of the best pocket leggings athleisurewear offers.
Here's what to look for in pocket leggings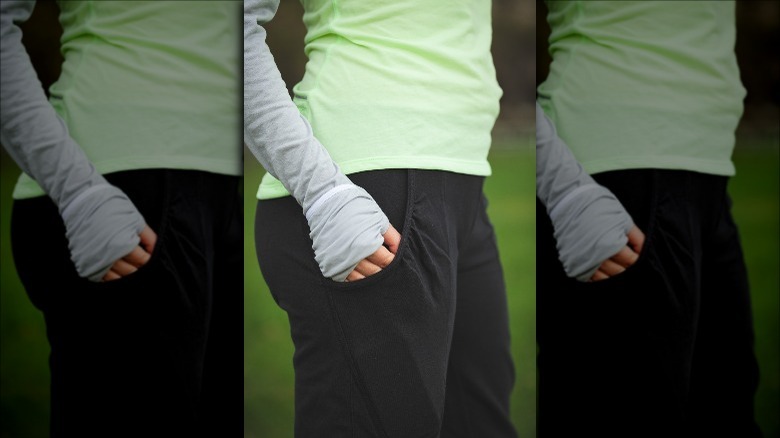 Shutterstock
Leggings that incorporate pockets into the side seams typically have space for your phone, keys, credit card, ID, and maybe cash. If you want the best leggings for holding lots of stuff, Woman's Day declared Fabletics Trinity Mid-Rise Pocket 7/8 ($79.95 and up to size 4X) the best because the pants have a smaller pocket inside a larger one for organization purposes. Meanwhile, Felina's High Waist Pocket leggings ($29.95) earned high marks from Marie Claire for being budget-friendly with a simple stylie that makes them look high-end.
If you're looking for leggings with large pockets, then Woman's Day suggested Move With You High-Waist Yoga pants (starting at $15.99) will work perfectly, especially with pockets shifted toward the front of the leggings. If you're looking for hiking wear, ODODOS High-Waisted Capri Leggings (starting at $21.98) have zippers on the pockets to help keep your stuff secure as you navigate the trails. Lululemon's Break a Trail Super High-Rise Tight ($98) also fit the bill, according to Marie Claire.
Finally, if you want to wear leggings that enhance your backside while still allowing you to stash your stuff in a pocket, Fittoo Women's Scrunch Pants on Amazon do just that, starting at $13.29. They also come in a wide array of colors and patterns.
Of course, if none of these options are what you're looking for, you can always go with a brand you trust in a fabric you love and choose a version with pockets.