How To Style A Mini-Skirt To Create A More Trendy Look For 2021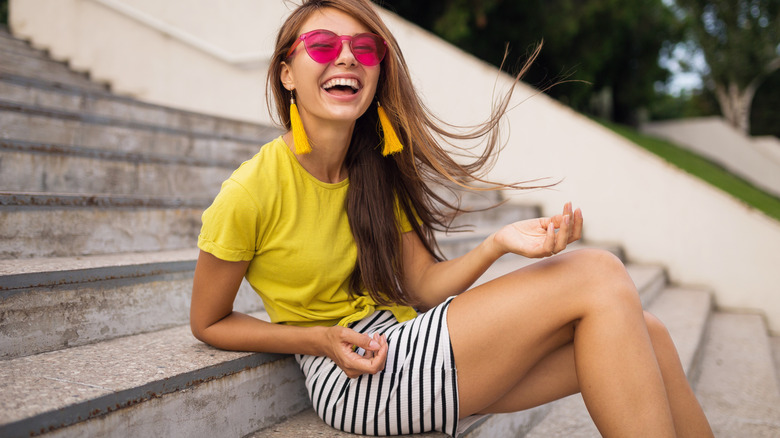 Shutterstock
Mini-skirts may recall memories of your past, but it appears they are making a comeback in a big, gam-exposing way. Still, many of us have qualms with this summer staple. Is it age-appropriate? Is it possible to tie my shoelace while wearing one without becoming a flasher? Does a mini-skirt have a place with my personal style? Um, yes, yes, and double yes — if you follow our tips on how to make this article of clothing the trendiest piece in your closet.
It is truly amazing how the mini-skirt can float through the decades and find a way to become the trend of the moment. And that's because there are a bunch of different ways to style it — and it all comes down to your personal preference. Or hey, maybe you even want to try out a brand-new look with your brand-new mini-skirt! Who would have thought such a little amount of fabric could be so versatile?
Check out just how to style a mini-skirt below.
We are here for matchy-matchy — but also all of these other ideas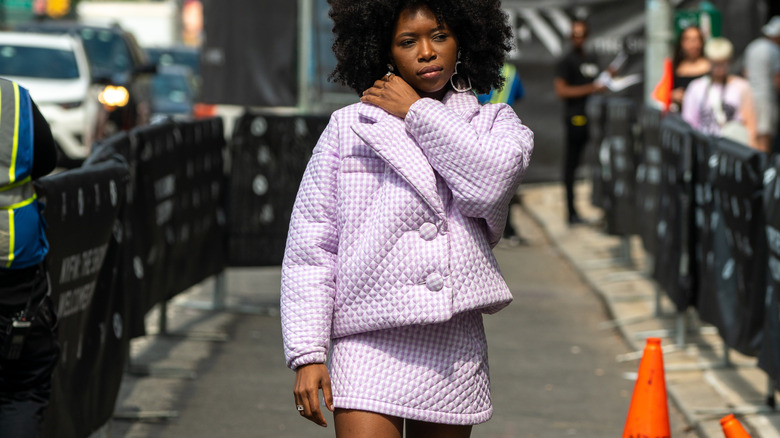 David Dee Delgado/Getty Images
First off, just because it's mini, doesn't mean it has to be tight as well. Find a mini-skirt that has a bit of flare at the ends and pair it with a chunky sweater, sheer tights, and ankle boots for a more balanced, dinner-with-the-in-laws look, suggests Fashion Gum. If you want to make your mini a little more understated but still show off your legs, then try making the other articles of your outfit the star of the show — a mini-skirt can be the perfect supporting actor to some flashy sandals and a boxy oversized denim jacket (via InStyle).
If "balanced" and "understated" are not in your wardrobe's vocabulary, then go for the very now look of a mini-skirt (and we do mean mini) with an eye-popping pattern and a pair of memorable heels. Or, if you're wanting to make more of a lasting impression with less leg, consider the color (or a crop top!) In 2021 especially, mini-skirts are being worn as a matching set. Think school uniform — minus the boring math lessons. To elevate your look, try a mini-skirt and matching top, per Who What Wear.
And if you want to make your mini-skirt work for all seasons, pick a fabric like corduroy that makes you think of crisp fall leaves and a steamy mug of cocoa. Luckily, as E! points out, corduroy looks good brushing next to both exposed skin and thick wool tights.