The Best Sunscreens For Dark Skin In 2021
Shutterstock
We may receive a commission on purchases made from links.
As we enjoy the last month of summer, lounging by the pool and catching some waves at the beach sound like an amazing way to enjoy the sunshine before the days get shorter and colder. And with increased sun exposure, it's more important now than ever to protect your skin by generously applying sunscreen. If you are a person of color with a tan-to-dark skin tone, trying to find a sunscreen that won't leave a white cast can feel like looking for a needle in a haystack. Luckily, several sunscreen brands are starting to cater to melanated skin. There are plenty of options available now that will protect darker skin and not look ashy.
Keep reading our guide below for a list of all the sunscreens that are melanin-friendly. To begin, the easiest way to prevent a white cast is to go for tinted sunscreen. Avya Skincare Tinted Sunscreen is a mineral-based moisturizer with Ayurvedic skincare ingredients like green chai and oat extract to protect the skin from blue light and UV exposure, as well as inflammation.
Hyaluronic acid and plant-based squalane in the sunscreen hydrate the skin, while the mineral pigments in the sunscreen help the formula blend into your skin effortlessly. Avya Skincare is a South Asian-American-owned brand that centers their skincare around tan complexions.
Sunscreens that won't leave a white cast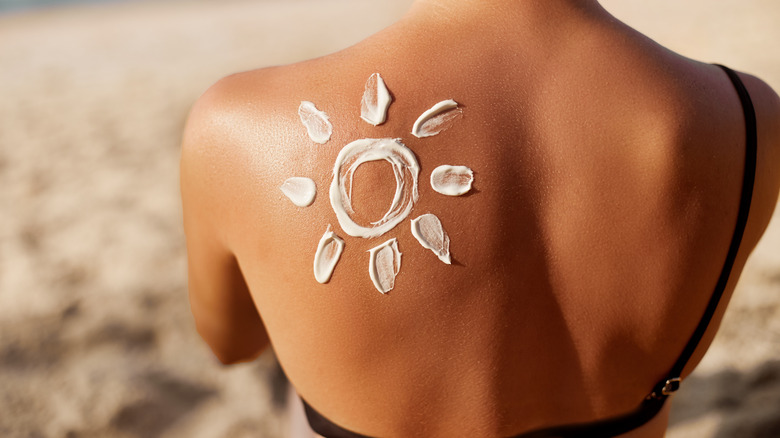 Shutterstock
Another mineral-based tinted SPF to check out is Hueguard sunscreen by Live Tinted, owned by Indian-American beauty guru Deepica Mutyala (per InStyle). Hueguard is a mineral SPF that also offers blue light protection and comes in a marigold tint, which blends into the skin without leaving a white cast. CNET recommended mineral-based Unsun Mineral Tinted Sunscreen. The sunscreen created by Black-owned brand, Unsun, has moisturizing glycerin and shea butter, is reef-safe, and can even double as a primer. The Farmacy Green Defense Daily Mineral Sunscreen is a rich moisturizing formula with SPF 30 that contains zinc oxide and blends into the skin seamlessly, per Allure. The Farmacy sunscreen also contains moringa water and beta carotene, which protect the skin against pollution and blue light exposure (via Sephora). 
If you have acne-prone skin or tend to break out from sunscreen, Healthline recommends the EltaMD UV Clear Broad-Spectrum SPF 46 Facial Sunscreen. That's because the formula contains lactic acid, which acts as a gentle exfoliator, while simultaneously hydrating the skin and controlling excess sebum. If you want a skin tint that doubles as an extra layer of sun protection, Allure suggests the Ilia Super Serum Skin Tint SPF 40. 
If you want a multi-tasking sunscreen that works on your face and body, Shiseido Ultimate Sun Protector Lotion is highly recommended by Healthline. The long-lasting formula contains heat- and water-activated ingredients that provide extra protection when you are going for a swim in the pool.
Affordable sunscreens that are dark-skin friendly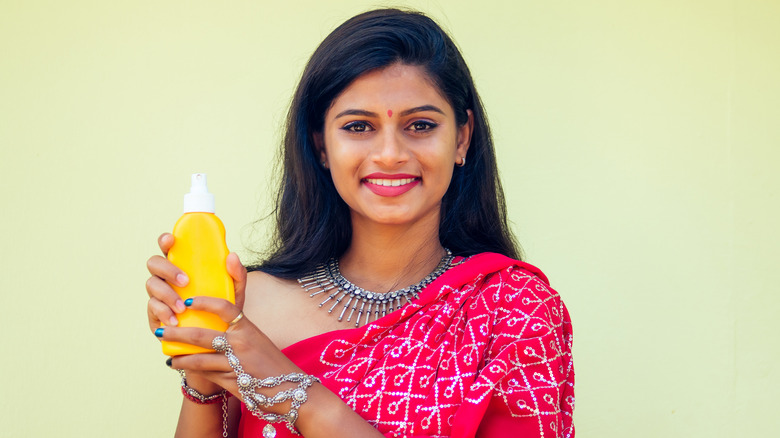 Shutterstock
Alba Botanica Sensitive Sheer Shield Sunscreen is a great coral reef-safe option for sensitive skin, and the best part is that it's just under $13 at Target (via Healthline). Another popular sunscreen available at Target is the Black-owned brand, Black Girl Sunscreen (per CNET). So you can trust that this sunscreen was made specifically with darker-skinned people in mind. 
The chemical sunscreen also contains avocado and jojoba oils to hydrate the skin. If you want a lightweight, sheer sunscreen, Mele Dew The Most Sheer Facial Moisturizer is another great option at Target that was developed by dermatologists of color (via Target and Allure). According to Allure, sunscreen also contains niacinamide and vitamin E to soothe and protect the skin from environmental factors. 
Dermatologist Michelle Henry told Allure that she recommends CeraVe Ultra-Light Moisturizing Lotion with SPF 30 to her patients. CeraVe also carries a mineral-based tinted sunscreen, CeraVe Hydrating Mineral Sunscreen with Tint, which also contains ceramides and niacinamide to replenish moisture to your skin barrier (per CNET). For those who are looking for major sun protection, without the chalky look, CNET recommends La Roche-Posay Anthelios Melt-in Milk Sunscreen, which contains SPF 100 and works on both the body and the face.