The Best Sunscreens To Use If You Have Vitiligo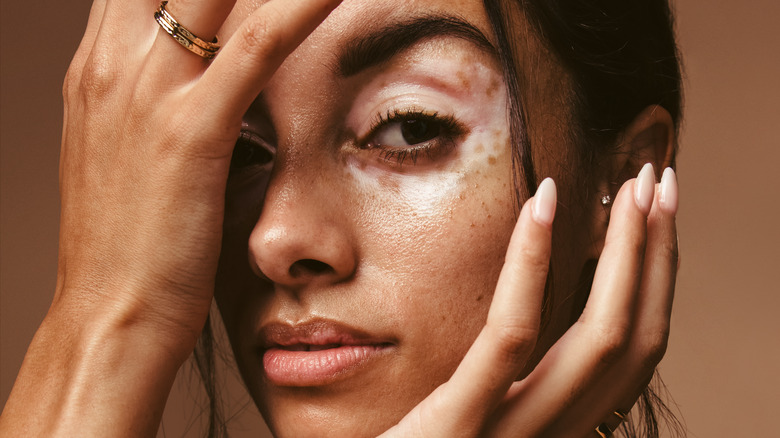 Shutterstock
We may receive a commission on purchases made from links.
The importance of sunscreen has exploded over the last few years, and more and more beauty products are including SPF in them to help keep consumers' skin protected from the sun's rays. This has helped combat existing false beliefs about sunscreen, and it's also helped people understand the difference between types of sunscreens. Specialty sunscreens, such as products specifically made for people with eczema, have also been on the up lately. All of this has helped cultivate a culture in which skincare is not only more knowledgeable, but also more accessible.
Now, products are being produced specifically for people with vitiligo, which is further helping put quality skincare in people's hands. Finding the right sunscreen can be hard when you have vitiligo, which is why this need in the market has opened up. Vitiligo causes the loss of pigment in patches on the skin, and these patches typically get bigger with age (via Mayo Clinic). Because the skin is simultaneously different colors, certain sunscreens may not work well. Now, though, sunscreens are more accessible than ever to a wider audience.
The vitiligo community weighed in on what sunscreens are the best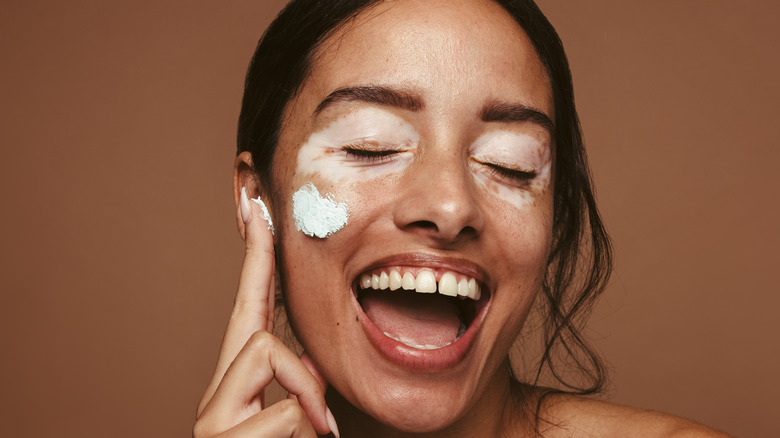 Shutterstock
If you have vitiligo, finding proper skincare products can be challenging. This is why websites such as Living Dappled have reached out to the vitiligo community to see which sunscreens they find to be the best for their skin. After all, getting this advice directly from the community it impacts is always best.
According to Living Dappled, some of the best sunscreens to use include EltaMD's UV Elements Tinted Moisturizer with Broad-SpectrumSPF 44, Banana Boat's Ultra Sport Sunscreen Lotion SPF 50, Supergoop!'s Sun-Defying Sunscreen Oil SPF 50, and CeraVe's 100% Mineral Sunscreen SPF 50 for Body with Zinc Oxide. All of these products offer coverage, protection, and even some vitamins to keep your skin glowing.
In addition to these, a widely-recommended sunscreen option is Neutrogena's Ultra Sheer Dry-Touch Water Resistant and Non-Greasy Sunscreen Lotion with Broad Spectrum SPF 100+ (via Simply Sun Safe). This product is known, according to Simply Sun Safe, as the best product to use if you have vitiligo because it blocks both UVB and UVA rays, both of which harm your skin. The high SPF also means that all of the rays are blocked rather than only some.
No matter which of these products you choose, your skin will be thankful as it will be able to breathe, glow, and, honestly, thrive while protected from harmful rays.