Why This Royal Expert Is Critical Of Meghan Markle's Latest Project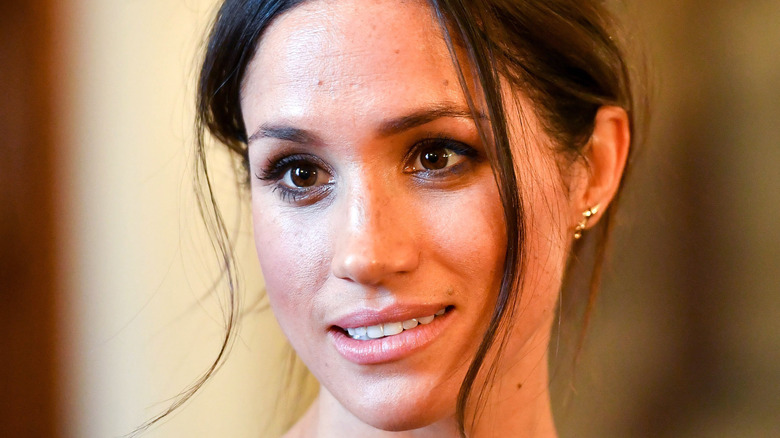 Wpa Pool/Getty Images
Meghan Markle's latest project is creating a buzz. The Duchess of Sussex announced on her 40th birthday that she was starting a new initiative to help women get back into the workplace following the COVID-19 pandemic. Meghan shared the news in a video that was released in August 2021 on the Archewell website. The goal of the initiative is to have 40 influential celebrities, including actors, athletes, and activists to donate 40 minutes of their time to support women who are hoping to return to work. Some of the biggest names that Meghan is teaming up with include actress Melissa McCarthy, singer Adele, poet Amanda Gorman, and activist Gloria Steinem (via NBC). "With this time, I hope they each help someone advance a professional life on her own terms, and, I hope that they inspire countless others to give 40 minutes of their time as well," Meghan wrote on her website.
Of course, Meghan and her husband, Prince Harry, have a long history of charitable donations, as well as calling others to get involved and give back. For their son Archie's second birthday, the couple asked world leaders to push for COVID-19 vaccination equity (via CNN), and for the birth of their daughter, Lilibet Diana, they asked for donations to help women and girls instead of gifts, per People.
However, one royal expert isn't impressed with Meghan's 40x40 plan, and is calling out the duchess in the media.
This expert said Meghan should focus on mending the royal rift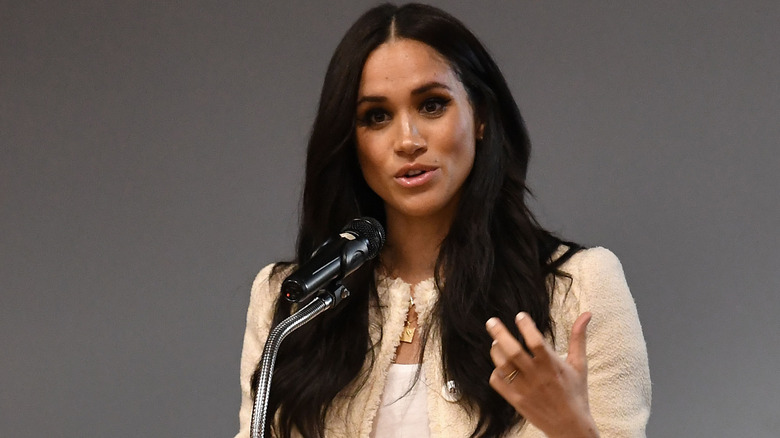 Wpa Pool/Getty Images
The Daily Mail reported that royal expert Duncan Larcombe is criticizing Meghan Markle's new 40x40 plan to help unemployed women return to work following the global pandemic. Larcombe believes that it's a bit crass for the Duchess of Sussex to be pushing young mothers to return to the workforce from inside her lavish mansion. "I don't want to see her lecturing young mums having to go back to work from inside her $11 million LA mansion ... This initiative is nonsense, she should be spending her time trying to build bridges with the very people that she and Harry have betrayed," Larcombe stated, hinting that Meghan and her husband, Prince Harry, should be looking to repair the rift in their families. "She has left behind her a trail of devastation, on the Markle side, and now on the Windsor side." 
Larcombe also admitted that Harry's upcoming memoir is another issue that is troubling the royal family "like a sword of Damocles hanging over the royals now." The royal expert claimed that the book may also interfere with Queen Elizabeth's platinum jubilee next year. "We mentioned the queen's platinum jubilee and we don't know if it is going to be timed to come out on the day that the nation is supposed to be paying tribute to the queen," Larcombe added.
While this royal expert didn't think much of Meghan's latest project to give back, others apparently have a different opinion, as women are joining the initiative in hopes of helping in any way that they can. And as of publication, it is rumored that Kate Middleton — who is reportedly working with Meghan to try and repair the rift between their families — may be joining her sister-in-law for the campaign to give back (via Us Weekly).