How To Pull Off An Androgynous Look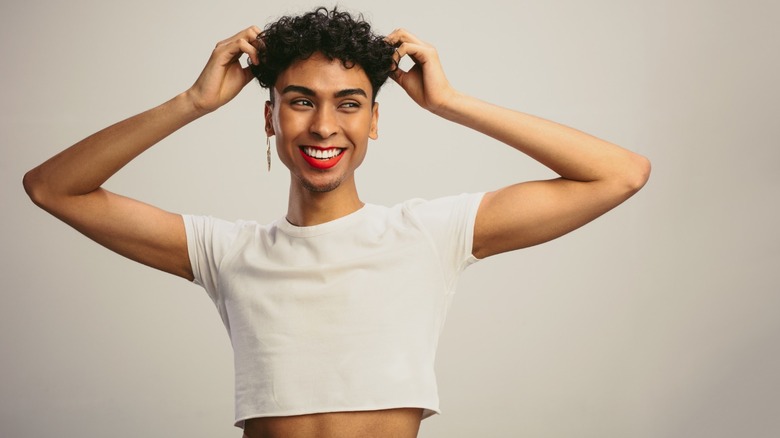 Shutterstock
We may receive a commission on purchases made from links.
Gone are the days of people wearing clothes that only align with society's traditional views of gender and sex. And if you know a thing or two about fashion, then you know that the "androgynous look" is super en vogue in 2021, per Shift London. Still, the concept of blurring male and female fashion and beauty trends is not a new one.
In fact, androgynous attire has been a thing for a while (we're talking as early as the 17th Century), according to Fibre2Fashion. As the gender roles of women changed throughout history, so did the notion that they should only wear skirts or dresses. And in more recent decades, traditional male looks have also been challenged, as seen when Kurt Cobain rocked dresses in the '90s, or Placebo's lead singer, Brian Molko, wears whatever the heck he wants, including makeup, as detailed by Dazed. We also can't forget Harry Styles' December 2020 Vogue cover, which made a huge splash. 
With gender fluidity becoming more of the norm in American culture, it appears that mainstream apparel and beauty standards have finally caught up with the high-fashion and music industries at large (even though men have worn things like makeup throughout history, per Byrdie). So if you're interested in switching up your style to a more androgynous look, then keep reading for some helpful tips on pulling it off.
These clothing items are a must for everyone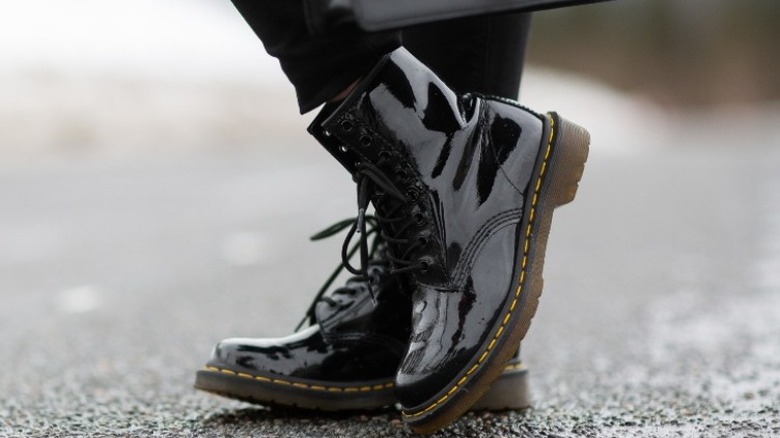 Shutterstock
Let us start by saying that we are a huge proponent of anyone wearing anything they feel comfortable in, but if you're unsure about where to start to look more androgynous, or want to push your limits a little bit at a time, then you can begin with these popular gender-neutral items. First on our list is the dress shirt. We know what you're thinking: "How very corporate America," right? However, there is so much anyone can do with this traditional menswear piece. You can rock it with a skirt, jeans, under overalls, or with a suit. You can also add a tie or bowtie if you feel like it (think: Princess Diana, per Woman and Home. You can pick up the White Dress Shirt from Kirrin Finch, whose mission is to "challenge the conventions of how people are expected to dress by giving them confidence to be their true selves," per their website's homepage. 
Next up is the classic punk boot. We all know that shoes can make or break an outfit, and this statement is no less true if you're aiming for an androgynous look. Still, it can be hard to figure out exactly what to pair your gender-fluid ensemble with. Enter: the punk boot. They are one of the most uni-sex shoe styles out there and also super cool and edgy. Dr. Martens 1460 Combat Boots are a great place to start.  
Try these makeup looks to add some androgyny to your appearance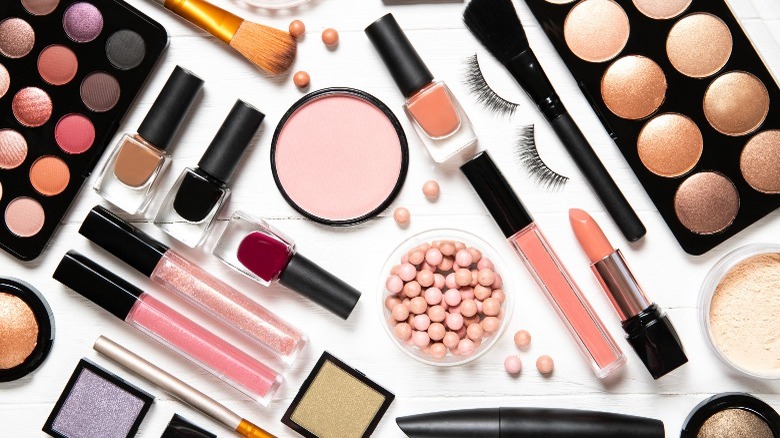 Shutterstock
Just as clothing can play an important role in helping someone express their truest self, so too, can makeup. Makeup is for everyone and it can certainly help you achieve the androgynous look of your dreams. According to makeup artist Lucy Burt, one should definitely place emphasis on their eyebrows, per Into The Gloss. Regardless of how you identify, everyone wants a strong eyebrow game, and since there is little structural difference between men's and women's eyebrows, they can really help bring that androgynous look into play. Try Glossier's Boy Brow to define your shape and add some fullness.
Another thing you'll want to do for a more androgynous look is highlight certain parts of your face. If you're aiming for a more femme look, focus on defining the cheekbones and neck; If you want a more masculine look, turn your attention towards your jawline, as performer and model Ruby Rose suggested to Byrdie. Get the look with the Sephora Collection Contour Face Palette. 
Lastly, you will want to keep your complexion fairly neutral. Rose suggests "maybe not a full face of foundation and bright makeup, but using powders to create a natural matte tone." She recommends using more nude tones on lips and eyes as well. Go ahead and pick up the FENTY BEAUTY by Rihanna Snap Shadows Mix & Match Eyeshadow Palette and the Natasha Denona I Need a Nude Lipstick to help obtain a natural look.