Will Smith Holds The Guinness World Record For This Surprising Feat
Jason Merritt/term/Getty Images
From an iconic '90s rapper to one of Hollywood's most prolific actors, Will Smith's impressive career has earned him fans and worldwide accolades.
The rapper-turned-actor's career launched with his debut role in the "Fresh Prince of Bel-Air." The hit series had six seasons, and last year, Smith reunited with the legendary cast to reminisce about the show and its success. Taped on the 30th anniversary of the show's original premiere, Smith shared in the special a heartfelt memory of James Avery, who played patriarch Philip Banks, aka Uncle Phil.
Following the success of the '90s sitcom, Smith's career only grew, as he mixed blockbusters like "Bad Boys" and "Independence Day," with prestige films like "Ali" and "The Pursuit of Happyness." With more than three decades in the entertainment industry, Smith continues to surprise his fans with his talent and enduring success. For instance, the Fresh Prince also holds a Guinness World Record, set in 2005 while in England.
Will Smith's world record involves the red carpet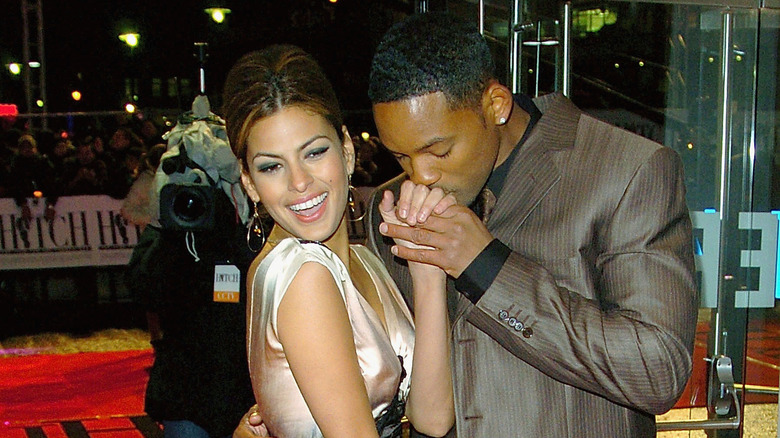 Sean Derby/Getty Images
While promoting his 2005 romantic comedy "Hitch," Will Smith attended several premieres throughout England. The actor started by attending a premiere in Manchester before dashing on a plane and flying to London, where he met with fellow co-stars Eva Mendes and Amber Valletta. After briefly stopping in London, the "Men in Black" actor at his final stop, Birmingham. By attending three movie premieres in one day, Smith set a Guinness World Record, per Digital Spy. According to the outlet, Smith was enthused about the title. "They got me in the Guinness Book of World Records," Smith said. "I like that! It's kind of cool."
Although the commute was tiresome, Smith wanted to connect with as many fans as possible. "I love being able to meet my fans," he added. "It's the reason I do what I do. The reaction from people has been great, and I'm so grateful they came out to see me in the snow" (via SIFY).