How To Replicate Lori Harvey's '90s-Inspired Makeup Look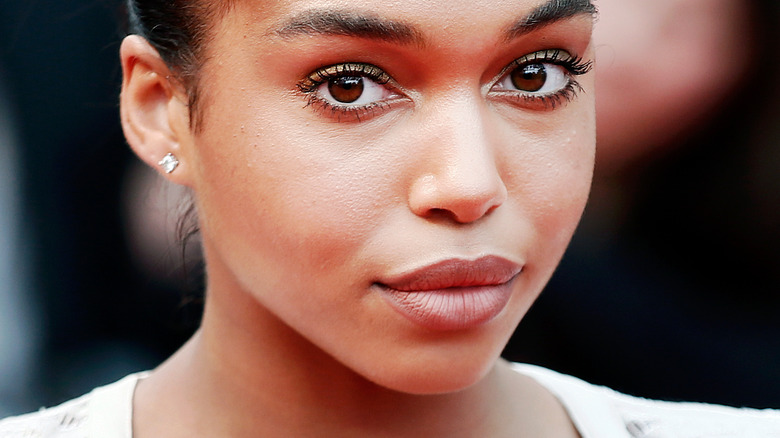 Shutterstock
Lori Harvey's 3.8 million Instagram followers are treated to the model's luxe sweatpants on a private jet aesthetic along with regular intervals of collaborations. However, her internet presence went only as far as her Instagram account (and her boyfriend Michael B. Jordan's account) would allow. That was true until a few weeks ago when she revealed her beauty routine to Vogue while casually dropping the name of her new skin care line.
Ahead of the launch of her brand "SKN by LH," the model and skin care enthusiast gave Vogue a peek into her skin routine along with a '90s inspired makeup look that also tells us more about the many women who inspire her. "I love to look at old '90s glam for inspiration when I'm doing my makeup. I just feel like that was such a timeless era ... and everything was very effortless," she told Vogue.
Lori Harvey drops a new skin care brand
"I love to be dewy and glowy and radiant," Lori Harvey Vogue, setting the tone for her "Beauty Secrets" video. But for Harvey, that begins with taking care of your skin. "Skin care is definitely one of the highest forms of self-care," she told the outlet, as she is seen using a SKN cleanser, which has helped her skin stay hydrated.
Good skin is now a mission Harvey's extended to the public after taking charge of her famous father's (Steve Harvey) and boyfriend's (via Vogue). "I've pretty much gotten all of the men in my life on a skin-care regimen, my dad included...so if you're wondering why his skin looks so good lately...it's because of me," she said. The model's brand launched yesterday with a post that asked, "Come on in ... are you ready to fall in love with your SKN?"
As for her own understanding of beauty, Harvey credited her mother's hair and makeup sessions, "I would literally sit and stare at her and the makeup artist until I learned to do it myself." In her tutorial, the model's flawless skin took in two shades of Armani's Luminous Silk foundation before she picked up a Patrick Ta liner and gloss by Pat McGrath. "She [Pat McGrath] taught me so much ... there's a lack of Black women in the beauty space and in the skin-care space, so she definitely inspired me to create my own brand."
The finished '90s-inspired look gives off pink sunset golden-hour vibes that complements Harvey's already perfect skin.