The Top 10 Shampoos For Color-Treated Hair
Shutterstock
We may receive a commission on purchases made from links.
When you've spent money having your hair colored, you want to ensure that the color stays looking its best for as long as possible. As per Women's Health, whether you've chosen a bright, bold hue like hot pink; a more natural chestnut brown; or you have gone beach blond, the fact is that your new look probably won't have come cheap. Naturally, you want to ensure that your color doesn't fade too quickly and stays looking fresh and bright.
If you want to give your color-treated hair the best chance of holding onto its color, it's essential that you opt for a color care shampoo. What makes a color care shampoo so special? According to Good Housekeeping, color protecting shampoos work in a similar way to normal shampoos — they cleanse dirt and oil from your hair — but they also "minimize the amount of dye that washes down the drain."
Good Housekeeping Institute Beauty Lab senior chemist Sabina Wizemann explains that, "Shampoos for colored hair usually have lower concentrations of cleansing surfactants. The formulas also use special conditioning agents that coat your hair's surface to prevent dye molecules from escaping."
Which are the best low-budget shampoos for colored hair?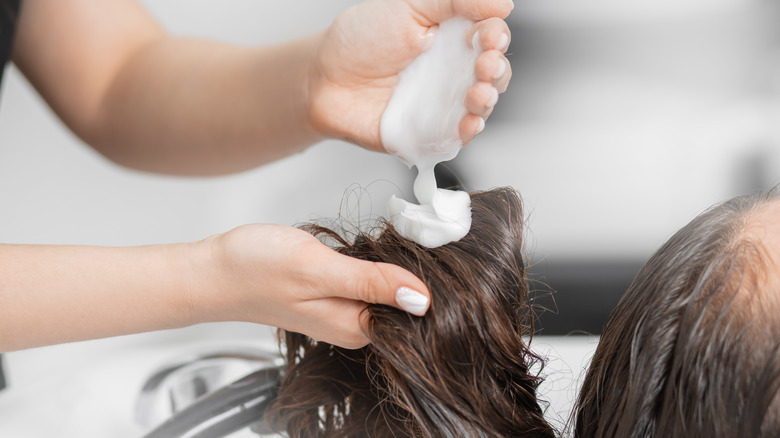 Shutterstock
As per Women's Health, OGX Fade-Defying + Orchid Oil Shampoo is a fantastic budget-friendly shampoo for color-treated hair at just $5.99 a bottle. The shampoo, which is infused with both orchid and grape seed oil, features sun filters, which are meant to protect the hair from harmful UV rays and sun damage, which can lead to faded color (via Elle). 
Cosmopolitan, meanwhile, recommends Love Beauty and Planet Murumuru Butter and Rose Blooming Color Shampoo. Formulated using vegan cleansers combined with coconut oil, this shampoo for color-treated hair is effective and affordable at just $8.99 a bottle.
According to Good Housekeeping, a fantastic budget-friendly shampoo for color-treated hair is Tresemme Keratin Smooth Color Shampoo. It has a creamy, rich formula, and is fantastic at preventing color fading, and at $4.99 a bottle, it's a bargain. Hair Food Color Protect Shampoo with White Nectarine & Pear is another sulfate-free shampoo that's ideal for colored hair that's dry or damaged. At $7.94 a bottle, it's also good value for money.
Another fantastic budget-friendly shampoo for color-treated hair is L'Oreal EverPure Sulfate Free Moisture Shampoo, which costs just $6.72. It has a sulfate-free formula and is designed to preserve hair color while also softening strands.
What are the best high-end shampoos for color treated hair?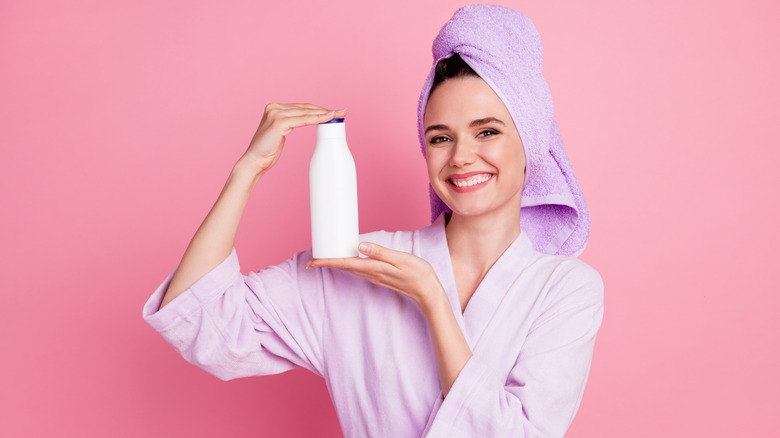 Shutterstock
As for pricier shampoos, consider Larry King Good Life Shampoo, which will cost you more than $50. As per Good Housekeeping, this bottle is like "green juice for your hair" and is designed to leave hair "feeling healthy and revitalized" from ingredients like green tea extract and Vitamin 5B. COLOR WOW Color Security Shampoo is another specially formulated shampoo minus "hair-stripping and depositing ingredients." At $23 a bottle (250 ml), it's on the more expensive side. The brand claims to work for all hair types, including color-treated, frizzy, fine, and dry or dehydrated hair.
Cosmopolitan recommends using Olaplex No.4 Bond Maintenance Shampoo for keeping color-treated hair looking its best. What makes Olaplex so special is that it's formulated to help repair hair. At $14 a bottle it's a good price for such an innovative shampoo. Good Housekeeping, meanwhile, also recommends Rene Furterer Okara Protect Color Radiance Enhancing Shampoo. This botanical-based formula, which contains soybean and witch hazel, is free from sulfates and costs $30 a bottle. Master hairstylist Daniel Raboh explains that the formula "preserves color and gently cleanses the hair, leaving it shiny and vibrant."
Lastly, Oribe Serene Scalp Anti-Dandruff Shampoo is another Cosmopolitan favorite. Usually color-treated hair can't be cleaned using anti-dandruff shampoo, but the formula for this shampoo is safe to use on dyed hair. At $45 a bottle it's not cheap, but its formula, said to relieve dryness and reduce redness, might make it worth the cost.