What Kate Beckinsale Looks Like Underneath All That Makeup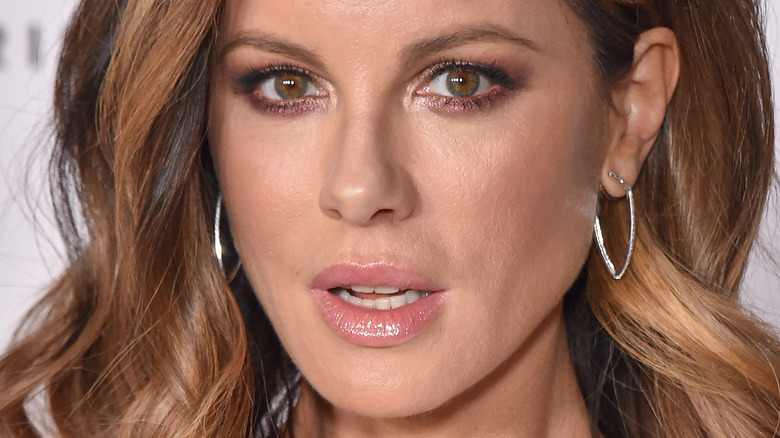 Shutterstock
It's always refreshing to see stars without a face full of makeup. Because it's proof that they are human, too! Kate Beckinsale is one actress who is rarely photographed without her hair and makeup looking perfect. Even on her Instagram, the 48-year-old often posts photos from shoots and sets, after having been in the makeup artist's chair.
But in 2019, Beckinsale shared a makeup free selfie with her 4.9 million followers (via Insider). In the shot, it appears the "Brokedown Palace" star has just taken a bath (via IMDb). She captioned the revealing share, "Mens sana in corpore sano or as we modify it in Chiswick, 'clean bum clean conscience.'"
Fans of Beckinsale's barefaced look flocked to the comments section of the post, with one writing, "Makeup modifies the ego but not the purity and simplicity of the soul of a woman who is beautiful in itself." And another follower said, "Everything perfect and without makeup. Same as 25 years old. Time has stopped for this Princess."
This is how Kate Beckinsale maintains her youthful appearance
Given her seemingly ageless appearance even without makeup, one has to wonder what Beckinsale's beauty secrets are. Well, the "Van Helsing" actress is definitely open to trying out tricks some might cringe away from, with Page Six reporting in August of 2021 that she is the spokesperson for a skincare line that uses blue scorpion venom in its age prevention products (via IMDb).
There are some things Beckinsale will not do to look young, with the star telling The Sunday Times in July of 2021 about having plastic surgery, "I haven't had any. I'm not against people having it. [But] I do get pissed off. It's sort of a given that I've had it, which I just literally haven't" (via People). She elaborated about eschewing Botox, "I'm frightened of paralyzing my face."
The star credits her genes and vampire facials, which employ one's own blood platelets placed on the skin, for her glowing complexion (via Columbia Skin Clinic).