Here's How Color Is Replacing All-White Kitchens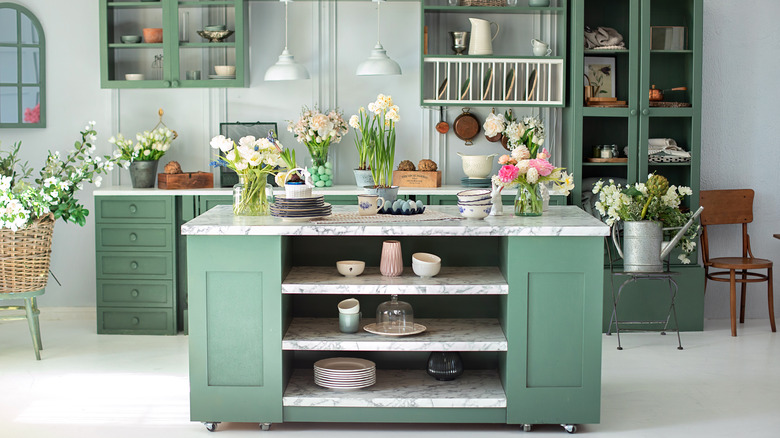 Shutterstock
All-white kitchens are classic, and these sleek, minimalist, calming spaces were the height of interior design trends for decades (via MyDomaine), but perhaps that's beginning to change.
As per Country Living, all-white kitchens will most likely never go completely out of style, but there are lots of colored kitchen designs that are just as on-trend today. When it comes to kitchen colors, it's all about natural hues and darker shades. House Beautiful explains that if you're feeling bored of your all-white kitchen, adding a splash of color is the simplest way to change up the design of the space as it requires no renovation or construction, all you need is some paint and a paintbrush.
If you get it right, it's easy to utilize color in your kitchen, it's simply a case of being mindful about how and where you use it, as well as the colors that you opt to use within the kitchen space.
How you can incorporate color easily into your kitchen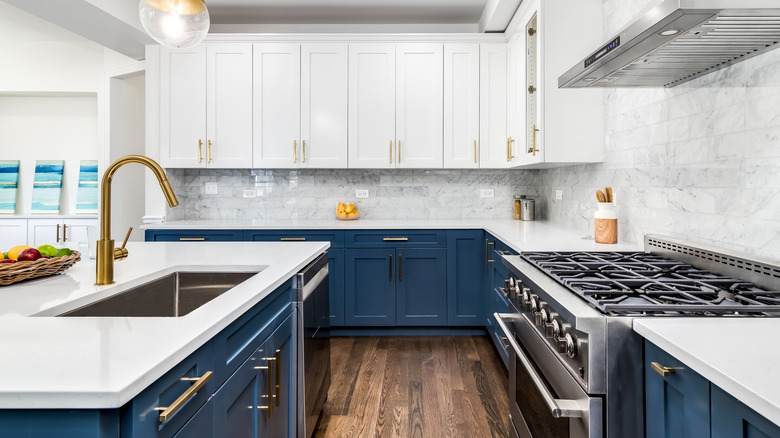 Shutterstock
An effortless way to introduce a bit of color into your kitchen is by painting one area only, like say the island, a bold color (via Country Living). Think: hague blue (picture here) or olive green. Swap your white backsplash for a bright, quirky alternative. Printed tiles can look great when paired with bright, beautiful cabinets.
For a more chic, minimalist look, opt for a black paint — matte tends to work well for creating a trendy look — to decorate your cabinets, walls, or tiles, but not all three. As per House Beautiful, eggplant purple makes a great shade for kitchens, easily breathing life into the space without going too bold.
Don't be afraid to play with color; you can incorporate as many colors into your kitchen as you like. It's not just a case of picking two colors. As House Beautiful explained, you can merge a whole palette. For instance, for a unique but timeless kitchen, lavender paired with cream can look absolutely divine. It adds a classic charm and subtly takes your kitchen up a step from the all-white look. Further, as per Trendir, you could always start with shades of white (such as cream or neutral gray) and work your way up to a color of choice and inspiration.