Inside Jason Momoa And Emilia Clarke's Relationship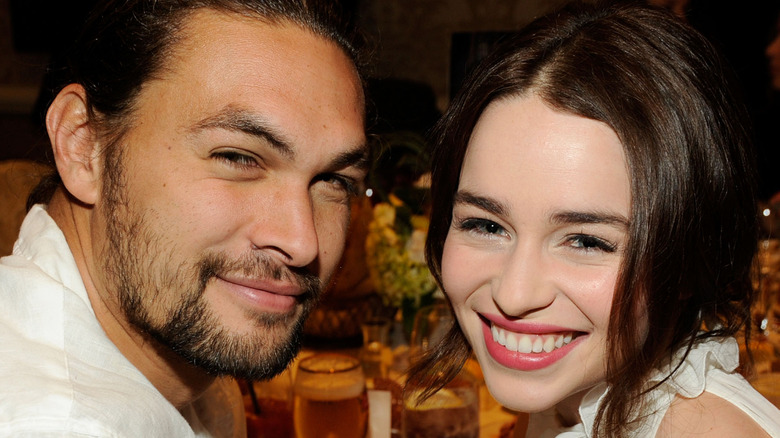 Frazer Harrison/Getty Images
Jason Momoa and Emilia Clarke are well known by "Game of Thrones" fans as the passionate on-screen lovers Khal Drogo and Daenerys Targaryen in the hit HBO fantasy series. According to The Sun, a recent photograph of the former co-stars set the internet ablaze and left many wondering if the pair could be an item in real life. So, what is the truth about Momoa and Clarke's relationship status? 
The image that kick-started the speculation surrounding their relationship was uploaded to Instagram on August 15, and displayed Momoa sweeping Clarke off of her feet along with a caption that read, "When your sun and stars rolls into town you check that he can still bench press a Khaleesi." 
Per Entertainment Weekly, the image was taken at the birthday party of "Game of Thrones" co-creator David Benioff. Following the event, Momoa also took to Instagram to share a photo of himself and Clarke posing together, with a caption that read, "MOON OF MY LIFE. you are wonderful love u forever @emilia_clarke #smilelyeyes."
Are Jason Momoa and Emilia Clarke dating?
The recent social media posts sent fans of the "Game of Thrones" stars into overdrive. Although, according to The Sun, the pair are not in a relationship and Momoa is currently married to his wife Lisa Bonet, who he first began dating back in 2005. As for Clarke, it is believed the actor is currently single and her last high profile relationship was with director and writer Charlie McDowell. However, the couple called it quits back in 2019 after a year together.
Although the pair are not romantically involved and appear to be just good friends, that didn't stop fans from sharing their thoughts on the duo's relationship. "I'd always thought they'd make a good couple," one fan wrote on Instagram, while another added, "Can u guys like, be together? For me, pls?" 
Per Entertainment Weekly, Clarke and Momoa first became good pals while appearing in HBO's "Game of Thrones" together as Daenerys Targaryen and Khal Drogo, respectively. Although Momoa only appeared in the fantasy drama for one season, the pair have remained close throughout the years and their latest Instagram posts appear to suggest the friendship is still going strong today.