The Truth About Brian Austin Green And Sharna Burgess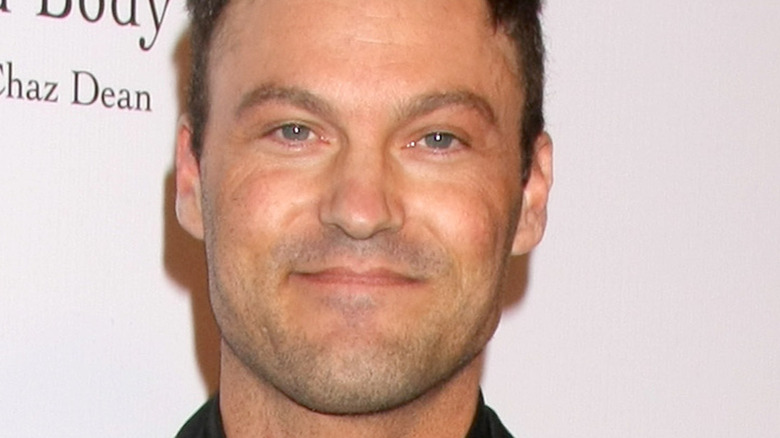 Shutterstock
Brian Austin Green is perhaps best known for his portrayal of David Silver on the hit 90s television show "Beverly Hills, 90210," but the actor has also received ongoing attention over the years for his marriage to and ultimately from Megan Fox. 
The two had been embroiled in an off-and-on relationship for years before eventually getting married in 2010 (per Us Weekly). As many know, Fox and Green share three sons together: Noah, Bodhi, and Journey. Fox was also stepmother to Green's son Kassius from a previous relationship (per People). The pair never shied away from announcing their splits and eventual reunions, but it came as a shock when Fox filed for divorce in November 2020 (via People).
Trouble was clearly brewing in paradise, as Fox had been photographed sharing very public displays of affection with rapper Machine Gun Kelly before her split from Green was formally announced. Allegedly, Green and Fox split amicably before she started her romance with the rapper, and the two have maintained this position in the press (per E! News). While Fox and Kelly have been happily displaying their love in public for over a year, Green has quietly entered a relationship with "Dancing With The Stars" professional dancer Sharna Burgess. The two have reportedly been dating for about six months and already appear very much in love! (via Us Weekly).
Brian and Sharna started dating during the pandemic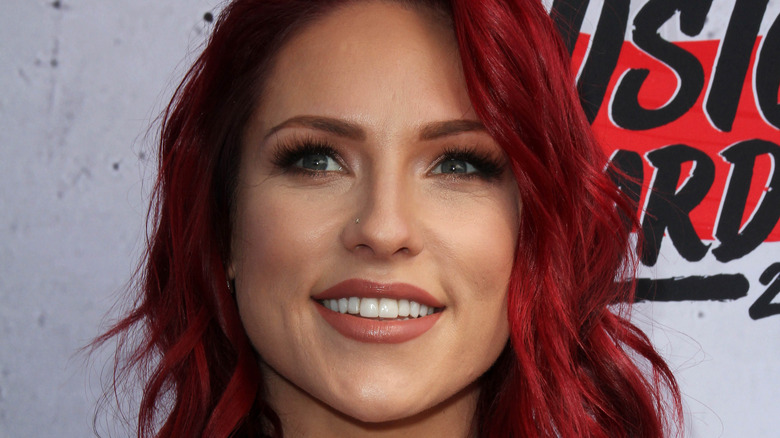 Shutterstock
After having such a highly publicized relationship, it's not surprising that Brian Austin Green would want to keep his burgeoning romance with Sharna Burgess private. The two started safely dating during the COVID-19 pandemic and have discussed how the social distancing changed the way they went about their courtship. 
In an interview for Entertainment Tonight Canada, Burgess said, "COVID changed the dating game for everyone." She then added, "But also Brian and I were at a point in our lives where it was about getting to know the other person. No one was trying to rush into anything."
The pair didn't discuss how they officially met, though they could have had the opportunity to work together on "DWTS" if things had turned out differently. Green admitted to ET Canada that he had spoken with producers of the show in the past and that he would have been paired with Burgess if he accepted their offer. Even though this seems like it would have sparked their relationship sooner, the two insist it would have turned out differently. "I don't date any of my dance partners," Burgess stated. Green then added, "She would refuse it. That wouldn't have worked."
Brian and Sharna have kept their relationship on the down-low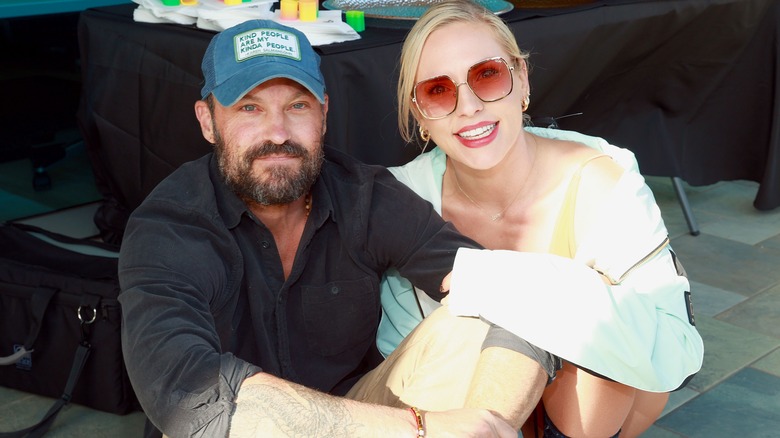 Matt Winkelmeyer/Getty Images
Brian Austin Green and Sharna Burgess have only recently opened up about their relationship. The two share adorable snapshots of each other on Instagram and profess their love in the comments, but they both stress the importance of their privacy when discussing how they make things work (via ET Online). 
In an interview with ET, Burgess described the blissful beginning of their relationship, saying, "That anonymity, that little secret that was just ours, we kept that for as long as we could". She went on to add, "We took our time and we really got to know each other for who we are on the inside."
Green has since introduced Burgess to his children, with a source revealing to ET that the kids "think she is super nice and get along swimmingly with her." As for whether they'll end up dancing together on-screen, that remains to be determined. "She wants me to dance with her. She's constantly like, 'Hey, let's learn some stuff,'" Green revealed to ET Canada. Burgess then excitedly chimed in, "The man can dance."