Meet York Banks Asla, Tyra Banks' Son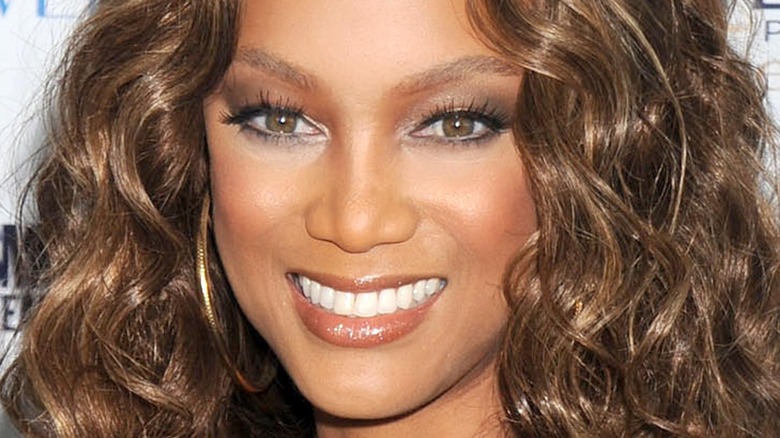 Shutterstock
Tyra Banks is letting fans in on her bossy mini-me, York Bank Alsa. The first Black Victoria's Secret contract model is known widely for her hit series "America's Next Top Model." Banks spoke about the lingerie brand's initiative to become more inclusive. A decision that Banks is referring to as "beauty revolution." "First is hard. First is lonely. But first is necessary," she wrote in an Instagram post. "But after the first, must come a flow of more. A flow of different. A flow of unique. A flow of strong, a flow of so many that we lose count."
Although Banks retired from modeling in 2005, according to L'Officiel, the "Top Model" creator has returned to fashion. In 2019, Banks became the oldest model to cover Sports Illustrated Swimsuit Edition at the age of 45. Along with reentering the realm of fashion, Banks is revamping her iconic name. The model has changed her moniker to "BanX." 
"BanX represents rebirth, and that beauty boundaries only exist to be broken," she explained, per People. Although often in the limelight, Banks has kept her private life out of the public eye. For years, rumors have circulated about the model's dating life. Similar to how Banks has monitored what we know about her love life, she does the same with her 4-year-old son York.
She has spilled some details about how the curly-haired cutie acts at home and apparently, York is a "boss" and extremely demanding.
Tyra's journey to motherhood was no easy feat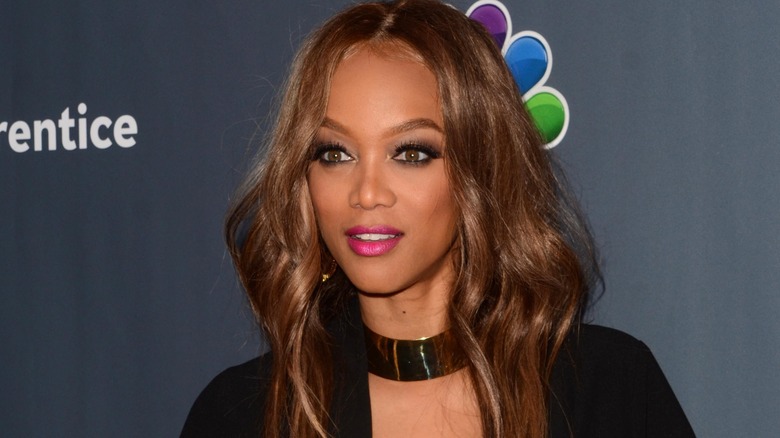 Shutterstock
Tyra Banks' son York Banks Asla was born in January 2016 via surrogate. His father, Erik Alsa, is a photographer Banks met while hosting the Norwegian version of "Top Model." The couple started dating in 2013 but called it quits in 2017.
For a while, the couple struggled to conceive. According to Entertainment Tonight, Banks tried to get pregnant by Vitro fertilization numerous times over a year and a half. "Yeah, I don't remember if it was, 'Am I less than a woman?'" Banks tells ET. "But I remember just thinking, 'Oh my god, I waited too long, like, why did I do this?'"
After multiple tries and not conceiving, the model decided to try surrogacy, a decision initially she wasn't too fond of. "Mine wasn't just strictly infertility," she tells Scarymommy. "It was also having trouble holding the baby inside of me. After I got past that and then was trying to do the whole surrogacy thing, it was really, really hard. I went through that privately — I didn't even tell all of my family, but my mom knew. But I think that's about it. A couple of friends knew what I was going through. And I just wanted to keep that private until my son was born and to be transparent about that. I feel very fortunate that I was able to have my son after many, many, many rounds of IVF."
York is apparently the boss of Tyra's house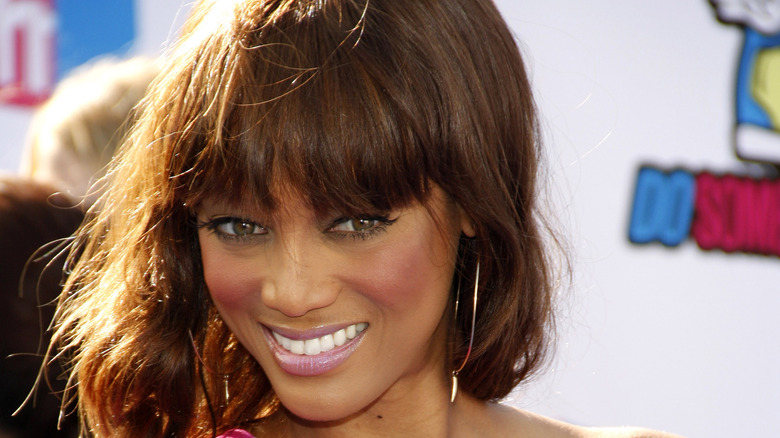 Shutterstock
Tyra Banks is devoted to being the best mother she can. One of the biggest lessons she wants to instill in her son is work ethic. "I am a very hardworking momma and hopefully a good example to my son that you know momma works really, really hard and that's how we have these things, and we can travel and get on airplane, airplane, airplane, to go and see the world," Banks tells E! News.
The model also opens up to E! about the challenges of balancing a work schedule and motherhood. "The hardest part about motherhood is being really, really tired," she explains. "Sometimes, you just are exhausted. You want to sleep."
"But when it hits 5:45 and your baby is like, 'It's time to play, it's time to hang out, it's time to wrestle on the floor,' there is no amount of tired where you say no," she continues. "Even if you wanted to, you can't."
She later added, "Your baby is boss." Along with his respectable title of 'boss' Banks' son York is also a boy genius. As a toddler, he learned three languages (English, Spanish and Norwegian). In an interview with Closer Weekly, Banks refers to her son as "a good science boy." Although it is too early to tell, this isn't the last time you will hear about York.