The Truth About Ruben Studdard's First Impression Of Clay Aiken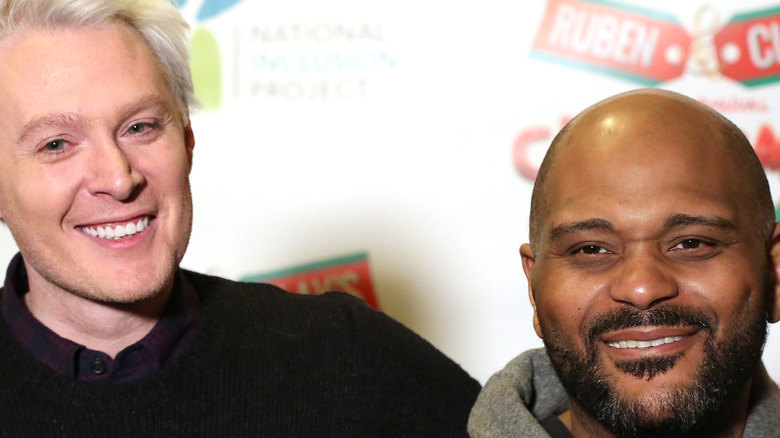 Walter Mcbride/Getty Images
When "American Idol" burst onto the scene in 2002, talents from around the nation made their way to our television screens. The reality completion series birthed some of music's heavy hitters, like Carrie Underwood, Jennifer Hudson, and Fantasia.
"Idol" Season 2 was defined by its friendly rivalry between Ruben Studdard and Clay Aiken. The duo was neck and neck throughout the competition until Studdard beat Aiken in the finale by 134,000 votes. Following his "Idol" win, the R&B singer released eight albums. Throughout their success, the two idol contestants remained in touch.
In 2018, the former idol contestants joined forces for a limited-stage show, "Ruben & Clay's First Annual Christmas Carole Family fin Pageant Spectacular Reunion Show." Seeing both singers on the stage together was nostalgic for fans, especially since the duo wore similar clothing as they did during their idol auditions.
Although their rivalry was the highlight of "American Idol" Season 2, the pair said they never felt like competitors. "I don't think we ever felt like competitors on the show, nor since," Clay tells People. "We play it up for fun, but it's never been that way for us. We went through this process where nobody had really done it before. All of us just thought it was going to be a fun experience and nothing else."
Since the start of their journey together, the duo seems thick as thieves. But what were their first impressions of each other when they met years ago on the idol stage?
Ruben and Clay met each other in a pretty normal way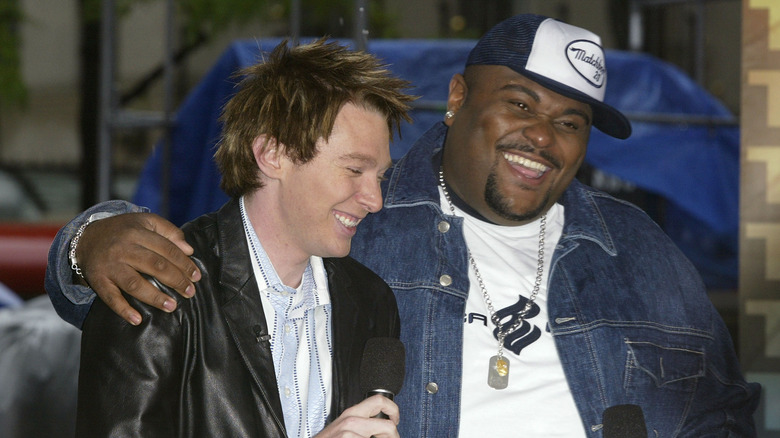 Matthew Peyton/Getty Images
Ruben Studdard did not meet Clay Aiken first on the "Idol" stage – they met in a bar in Hollywood. The duo met their first night in the city at a local bar, following his  Studdard's "American Idol" auditions. The "Sorry 2004" singer went to the bar a little down after his friend who he entered the competition with was cut on his first day. This shattered Studdards plans of having a friend throughout the competition.
While at the bar, Studdard noticed someone. "So I go to the bar, like, man, I need to go get me a beer and just chill out," Studdard tells Entertainment Weekly. "And I see this little skinny white dude at the table with six of the most beautiful women I have ever seen in my life. So I'm like, 'Who in the hell is this dude by himself with all these girls?!' And so I went over and introduced myself, like, 'Yo, what's up, man, you need some help at the table?' And he's like, 'Hi, I'm Clay Aiken.' "
That fateful meeting in a bar capitulated their friendship. "We've been really cool ever since," Studdard reflects. The duo's talents and charm caught America's attention and are still regarded as one of the best musical showdowns in Idol history.
Studdard is returning to "American Idol" this upcoming season of "Idol Across America." Through the virtual audition zoom calls, the former idol winner will be giving unique advice to contestants.