The Real Reason Winona Ryder Almost Lost The Starring Role In Heathers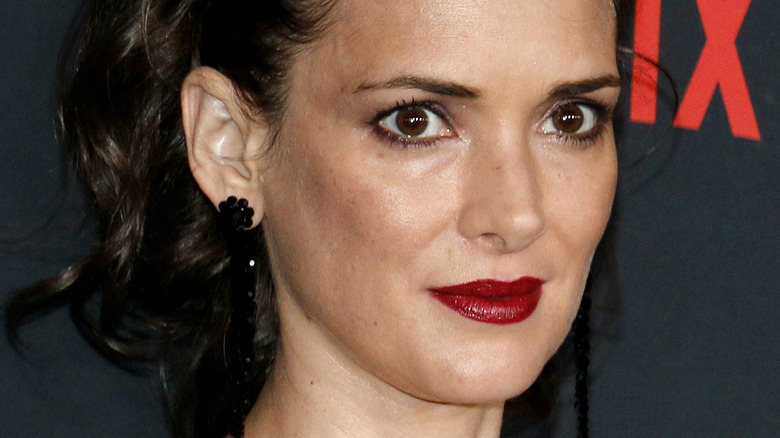 Tinseltown/Shutterstock
"Heathers" was the prototypical "Mean Girls," albeit with a far darker, sharply satirical edge and considerably more croquet. Released in 1989, the high school comedy, which was scripted by Daniel Waters — whose brother Mark would go on to direct "Mean Girls," funnily enough (via IMDb) — was considerably ahead of its time. In fact, in a piece celebrating "Heathers" 30th anniversary, The Irish Times argued the film was "eerily prescient in its anthropological takedown of the popular elite." The Guardian, meanwhile, hilariously posited, "Donald Trump is like a big Heather." 
Simply put, "Heathers" was a teen movie unlike any other, one that, as The New Yorker put it, "ushered in a darker, weirder, more experimental era" for the entire sub-genre. Although Rotten Tomatoes didn't exist at the time of its release, "Heathers" still commands a 93% rating over there. The film was a major moment, particularly for star Winona Ryder who, alongside the dreamy yet dastardly Christian Slater as J.D., made a case for murder, mayhem, and overcoats. However, the "Stranger Things" star notably almost missed her opportunity to star in "Heathers." 
Winona Ryder wasn't the first choice to play Veronica
During a chat with Cosmopolitan, "Heathers" screenwriter Daniel Waters revealed that the iconic role of Veronica, memorably brought to life by Winona Ryder — who was then a veritable unknown — was originally meant for Jennifer Connelly. He revealed, "Winona likes to tease me that I wanted Jennifer Connelly instead of her and I didn't think Winona was pretty enough. Because she was — at that  time, she had only done 'Lucas' and 'Square Dance' not even 'Beetlejuice,' so I thought she was this scrawny little unattractive girl. So I said, 'It can't be!' But of course now everyone makes fun of me, so." According to Screen Crush, Connelly turned the part down, presumably clearing the way for Ryder to plead her case. 
Nowadays, Ryder is synonymous with the role, not to mention the similarly dark Lydia Deetz in "Beetlejuice," which was released just a few months previous. "I was not the first choice," Ryder admitted to Interview magazine. She explained that, after the lackluster response to her audition, "I went to the Beverly Center to Macy's and had them do a makeover on me." However, according to Variety, Ryder's agent was adamant she pass on the project over concerns it was too dark for the then-15-year-old, whose career, they assumed, would suffer due to her connection with it. Thankfully, the exact opposite occurred and "Heathers" is a cult classic today thanks in large part to Ryder's spirited performance in the lead role.