The Truth About Frances McDormand And Holly Hunter's Friendship
Myrna Suarez/Getty Images
The entertainment industry is always full of surprises, especially when it comes to which celebrities are friends and how those bonds were initially formed. One of the best examples of this is the friendship between actresses Frances McDormand and Holly Hunter. 
The two starred together in the 1987 film "Raising Arizona" but their closeness had been established long before then (via Film News). According to a 2018 Vulture interview, Hunter explained she and McDormand struck up a friendship in the early 1980s after being introduced to each other by their then boyfriends who were best friends themselves.
Hunter recalled, "My boyfriend and Fran's boyfriend were best friends. I met mine doing a play at the Repertory Theater of St. Louis, and then I came back to New York. He said, 'Hey, my best friend is going to Yale, let's visit.' And his girlfriend was Fran." Talk about serendipity! Hunter added, "The four of us hit it off, and we all moved to the North Bronx. We got two apartments, one for each couple. Then we broke up with our boyfriends and Fran moved in with me." Thus beginning their lifelong friendship.
Frances and Holly's friendship is still going strong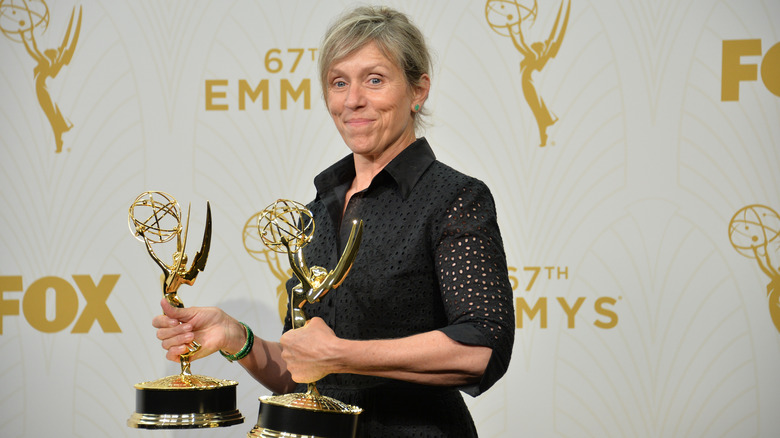 Jaguar PS/Shutterstock
After Frances McDormand and Holly Hunter became friends, they happily remained roommates for several years as they were establishing their acting careers. During a January 2021 Vogue interview, it was revealed that Hunter was the one to recommend McDormand for a role in "Blood Simple." 
The film was the first by the iconic Coen brothers and helped launch McDormand's career. She met director Joel Coen during the audition process and the two later fell in love and got married. McDormand and Coen have been together for over 35 years, so Hunter inadvertently played matchmaker as well (via Good Housekeeping).
Hunter was one of the people who contributed quotes to McDormand's Vogue cover story, and it's clear from the way that Hunter talks about McDormand that the two have managed to maintain their bond over the years. When Hunter was asked about McDormand's talent, she responded "It's a weird, ineffable thing." She added, "It's in her body." Pretty high praise!