Hope Solo Has A Surprising Opinion About Megan Rapinoe's Activism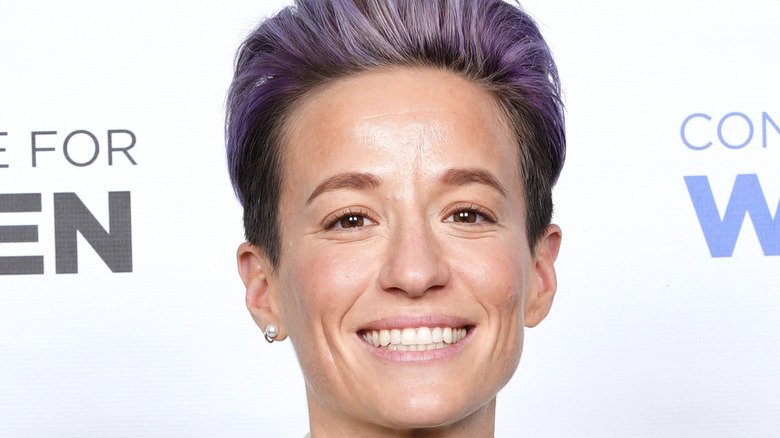 Marla Aufmuth/Getty Images
American soccer superstar Megan Rapinoe is a force to be reckoned with both on and off the field. The 36-year-old has won two World Cup titles and earned the Golden Boot award for scoring the most goals and the Golden Ball for being the top player in the tournament in 2019. In addition, she is a three-time Olympian, bringing home a gold and bronze medal with the U.S. women's soccer team (via Biography).
Rapinoe, who is engaged to fellow athlete Sue Bird, works just as hard for the causes she believes in, lending her voice to LGBTQ issues, the Human Rights Campaign, and the LA Gay and Lesbian Center. She has also fought for equal pay for female athletes, teaming up with 28 players to file a lawsuit against the U.S. Soccer Federation for pay discrimination. And Rapinoe took one of her biggest stances when she decided to kneel for the national anthem in 2016 to protest racial injustice — just one week after NFL star Colin Kaepernick did it for the first time. As a result, she was taken off her team's roster and didn't play again until the following year.
"I have chosen to kneel because I simply cannot stand for the kind of oppression this country is allowing against its own people," she told the The New York Times. "Being a gay American, I know what it means to look at the flag and not have it protect all of your liberties."
Hope Solo claims Megan Rapinoe pressured players to protest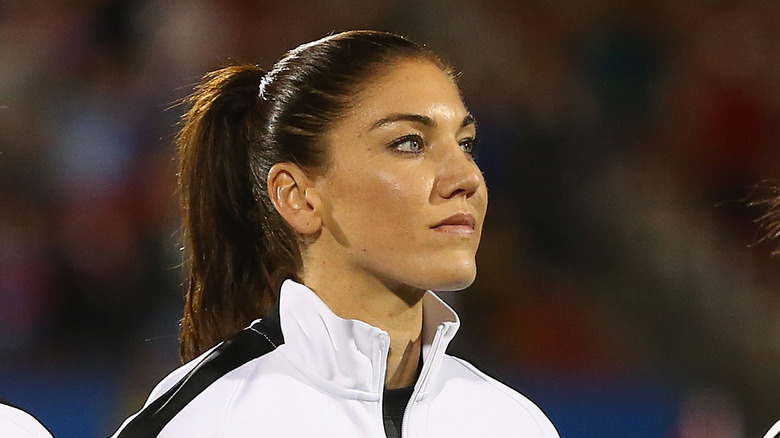 Ronald Martinez/Getty Images
Megan Rapinoe has been a fierce advocate for many causes, and was one of the first white athletes to kneel during the national anthem to protest racial injustice (via Biography). While her work both on and off the soccer field earned her a spot on Time Magazine's 100 Most Influential People of 2020, one of Rapinoe's former teammates claims Rapinoe pressured other soccer stars to follow her political lead.
Hope Solo — a World Cup champion and two-time Olympic gold medalist — spoke out during the "All of US: The U.S. Women's Soccer Show" podcast (via TMZ), calling kneeling during the anthem "very divisive." She continued, "I do appreciate the fact that there's no National Anthem right before the game. To really remove that decision from the athletes. Because that's very tough, it's tough." 
The 40-year-old also claimed to have seen Rapinoe "almost bully players into kneeling because she really wants to stand up for something in her particular way. But it's our right as Americans to do it in whatever way we're comfortable with."
While Rapinoe has yet to comment, some soccer fans aren't buying Solo's story, with one Twitter user writing, "This is a completely fabricated story. Hope Solo's last appearance was at the 2016 Rio Olympics, two weeks before Megan Rapinoe joined Colin Kaepernick in kneeling for the anthem (and Rapinoe did so alone; none of her teammates joined her)."