The Truth About Megan Rapinoe And Sue Bird's Relationship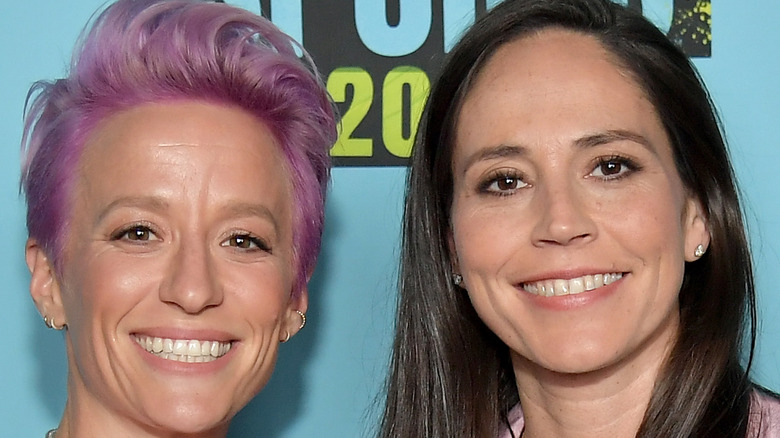 Neilson Barnard/kcasports2019/Getty Images
On the turf at U.S. Women's National Team soccer matches, Megan Rapinoe has scored numerous goals (59 to be exact, per US Soccer), but it's her long-time partnership with basketball star Sue Bird that is relationship goals. As GQ put it, they're the one and only "cross-sport lesbian power couple," and here's why.
At 35, Rapinoe is among the most well-known and decorated soccer players of all time. She helped her team win two different World Cup titles and has an Olympic gold medal to boot. 40-year-old athlete Bird is just as successful. Thought to be one of the best basketball players of all time, she too has multiple championship wins and Olympic gold medals under her belt. They're also both outspoken activists, namely in the Black Lives Matter and Say Her Name movements. For many of these feats — both on and off the field — they've been by each other's side. 
"What they've been able to do as a couple, individually, I don't think they could have done that alone," Diana Taurasi, Bird's longtime friend and fellow WNBA player, told GQ. "When two people are on the same page, and they love each other, and they're working towards something better, you can do a lot of good things." Here is everything we know about the couple's history.
Megan Rapinoe and Sue Bird met at the Olympics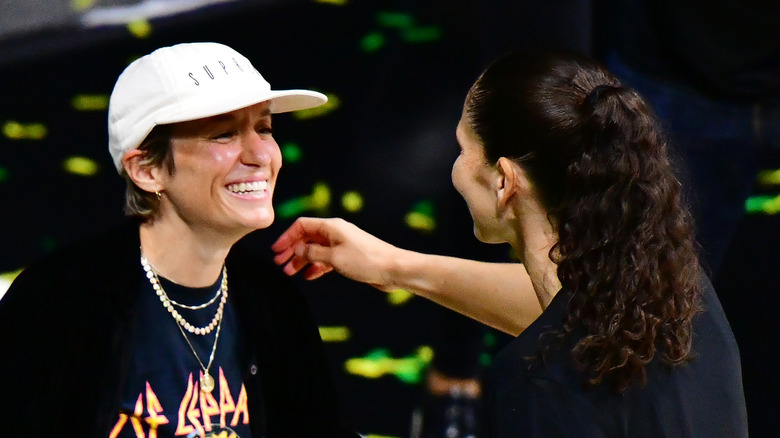 Julio Aguilar/Getty Images
Although both athletes lived in and played for Seattle, Washington, their first run-in took place at the 2016 Rio Olympics. Rapinoe only had a brief chance to make an impression and used the occasion to blurt out a less-than-funny joke. "I walked away like, 'You're an idiot,'" she told GQ. Although she was engaged at the time, she felt herself gravitating towards Sue Bird (and vice versa) after the games ended. Back home in Seattle, the pair were afforded the chance to get to know each other more, and the spark continued to grow. Per Oprah Daily's timeline, the pair went public with their relationship in 2017. It was also the first time Bird publicly confirmed her sexuality, although Rapinoe had been publicly out since 2012.
The following year, they became the first openly gay couple to be featured in ESPN The Magazine's renowned "Body Issue." "It's pretty amazing, especially in the times we're in," Rapinoe told ESPN. "Not only are we female athletes, but we are dating as well. So, kinda badass." Throughout their time together, they've both continued to use their platforms to champion LGBTQ+ rights, as well as a myriad of other social issues (via People).
When Megan Rapinoe popped the question to Sue Bird, it was a surprise to both of them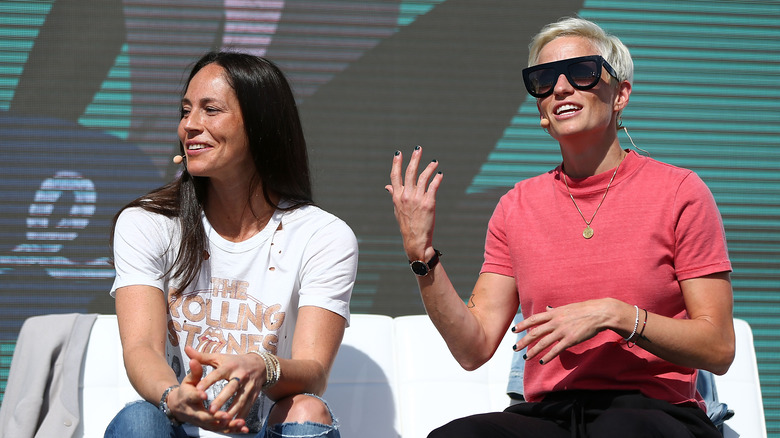 Joe Scarnici/Getty Images
According to GQ, Megan Rapinoe didn't put much thought into the when and where of the proposal, but she knew her girlfriend was waiting on her to make the move. The moment came while the pair joined a few friends to celebrate Sue Bird's fourth WNBA title and 40th birthday in Antigua. Just prior to the trip, Ruth Bader Ginsburg died, leaving the couple fearful for their rights. Bird's nieces had also been pestering her about when she was to tie the knot, to which she would always reply, "Whenever Megan asks."
One sunny and sleepy day during the 2020 trip, the pair were alone in the infinity pool. "There was a look in her eye," Bird told GQ. "I could just sense it. I knew what was happening," she recalled. Then, in the spur of the moment, Rapinoe got down on one knee and popped the question. Speaking to People, the soccer star said their engagement and quality time together was a "silver lining" of the pandemic. She also said their love feels somewhat otherworldly, saying, "I pinch myself all the time thinking how lucky we are to be in this life together."