The Truth About Edie Falco's Relationship History
Shutterstock
Over the course of her time in the spotlight, Edie Falco has been in some pretty high-profile relationships on- and off-screen. Many will recognize her for the chemistry she shared with James Gandolfini on "The Sopranos;" others may know her from her controversial year-long relationship with actor Stanley Tucci.
But Falco's first serious, high-profile relationship occurred in 1996 when she dated actor-director John Devlin (via Who's Dated Who). Despite buying a West Village apartment together in 1999 (via the Los Angeles Times), the couple parted ways in 2001.
In an interview with The Independent at the time, she somewhat alluded to how the breakup affected her by revealing that she retreated to her house in the Catskill mountains on a rare free day. "I felt like I was falling apart, everything just melted," she explained. "I so desperately needed some time to sit and do absolutely nothing."
It wasn't long until Falco's name appeared in headlines for her relationship with Tucci, who was married at the time. Tucci married his wife, Kate, in 1995, and they shared three children together — plus two more kids from Kate's previous relationship (via Long Island Press).
Edie and Stanley had an affair after co-starring in a Broadway production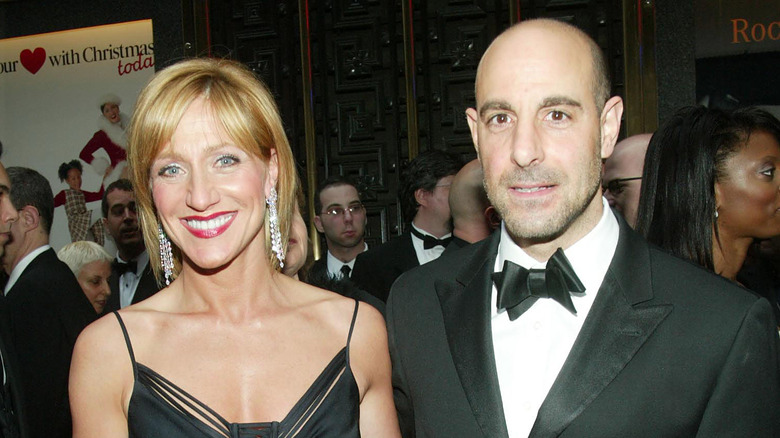 Evan Agostini/Getty Images
The two first started dating in 2002, following their role in the Broadway revival of "Frankie and Johnny" — which involved a completely nude scene between their characters. They made a few dozen appearances together over the year of their partnership but rarely gave any insight into their relationship before or after they split.
However, Edie Falco did briefly allude to their romance during an interview with The New York Times. "We were together and then we broke up," she summed up succinctly, adding that "there's no way for that to be a good thing," and that she was "thrilled" he was "back with his wife and kids."
After her relationship with Stanley Tucci ended, Falco adopted two children (via Us Weekly), reportedly fell in love with actor Bill Sage (via Dating Rumor), and is now very happy with where she's ended up. "My life is now so spectacular that I don't want to leave it for any length of time," she told The Guardian.
"I'm not the first woman to juggle kids and work. I do it imperfectly but I do it the best I can," she said, adding, "All I know is that I love my kids more than I've ever loved anything in my life."