The Work Pants You Need To Head Back Into The Office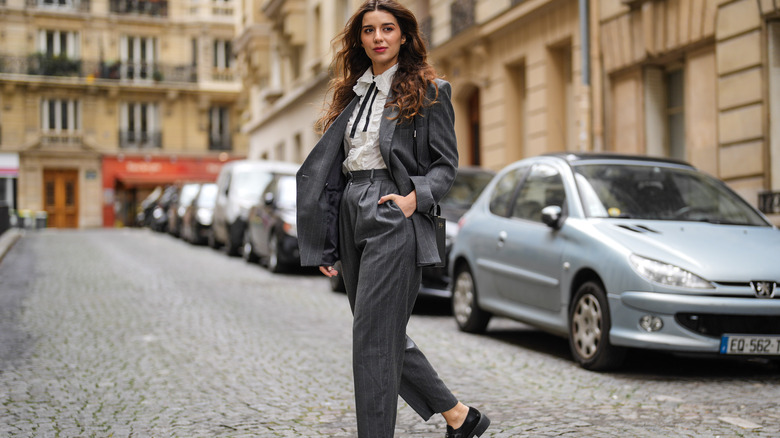 Edward Berthelot/Getty Images
If you ended up working from home amid the pandemic, chances are your work wardrobe changed dramatically as the months went by. After all, why would you continue dressing up for the office when your new workspace felt more suited to pajamas or comfortable, casual clothing? If you find yourself returning to your office, you might need to update your clothes, and after more than a year of extreme comfort, you might not want to wear some of the items you previously wore. Plus, it's been well over a year, so styles may have changed. NBC News reported that many people chose to rethink things after spending so long-wearing alternative clothes. 
Jennifer Dasher, assistant professor of costume design at the University of Florida, told NBC News that fashions would change post-pandemic. "Conforming to a style of dress and beauty standards will be a choice instead of expectation," she said. "Self-expression, cultural expression, and a continued desire to be comfortable will be central." 
Whatever your reasons for needing some great new work pants, Byrdie reported that there's no shortage of excellent options for you to grab and work into your new wardrobe.
Here's why your work pants might be bigger and playful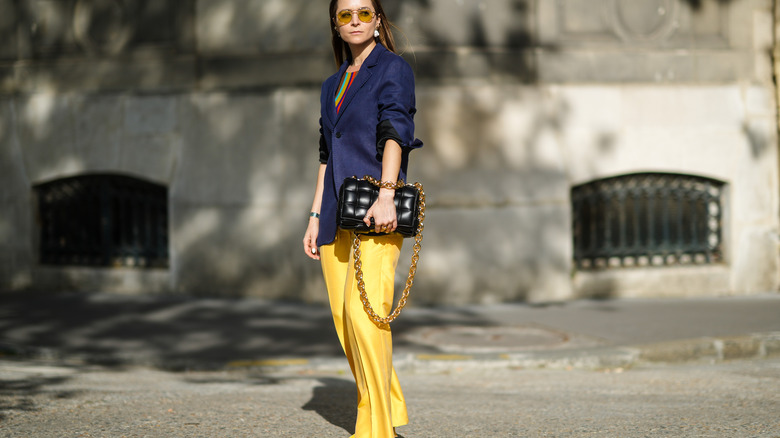 Edward Berthelot/Getty Images
With dramatic fashion changes post-pandemic, you might find yourself adding more color to your pants, opting to go beyond basic black or other neutrals. Gail Brassard, who taught costume design at the University of Wisconsin-Madison, told NBC News, "I expect to see lots of color" in fashion. "Covid was such a life-changing event — like war or an economic crash — that its effects will be profound on all visuals and especially in the arts." She went on to note that she thought clothing might become more playful with bigger silhouettes becoming fashionable. 
According to Byrdie, several stylish work pants seem to fit these predictions. Daily Paper White Kohan Pants offer long, lean lines with unique inseam splits and hidden pockets to update typical work pants. Available in three colors, the Mara Hoffman Eldora Pant in hemp for $295 provides comfort and style with a high waist and wide-cut legs. Finally, feel a bit nostalgic with Lattelier High Waisted Pleated Pants for $68, and enjoy pleats and a high waist for a comfortable, work-appropriate style. 
Leave it to Old Navy to create colorful, updated bottoms at an affordable price. Check out the brand's High-Waisted StretchTech Wide-Leg Crop Pants, which offer Wish Bone, Myrrh, and Lost in the Woods colors for a mere $24.97. No matter what you wear, it should make you feel comfortable and happy, so keep that in mind when updating your workwear.