The Clothes You Need For Your Back-To-Work Wardrobe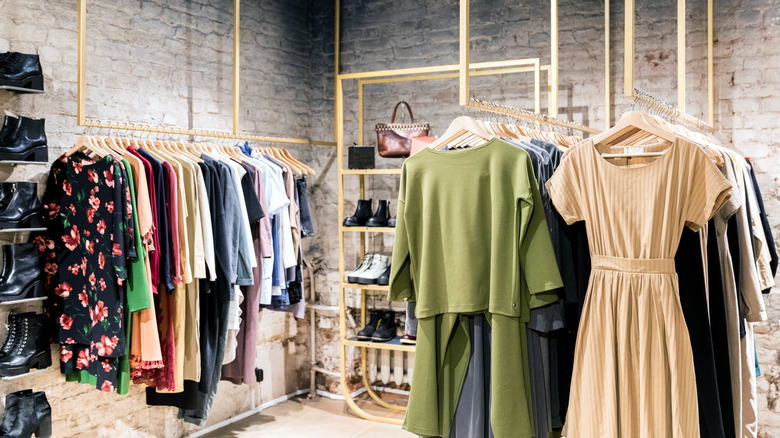 Shutterstock
As some of us return to the office, we are faced with the ultimate conundrum — a closet full of clothes, but nothing to wear. Planning a back-to-work wardrobe may cause even more anxiety for those who got used to their sweatpants and for those who may have experienced stress-related weight gain from the pandemic. In fact, the American Psychological Association found that 42% of adults they surveyed in their "Stress in America" report cited weight gain from the time the pandemic started, with an average weight gain of 29 pounds. Tobias, an 18-year-old who is returning to work and school, told HuffPost, "Stress and exhaustion can cause that, so even if you've gained 5 or 50 pounds, you're still you."
If you want to feel like a more confident version of yourself but don't fit in your pre-pandemic wardrobe, investing in a few key pieces is key. Personal stylist Miranda Schultz recommended Universal Standard to HuffPost because the sizing goes from 00-40. "They have this thing called the Fit Liberty program which allows customers to exchange clothing for a smaller or larger size within one year of purchase, no questions asked," Schultz said. Going to Goodwill or a consignment shop is another great option for those who are planning to lose weight but need work clothes that fit now. So whether you plan on losing weight or not, you won't lose a lot of money by investing into new clothes.
Comfortable couture is the new office look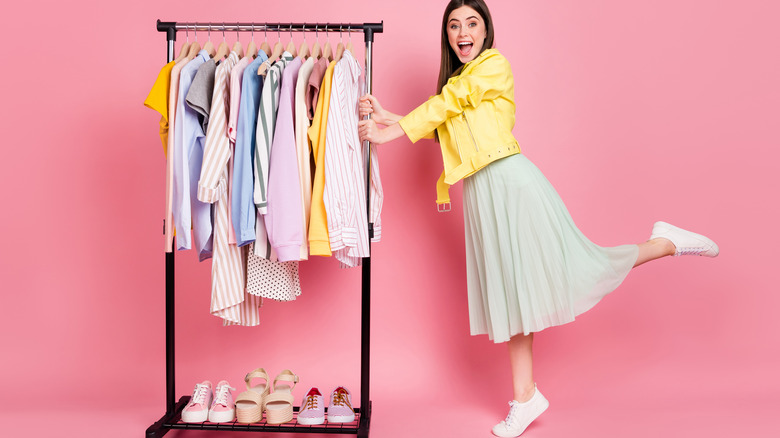 Shutterstock
While people may be ditching their sweatpants, they aren't returning to the formal wear seen in many offices before the pandemic (via Axios). Suits have lost their popularity and women are opting for clothes that are made with lightweight, flowing material in bright and pastel colors. People are gravitating away from clothing with zippers and buttons, which is probably a result of people getting used to the elastic waistband. Lainie Schreiber, national sales director of Latico Leathers, told Axios that handbag designers are keeping compartments designed to hold hand sanitizer — a trend that started during the pandemic.
Emilia Ferrara, D.C. commissioner of fashion arts and events, told USA Today that the stretchy dress is in fashion. "I think there are companies experimenting with these types of dresses, because they know people still want to feel comfortable as they're coming out of their pandemic laziness," said Ferrara. Willow Lindley, accessories director at Vogue, agrees, saying she likes pairing satin midi skirts with knit tops and strappy flat sandals.
Women down under in Sydney, Australia are also rocking maxi shirt-dresses and midi skirts with blazers (via Vogue). If you prefer jeans, Vogue executive fashion designer Rickie De Sole suggests dressing up denim with a button-down shirt, blazer, and ballet flats. When in doubt, having a "work uniform" helps (via HuffPost). Lady Gaga, for example, does this when she travels and enjoys pairing black jeans with a white t-shirt and leather bomber.
Working the 'work-leisure'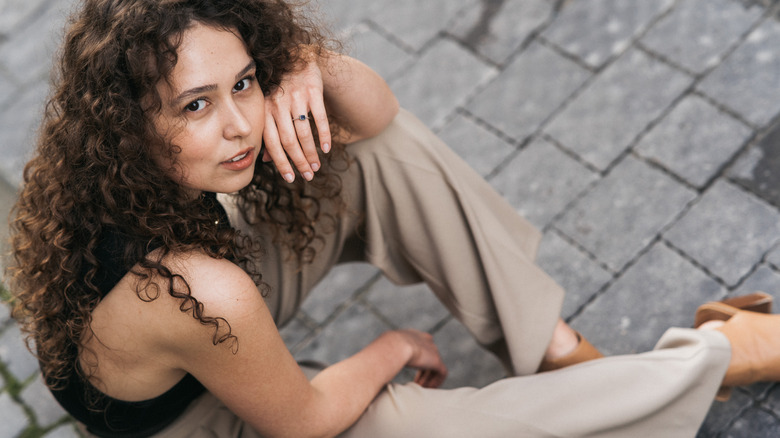 Shutterstock
Personal stylist Mellicia Marx recommended leather bombers, especially in bright colors to HuffPost. "Bombers work for all genders as a timeless option that offers flexibility as your size changes," Marx said. According to USA Today, you will be seeing brighter colors and bolder prints trending, as well as statement earrings to accessorize with outfits. Women are also swapping their stilettos for more casual block heels and flats.
Vogue assistant market editor Ciarra Lorren Zatorski recommends loafers with a neutral trench coat and button-down shirt for her back-to-work look (via Vogue). Stocking up on multiple bottoms and jackets in various neutral colors like black, gray, and white, is a good starting point (via HuffPost). This makes it easy to mix-and-match and can create several outfit combinations. 
Palazzo pants are a street-fashion staple that you could adopt into your work wardrobe, per Vogue. But if you are more into the feeling of your sweatpants, you're not alone. As fashion blogger Miranda Schultz told HuffPost, "Grab a nice pair of stretchy dress pants so you'll look like a boss but feel like you're still in your comfy clothes working from the couch." Some options include Express' High-Waisted Supersoft Double Knit Pull-On Ankle Pant or Old Navy's Mid-Rise Straight Pull-On Pants. M.M.Lafleur Inc., a professional clothing company for women, is also selling a "T-shirt you can wear to work."
So whether you're looking for casual work pants or a fun maxi dress, there's something to wear for everybody.