You're Probably Not Mopping Your Floors Enough. Here's How To Know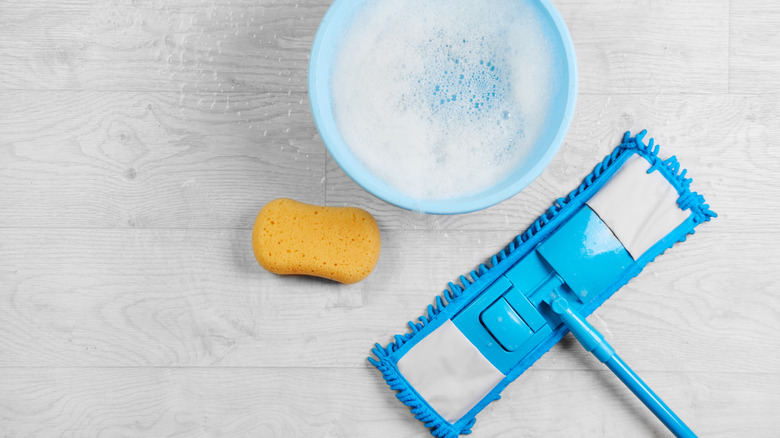 ivan_kislitsin/Shutterstock
When you notice the bottoms of your feet getting dark with debris after walking through your house, it's a pretty good indication that you've neglected your mop for far too long. While you may only run your mop over your floors every month or so, it turns out that it needs a lot more TLC than you think. Even if you take your shoes off every time you come inside, dirt and other particles still make their way into your space — that's why you likely need to dust off your mop every week.
Similar to vacuuming, it's important to keep up with the dirt on your floors so it doesn't pile up. Martha Stewart recommends preparing for your cleaning session in advance. First of all, do a thorough vacuum before you grab your mop; there's nothing worse than wet crumbs spreading all over your tile. Find a mophead that's machine washable with an easy-to-clean routine that will make your job even easier. You'll also need a bucket that fits your utensil, rubber gloves and scrubbing pads for those stuck-on spots, the outlet notes. Don't forget to make sure that your mop and cleaning solution work on all types of flooring in your home.
Here's the part that may make you cringe: high-traffic spots including your front hallway, kitchen and living room need weekly mopping. If you mop once in a blue moon, it's time to add this to your list of chores. Martha Stewart explains that rooms you don't use as much, like a formal dining room or side office, can slide to about once a month, but don't neglect these either!
Mopping frequently will elongate the lifespan of your floors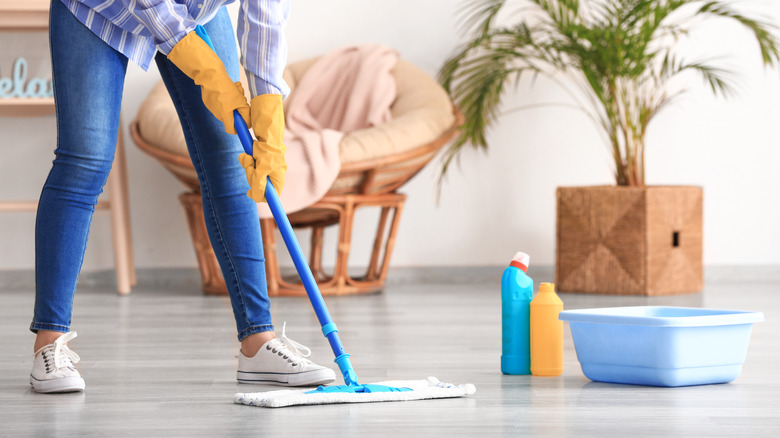 Pixel-Shot/Shutterstock
Beyond killing germs, mopping once a week will also extend the life of your floors. The Spruce explains that applying a protective layer and removing debris frequently helps preserve the finish while defending it against common stressors. This debris can damage the floor over time — especially if it sits for too long. Even though you may think you know how to mop, there are a few tips that can make it much easier and more effective.
First off, fill two bucks. One bucket is for the cleaning solution and the second is a rinsing bucket for the dirty water. Think about it: why would you wash your floors with the same liquid that just came off of them? The outlet notes that a sink can also double as your rinsing station as well. Furthermore, when it comes time to choose the cleaning solution, avoid products labelled "mop and shine". The Spruce explains that these can leave residue that yellows with time.
From here, mop with your back facing the doors of the room to avoid tracking back over the area you just cleaned. After you apply a layer of cleaning solution, rinse your mop off and go over it with just water to remove the soap. If you notice either bucket water looking darker or filled with debris, switch it out before continuing.
Martha Stewart recommends washing your mophead immediately after use to ensure that the bacteria doesn't spread. Rinse the item in hot soapy water in a bucket or utility sink — not the kitchen sink — and then hang it to dry in a well-ventilated area.