Where To Get The Exact Clothes Porsha Williams Wears On Real Housewives Of Atlanta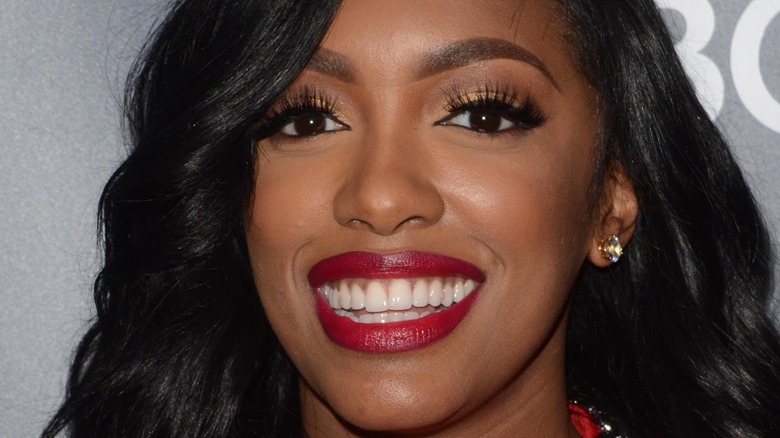 Shutterstock
We may receive a commission on purchases made from links.
From her goofy moments and the good times she shares with the ladies when they all get together to how she speaks out on important topics, Porsha Williams always stands out as a fan favorite on "The Real Housewives of Atlanta."
Of course, the reality TV star must also be praised in one other area: her wardrobe. Whether she's at home — hanging out with her mom, sister, and daughter — or with her co-stars at a glamorous lunch or on a lavish vacation, she serves up some unforgettable looks. Fortunately for us, many such looks can be browsed and shopped for on the website WornOnTV.
For instance, the camo print shirt dress Williams wore during Season 13 surely stood out to many due to how unique the piece was and how well she pulled it off. As it turns out, it's called the Super Oversized Logo Shirt by Fendi, and it's on Farfetch just waiting to be purchased. Read on for how to buy more of Williams' top looks. 
You can replicate Porsha Williams' chic style with these items
Recently, Porsha Williams of "RHOA" was seen wearing the Logo Print Swimsuit by Gucci. According to WornOnTV, the timeless one-piece is available via Ssense. Some may also remember her brown lace-trim maxi dress, which is Free People's Adella Maxi Slip Dress.
Unfortunately for all the Bravoholics out there, a lot of the stylish pieces seen on-air are now sold out and no longer available to be purchased. However, two more clothing items that have been worn on Williams on the show include an adorable heart print Gomme Des Garcons Play t-shirt that's featured on Farfetch as well as a striped button-down shirt by Rails that you can find on Amazon. 
Of course, an outfit is not complete without the perfect accessories, and some of the ones seen on this Bravo star can be owned by fans. For example, the Feather Detail Drop Earrings by Tom Ford, which can be seen in some of Williams' confessional interviews, can be purchased on Farfetch. You may as well add these items to your cart this instant!