The Origins Of The Bernie Sanders Inauguration Day Meme
Joseph Sohm/Shutterstock
During the Inauguration of President Joe Biden on January 20, 2021, many memorable moments occurred (per Deseret News). Lady Gaga sang the national anthem, poet Amanda Gorman read a moving poem about the importance of democracy, and of course, Joe Biden and Kamala Harris were sworn in as President and Vice President of the United States. 
Inaugurations are always significant and historical events for the United States of America. After a long election cycle, the inauguration serves as a celebration for the newly elected Commander in Chief.
At the end of the day, it wasn't the swearing-in of Joe Biden and Kamala Harris that had the internet erupting. While it was of course a topic of conversation online, nothing either of the newly elected officials did got as much attention as Bernie Sanders did. Perhaps the most endearing moment of the entire election came from the Vermont senator, who had no idea one photo of him would turn into a meme seen across the internet for months to come (per CNBC).
No one expected the photo to blow up the way it did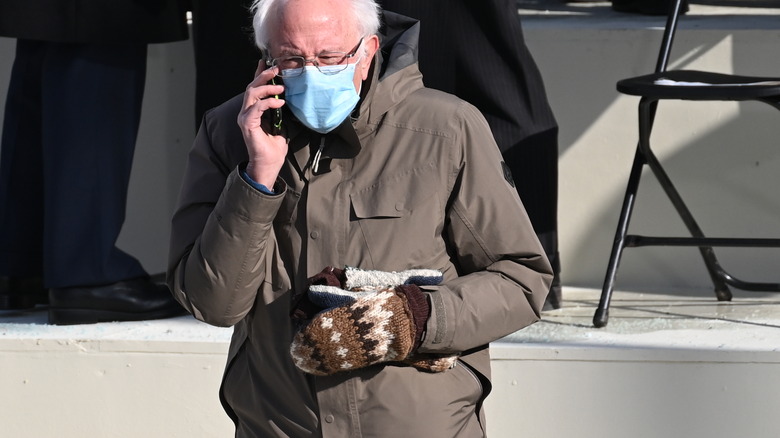 Bloomberg/Getty Images
Bernie Sanders showed up to the inauguration of Joe Biden and Kamala Harris wearing mittens and looking like he had other places to be after the event was over. That is what we've come to know and love about Sanders – his practicality. He's not one to dress up and put on a show, he is just "Bernie." According to CNBC, Sanders told Seth Meyers he was simply trying to pay attention to the event when the photo was taken. "I was just sitting there trying to keep warm," he confessed, "trying to pay attention to what was going on." He had no idea the significance that photo would have online!
When it comes to the photo itself, the photographer, Brendan Smialowski, couldn't have predicted it either. On the photo, he shared, "That picture is really not that great," Smialowski told CNBC. "It's not the nicest composition in the world." Smialowski continued, "I saw Sen. Sanders out of my other eye kind of fiddling with his gloves. It was just a nice moment when he crossed his legs and crossed his arms. I threw the camera over to him."
The rest is history. A simple photo of the senator became a viral sensation. Sanders wearing mittens has been photoshopped into every scenario you could imagine!