Meet Laura Lentz, Carl Lentz's Wife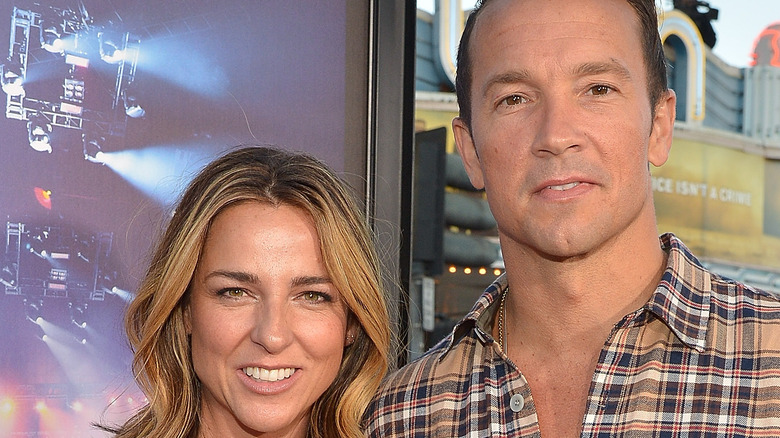 Charley Gallay/Getty Images
A shadow was cast on Hillsong Church, one of the most influential megachurches in the country, when lead pastor Carl Lentz—famously known as the spiritual advisor to Justin Bieber — was fired for what was cited as "leadership issues and breaches of trust, plus a recent revelation of moral failures" (via NBC). The "moral failures" that were cause for Lentz's departure from Hillsong turned out to be multiple affairs, which he admitted to in a personal Instagram post, saying, "I was unfaithful in my marriage, the most important relationship of my life."
Following Lentz's departure from Hillsong, an investigation of the church's New York location was announced, after hearing from "a number of people about their experiences and concerns." While it is unclear if the investigation centers on Lentz himself, allegations of sexual abuse and harassment have been raised against him by a former Hillsong staff member and volunteers (via Vanity Fair). In May of 2021, 6 months after Carl Lentz's firing, his wife Laura finally broke her silence on the matter on social media (via Today).
Who is Laura Lentz?
Laura and Carl Lentz met in Sydney, Australia, when Lentz enrolled himself in the Hillsong International Leadership College at the age of 20 (via People). Several years after their marriage in 2003, the couple moved to New York City to help Hillsong founder Brian Houston open and run the New York branch of the megachurch. The Lentz's have 3 children together—daughters Ava (16) and Charlie (14), and son Roman (11).
Like her husband, Laura Lentz played an integral part in the leadership of Hillsong's New York branch. She served in the role of Lead Pastor of Sisterhood, and, among other responsibilities, ran a Q&A type program through her Instagram called "Dear Lausie". Although only Carl Lentz was officially fired from Hillsong church, it appears that it either applied to his wife as well or she took it upon herself to leave independently, as the link to her profile page on the Sisterhood section of the Hillsong website is no longer operational and leads to an error message.
Laura Lentz breaking her silence
Despite photos from November 2020 showing Laura Lentz without her wedding ring on, the ex-pastor's wife has stood by her husband since his firing, according to People. In early May of this year, Laura Lentz shared her first Instagram post with her followers since October of 2020 of a blue sky and palm trees (via Today). While nothing in the caption specifically refers to the family's departure from Hillsong, she does reference overcoming hardship.
Lentz began her caption, "I have looked at these palm trees everyday for the past few months & there are many symbolic meanings to these amazing trees. a few that have resonated with me during this season of my life: they are strong, can weather the biggest storms, they always grow upwards." She continued, saying that this experience has shown her "true friendships" and that the people who have been with her "on the mountaintops" are also the people who have been with her in her "darkest valley." Overall, the ex-pastor's wife's message was one of hope for the reconciliation between her and her husband.