Of All Of Olivia Rodrigo's Looks - This Stands Above The Rest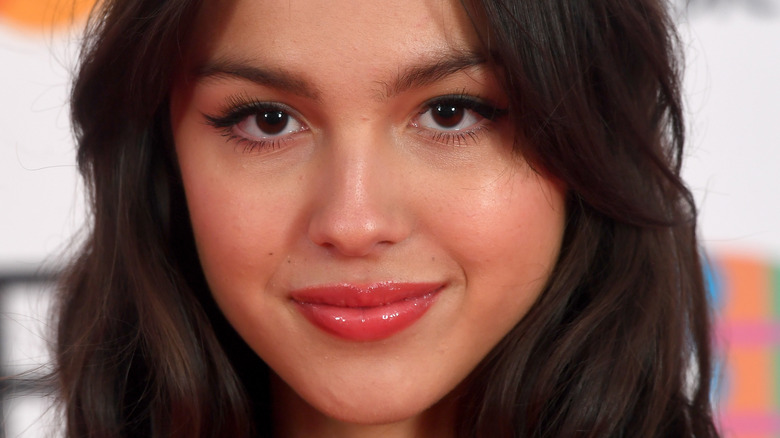 Dave J Hogan/Getty Images
Nostalgia is a beautiful thing, and despite being born in 2003, Olivia Rodrigo is absolutely slaying the '90s and '00s look that is in trend right now. The entire aesthetic of her debut album "Sour" screams disillusioned teen, drawing inspirations from the likes of grunge, alternative rock, and pop punk. Rodrigo utilizes these genres in her own unique way, forming a record that has become both an anthem for Generation Z, per The Guardian, and a nostalgia trip for millennials, per The Ringer.
This vibe has translated perfectly into the music videos for her album, especially "Good 4 U." Taking outfit and aesthetic inspo straight from "Audition", "The Princess Diaries", and "Jennifers Body," per Screen Rant, Rodrigo amplifies her rebellious anger by setting fire to the room of an apparent ex-boyfriend.
Rodrigo dominates the video with three iconic outfits, but there's one specific wardrobe moment that will totally be the Halloween costume to wear. Keep scrolling to learn which Olivia Rodrigo looks stands above the rest.
Olivia Rodrigo channels an iconic movie for 'Good 4 U'
Olivia Rodrigo has worn some eye-catching outfits, but the cheerleading uniform she wears in her "Good 4 U" music video with long, black latex gloves stands above them all. The actual cheer outfit is made to replicate Mandy Moore's outfit in the coming-of-age movie "The Princess Diaries," according to PopSugar UK. Rodrigo makes the two-piece her own by pinning her long brunette locks to the side with two flower clips, wearing white sneakers with matching ankle-high socks, and, of course, the long, black gloves she decides to wear to douse her bad memories in flames. The gloves are a slight reference to "Jennifer's Body," as Megan Fox wears long white gloves towards the end of the movie, per SyFy Wire.
While the other outfits in "Good 4 U" are memorable, the cheerleading uniform is definitely something you'll be seeing in the future at costume parties. While the actual "Princess Diaries"-esque outfit is hard to find, there are plenty of blue cheerleading costumes out there, as Romper has found. And better yet, there's always the option of getting crafty and putting together your own interpretation of the outfit by creating it directly from similar pieces of fabric or items from your own closet.