The Top 10 Sandals With Heels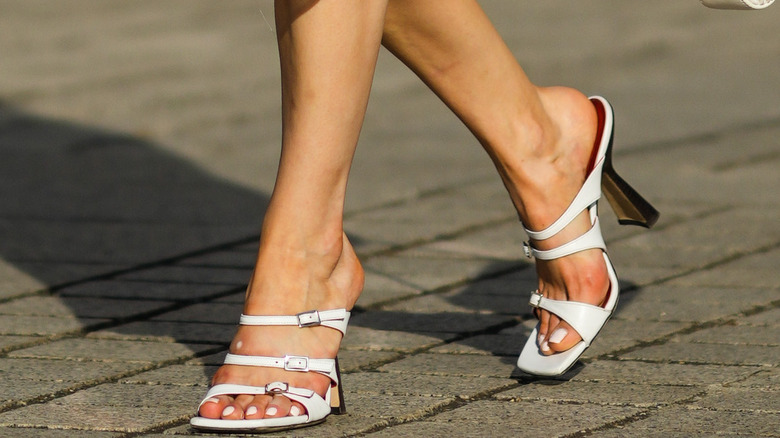 Edward Berthelot/Getty Images
We may receive a commission on purchases made from links.
In the summertime, the heat can be hard on your feet, and your toes are dying to be let out to breathe. And what better way to give your digits the air they need than a pair of fun sandals? Given that sandals are one of the first forms of shoes invented, dating back about 8,000 years (via Love to Know), they're one shoe style you can't go wrong with, especially in hot climates. 
But for those of us who are heel aficionados and are determined to enhance our height year-round, don't fret. In today's market, sandals and heels are far from mutually exclusive. Versatile heeled sandals can be worn from anywhere from the beach to the middle of a bustling city for a casual or professional look. 
Whether you're looking for strappy, chunky, or anything in between, here are some of the best sandals with heels if you're trying to balance free and fabulous.
Black heeled sandals are elegant and universal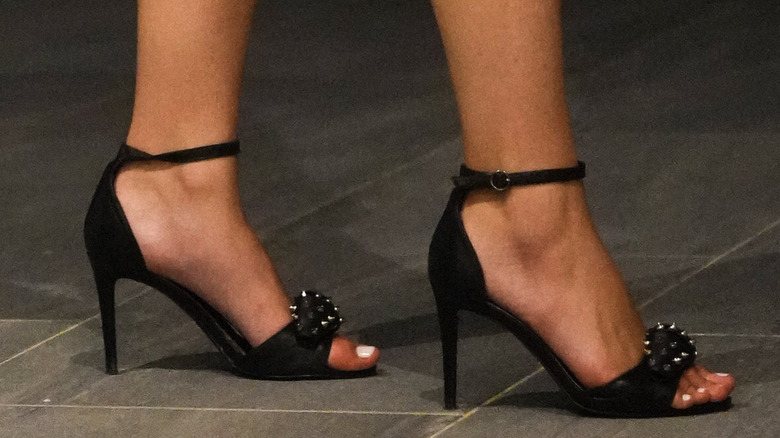 Edward Berthelot/Getty Images
In the accessory world, black is often the way to go. The color matches with any outfit effortlessly and gives you chic, New York City vibes.
Steve Madden's Harlin Black slides have PCV plastic reminiscent of 2000s jelly shoes, with a sophisticated, adult-like twist. Their chunky heel makes them easy to walk in, and they conveniently slip on, if you're not looking to spend extra time getting ready.
The Dream Pairs Women's Nina Low Heel Pump Sandals in black are something a little extra. Their rhinestone beading and netting decorate your toes, its small opening giving them a chance to say hello to the world. The tiny heel is thin but mighty, giving your legs an extra lift without looking too scandalous.
The Chain Detail Sandals from H&M honor their title. The ankle loop is designed to make sure your feet stay in place, while the gold accent is placed front and center, so make sure to try these if you want to give tough, "don't mess with me" vibes.
The Lulus Jenissa Black Suede Knotted High Heel Sandals in black come with ultra-soft material and a feminine bow design if you're looking to cutesy it up for any occasion.
The LifeStride Women's Charlotte Heeled Sandals are strap-o-mania that wrap around your feet continuously for a gladiator-like effect. These elegant shoes can be dressed up or dressed down for casual or formal events.
Colorful heeled sandals always shake things up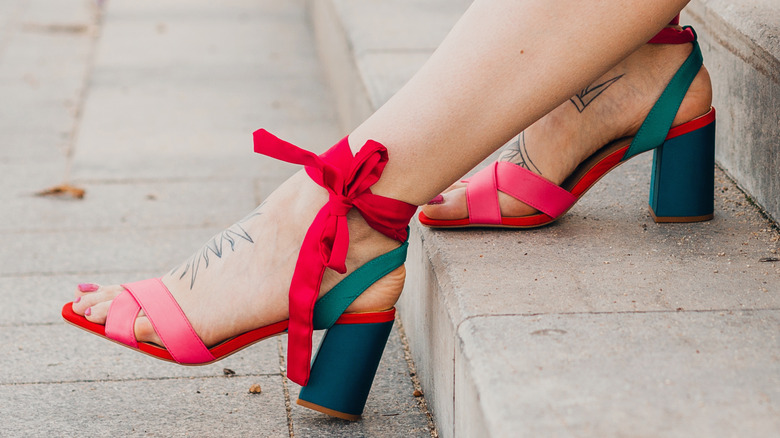 Shutterstock
If you're looking for something a little more vivacious, heeled sandals come in a variety of bold colors as well.
The Mango Knots Heel Sandals in Lilac have, you guessed it, knots. Their flat base, thin straps, and barely-there heels will make your feet look dainty and petite as ever.
The IDIFU Cookie-LO Block Heels Chunky Sandals in Blue Sequin are enough to make Sir Elton John weep with joy. Their bright, glittery design and color are loud without looking cheap and are the definition of camp.
The Loretta Block Heels from Aldo hop on the contemporary, minimalist trend in the best way possible. Made with synthetic rubber and detailed with a singular line across the front, these heeled sandals secure your feet, while the long heel makes a confident statement.
Forever 21's Slip-on Block Heels in Neon Yellow prove that the '80s are coming back. Their simplistic design with a wide strap and blank canvas ensures that the striking shade is the primary focus of this fun sandal.
The Public Desire Charms Block Heeled Sandals give major Florida vibes with their faux croc pattern and daring citrus tone. Their intricate array of straps may look complicated at first glance but are easy to navigate while placed on the feet.