Here's What Even Stevens Star Steven Anthony Lawrence Looks Like Today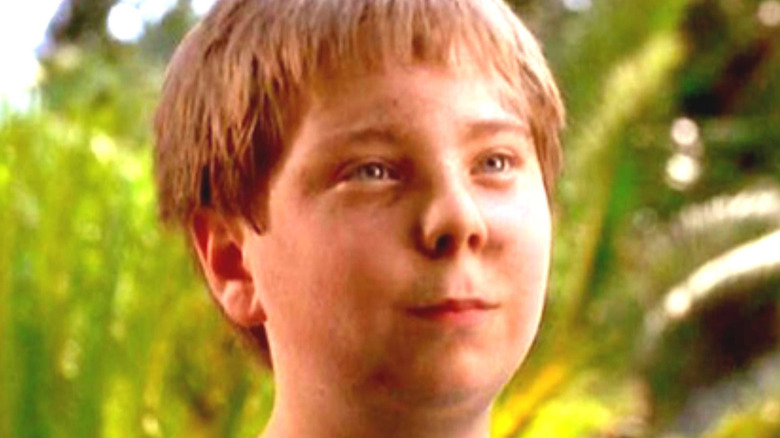 Disney
It might be kind of hard to imagine nowadays, given his reputation both as an overly committed Method actor (via Cinema Blend) and alleged abuser (via The New York Times), but Shia LaBeouf actually got his big break fronting a Disney show. Just like Miley Cyrus, Demi Lovato, and plenty of others, LaBeouf initially made his mark on the zeitgeist on hit teen sitcom "Even Stevens." As Louis Stevens, the young actor proved he was adept at comedy across three successful seasons. 
Although LaBeouf was ostensibly the star, in Season 2, a total scene-stealer arrived in the form of Bernard "Beans" Aranguren, a precocious youngster with an insatiable love of bacon who caused havoc everywhere he went. As Vice notes, although actor Steven Anthony Lawrence, who was 9 when he auditioned for "Even Stevens," was initially only supposed to feature in a couple of episodes, the actor made such an impression that Beans became a recurring character. 
Has he left the role behind in the years since?
Steven Anthony Lawrence will always be Beans
Steven Anthony Lawrence had a few notable bit parts before landing his breakout role on "Even Stevens," including in "Married...with Children," "Buffy the Vampire Slayer," and "Sabrina the Teenage Witch." He also enjoyed a recurring role on "The Amanda Show" (via IMDb). Lawrence made a major impression on the "Even Stevens" crew, telling Vice, "I would just get written into the next episode and the next episode," until Beans was a series stalwart. The former Disney star looks back on his time on the show, hanging out with the cast, very fondly. He was hugely popular in school, too, quipping, "I was kind of an alpha guy when I was younger." 
After "Even Stevens," Lawrence continued to work extensively across family films ("Cheaper by the Dozen," "The Cat in the Hat") but has transitioned into more adult fare in recent years, particularly as a result of losing his hair at the age of just 14. "I was never really a vain kind of guy," he said. "I've never been one for appearances. Now, I shave my head. I don't have to look at it. What the hell do I care?" 
Lawrence stays connected to his Disney past through Cameo, but he also co-hosts a political talk show, "The Rice and Beans Show," on YouTube and is a staunch Democrat. He's happy for fans to approach him and discuss Beans, considering it a privilege to have made an impact on people's lives.