This Makeup Collection Combines Your Love Of Coke With Your Love Of Beauty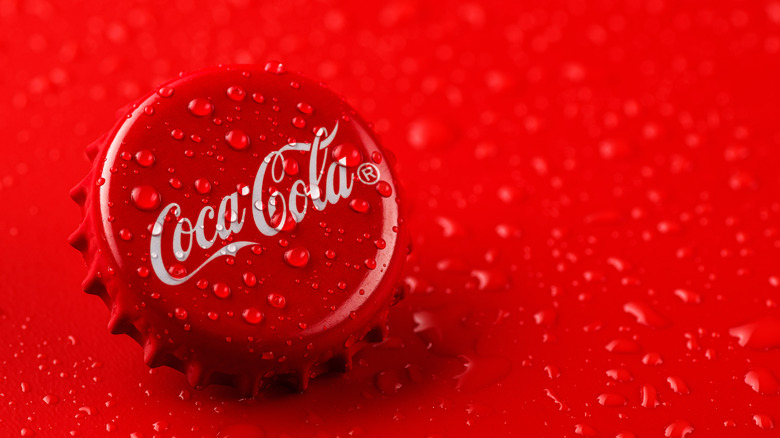 Food And Photo/Shutterstock
Makeup brand Morphe is no stranger to collaborative releases. The brand's official website boasts a section where buyers can shop some of the items they've created in tandem with influencers such as Madison Beer, James Charles, Jaclyn Hill, and Nikita Dragun. While collaborative partnerships are often between a brand and a notable person, that's not always the case. Take E.L.F. Cosmetics's Chipotle palette, for instance, or ColourPop's "Powerpuff Girls"-themed release. Really, there's no shortage of unexpected makeup collaborations.
Morphe is no exception when it comes to innovative partnerships. Earlier this year, the company worked with Lisa Frank for a nostalgia-inducing collab that is guaranteed to take you straight back to the '90s (via Allure). The brand's upcoming release, which sees them teaming up with Coca-Cola, is equally imaginative. Yes, you really read that correctly. Coke fans are able to buy makeup inspired by the beloved fizzy drink. The brand shared its Cherry Coke Cheerfully Cherry Artistry Palette on Instagram. "From relaxin' neutrals & bold berries to ready-for-anything reds, this refreshin' palette of cheerful shades is the ultimate cherry on top," the caption read. 
Morphe's new Coke-themed palette and additional products will be available on its website and in stores Aug. 19 (via Instagram). Of course, fans of either brand likely already know this is not their first time working together.
This marks Morphe and Coca-Cola's third release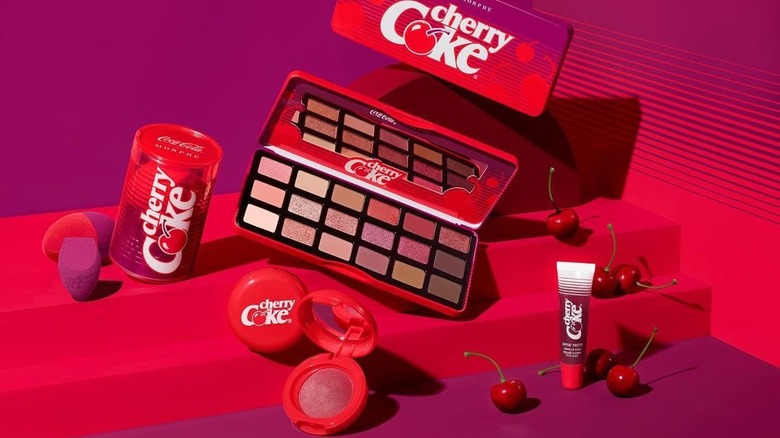 Morphe
Morphe linked up with Coca-Cola for their first sugary collaboration in the summer of 2020 (via PopSugar). The drop included an eyeshadow palette, a lip gloss, a highlighter, and brushes, and the packaging featured Coke's iconic logo and signature red color. While heavy on neutrals, the palette also featured pops of that signature red as well as a shimmering sky-blue.
The limited-edition collection turned out to be a hit — so much so that the brands reunited this summer for a second run of exclusive products. Impressively, they managed to create another makeup collection inspired by the drink without duping themselves. This time around, the launch was inspired by a popular commercial from 1971 (via PopSugar) and included a second palette, more brushes and lip glosses, and a mascara. While this palette also leaned toward brown shades (it's a palette inspired by a brown soft drink, after all), it clearly served a retro fantasy with cheery pastels to mix things up.
What makes Coke's third Morphe collection different? This one is inspired by a specific drink from Coke's line: Cherry Coke. That means the third palette, which appears to feature aluminum packaging like a can, is heavy on reds and pinks. Interestingly, their latest release leaves the door open for additional Coke x Morphe products in the future. For instance, the brand could easily drop a cool-toned collection with pops of silver inspired by Diet Coke. One can only dream, right?