The Real Reason Garth Brooks Canceled His Remaining 2021 Concerts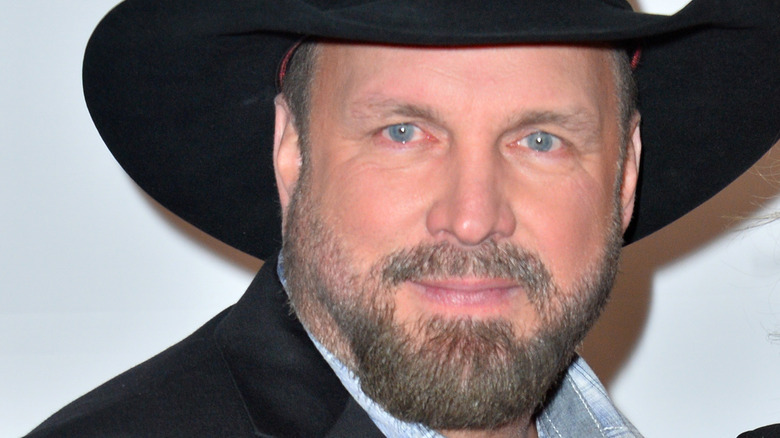 Featureflash Photo Agency/Shutterstock
The summer of 2021 seemed to be getting off to a good start. With the COVID-19 death rate slowing and more Americans receiving the vaccine, the country slowly began opening up. Summer camps and pools opened, indoor dining resumed, and people gathered once again for outdoor parties and indoor events. Top musicians began going out on tour again, including country superstar Garth Brooks. His concerts sold out within minutes of going on sale, and he played to packed stadiums in his first five cities.
But as the delta variant of the coronavirus caused a resurgence of hospitalizations, Brooks began to rethink the wisdom of encouraging thousands of unmasked fans to gather in close proximity for several hours at a time. And he knew firsthand the fear of having a loved one fall ill; in February, his wife, Trisha Yearwood, had a mild case and practically had to force him to keep his distance (via People). On August 18, 2021, Brooks announced that he would be canceling his remaining shows for 2021. In a statement (via Good Morning America), Brooks said, "In July, I sincerely thought this pandemic was falling behind us. Now, watching this new wave, I realize we are still in the fight and I must do my part." 
The 350,000 fans who had hoped to see Brooks in Cincinnati, Baltimore, Nashville, Boston, and Charlotte will have their money refunded, rather than having to wait for a possible rescheduling date; Nashville had already been postponed due to weather. The previous week, Brooks had performed in Lincoln, Nebraska.
Garth Brooks said he'll tour again when it's safer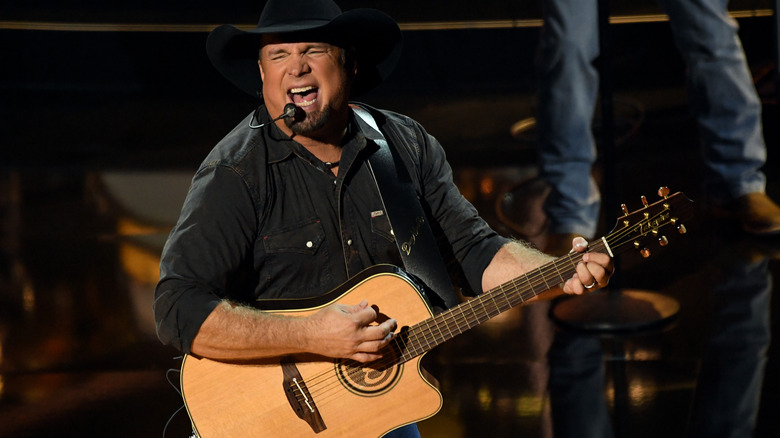 Kevin Mazur/bbma2020/Getty Images
Garth Brooks is the latest in a series of star musicians who have also canceled or postponed their concerts, among them Stevie Nicks, Korn, Michael Bublé, Limp Bizkit, and Lynyrd Skynyrd (via Billboard). Tony Bennett was also scheduled to make a final tour in the fall before retiring, but his family cut the plans short.
The "Ain't Goin' Down" singer assured his fans that he isn't going down for good; Brooks is hoping that circumstances will allow him to go back on tour before the end of the year. "With that said, the most important thing to me is fulfilling my end of the Stadium Tour by making sure every show is doable ... and making sure [they are] not only the best experience ever, but also the safest one we can provide," Brooks said (via Variety).
The news was met with approval from Brooks's friends in low (and high) places. One fan wrote on Twitter, "You are the most unselfish famous artist I know. It takes courage, leadership and a load of empathy to put civil responsibility in place of money and selling tickets and avoidance of criticism." Another quoted one of his songs, "They'll call you a hero or a traitor but you'll find out that, sooner or later, Nobody in this world is gonna do it for you. Bravo Garth Brooks." 
Some were less pleased, wondering why he didn't cancel his tour earlier. And a pandemic-weary critic wrote, "You can't shut everything down and live in a bubble forever ... we now have vaccines and treatments ... we need to move on."
As of publication, the United States is experiencing an average of 140,000 new cases of COVID-19 a day, per The New York Times.