Cheaper Alternatives To LoveShackFancy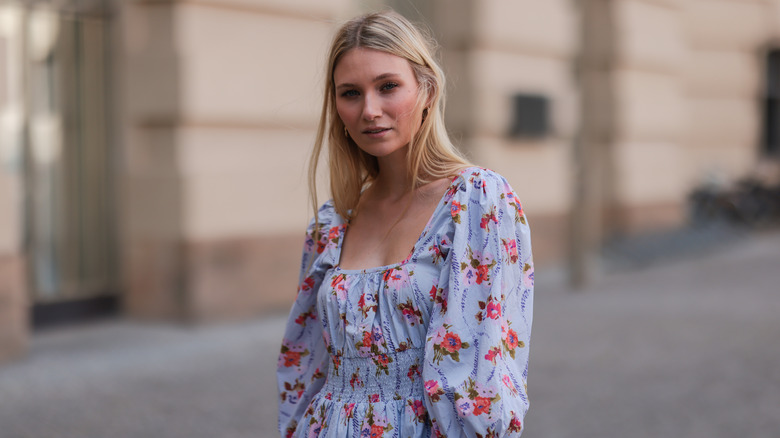 Jeremy Moeller/Getty Images
There's no doubt that LoveShackFancy has some pretty cute clothes. The Manhattan-based brand was founded by bridesmaid gown designer Rebecca Hessel Cohen in 2013, and its often floral and lace-filled garments are inspired by Cohen's mother's style (via LoveShackFancy). Since then, LoveShackFancy has garnered worldwide attention. Its girly, soft, and vintage aesthetic is a must-have for anyone looking to brighten up their day, especially in the summer.
However, it's not exactly a secret that LoveShackFancy's selections do not run cheap ($595 for a maxi dress, anyone?). These high prices are likely due to the intricate handwork by skilled artists and customizable crafting that goes into each garment, as noted on the brand's website – but the truth is, these prices just aren't realistic for a large portion of the population.
And although LoveShackFancy's ultra-feminine vibes might seem hard to replicate elsewhere — those of us on a budget shouldn't worry. There are many affordable yet high-quality brands out there that resemble LoveShackFancy, and here are some of the best.
LoveShackFancy's most fierce competition
Channel your inner hippie with For Love and Lemons, an LA-based brand filled with feminine vibrant colors, lace, and florals galore in practically all of their selections. Its Irish Hi-Lo Dress in Pink ($167) is the perfect combination of sweet and sexy with a pink hue, sweetheart neckline, and see-through fabric. You can find on the website Largo Drive, which carries many For Love and Lemons products (via Style Report Magazine).
Free People is perfect if you're going for that flowy, bohemian, ethereal aesthetic that LoveShackFancy is known for, but without annihilating your paycheck. Their '70s vibes will leave you feeling free-spirited and connected with the earth. The Ditsy Floral-Print Quilted Cotton-Blend Denim Jacket ($198) was spotted on Selena Gomez, who surely has good taste (via InStyle).
Perhaps the most affordable brand on our list, Lulu's, offers luxury quality garments on a budget-friendly price line. Its aesthetic ranges from chic city woman to elegantly girly and bright, with lots of options that resemble LoveShackFancy. The Rhythm Seascape Light Blue Chambray Mini Skirt ($54) will give you major ocean vibes that suit the summertime perfectly (via PopSugar).