Why A GoFundMe For Lady Gaga's Dog Walker Has The Internet Seeing Red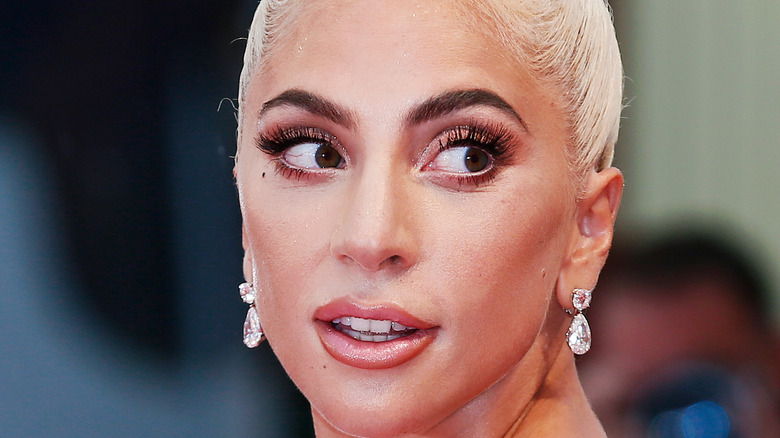 Andrea Raffin/Shutterstock
Lady Gaga has carefully built a rep for being inclusive and caring — but some fans are wondering if she's doing wrong by a famously loyal staff member. 
Back in February, Gaga's dog walker, Ryan Fischer, was shot and badly wounded by a gang of assailants who dognapped two of the pups. One attacker shot and wounded Ryan at close range as he clung to the third dog (per KABC). Per the outlet, a distraught Gaga offered a $500,000 reward for their safe return and called Fischer "forever a hero." Two days later, a woman turned the dogs in to the police, claiming to have found them. In fact, she was part of a group of five criminals who were arrested for robbery, attempted murder, and related crimes (via NPR).
The dogs came through the ordeal unhurt, but Fischer was a different story. Emotionally traumatized and suffering from "long bouts of depression and doubt and self-pity," he decided to take a cross-country journey as a healing process "while seeking out communities that support the process of growing through trauma," as he wrote in an Instagram post. But his travels were cut short when his 1991 Ford Falcon broke down. Low on funds and with nowhere to live, Fischer set up a GoFundMe page for donations toward a new van and travel expenses. 
As of this writing, Fischer's GoFundMe page had raised an impressive $28,000 of the $40,000 he's seeking. But these generous folks are sharing their opinions along with their money.
Fans are wondering why Lady Gaga isn't helping Fischer heal
Many commenters wanted to know why Fischer's former boss wasn't stepping in to help her "hero." One donor wrote, "Where the hell is Gaga?? She should be buying this van, as well as providing a year+ of salary to this guy. Boy, has my opinion of her changed for the WORSE." Another added, "In my mind there is no more Lady Gaga. No LADY is capable of such behavior." Yet another called it "a joke" that the woman who offered half a million for her dogs could ignore their protector. "If she represents Woke Society, then it is disgusting."
An Instagram follower urged Fischer to take his donation page down altogether: "I'm so sick of gofundme's for people who don't really need it," they wrote. "Ryan, I'm sorry for your trauma, but it's not up to strangers to give you money so you can heal....Find a job that doesn't trigger you. There are people, children, out there with LEGIT needs. This ain't it, bro."
On the other end of the spectrum, some contributors were confident that Gaga, who just postponed her Chromatica Ball Tour till 2022 (via Variety), will come through before too long. At least one donor expressed a bit of skepticism: "I'm guessing there is a really good reason why lady gaga is not helping. I'm sure that there is more to this than we know."