What Kris Jenner Looks Like Underneath All That Makeup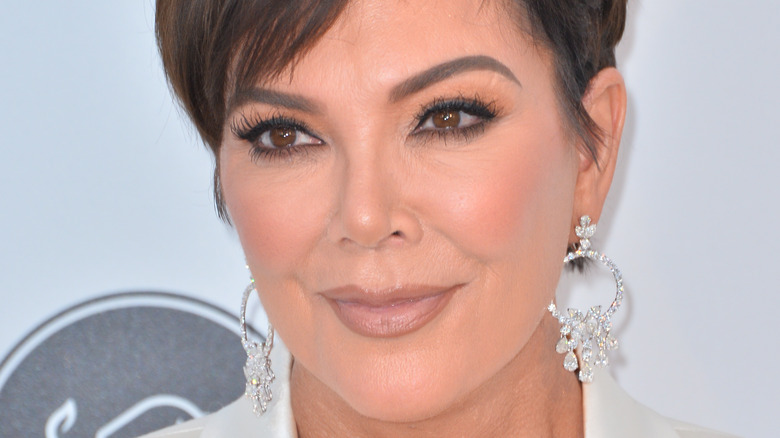 Featureflash Photo Agency/Shutterstock
When you think of Kris Jenner, you think of beauty and glamour — and not just her own, but that of her five gorgeous and successful daughters, Kourtney, Kim, Khloé, Kendall, and Kylie. They have all dominated the headlines since 2006, when their reality show, "Keeping Up With The Kardashians," first began and became a smash hit. With her impeccable makeup and perfectly coiffed, short black locks, Jenner certainly never looked her age during the show's 20 seasons on the air.
Jenner has been living a glamorous Southern California lifestyle most of her life. She was born Kristen Mary Houghton on Nov. 5, 1955, in San Diego. And, although she moved throughout the state when she was younger, by 1978, she settled into the Los Angeles lifestyle as the wife of high-powered attorney Robert Kardashian — the same late attorney who defended O.J. Simpson when he was accused of murdering his ex-wife, Nicole Brown Simpson (Jenner's good friend), as well as Ron Goldman. 
During her first marriage, Jenner became the mom she always wanted to be and gave birth to three daughters and one son, Rob (via Biography.com). Her second marriage to Caitlyn Jenner produced a set of two daughters, Kylie and Kendall Jenner, and her reality show heightened her glam Hollywood life while turning her into the star she is today. 
But, sometimes, Jenner — who is now a grandmother of 10 along with being a mother of six — takes off all that makeup and reveals her true self. 
Inside Kris Jenner's beauty routine
With or without makeup, Kris Jenner has impeccable skin that would be the envy of anyone. She's even planning her very own skincare line and applied for a trademark, according to People. 
"I think really good skin starts when you're young," Jenner told Refinery29 in 2019. "When I was really young, I realized the value of a super-creamy moisturizer and getting facials from time to time to really help take care of my skin." The momager also credits her daughters for teaching her new skincare techniques. "My kids are pretty specific about the way you apply certain products," she said. "Like, you rub everything upward and across the face and the neck ... giving yourself your own mini face massage is amazing."
The mom of five superstar women also said she's learned a few lessons about keeping her skin looking great that she never knew when she was younger, including making the mistake of worshipping the sun unprotected. "When I was growing up, we just put baby oil and iodine all over and sat there with a reflector on the beach and it was as much sun as we could get," Jenner told Refinery29. "We didn't know any better." 
She added: "Now, this generation really takes care of themselves in a way that we just weren't educated to back in the day. Just the other day, all the kids were in the pool, and they were slathering on sunscreen and I thought, 'Okay, good point, better get something for my face.'"
Kris Jenner works hard to get that glowing skin
Tinseltown/Shutterstock
As one can tell by how Kris Jenner looks without makeup, her skin is impeccable. Jenner credits a lifetime of work taking care of herself the way women should, no matter their age. 
She uses one of the simplest, tried-and-true skincare tools we have: a washcloth. "Wash your face every night using a hot terry cloth washcloth. It acts as a natural exfoliant by loosening dead skin cells, opens up the pores, and softens the skin, prepping it for your night treatments," she told Poosh. 
Jenner added that self-care obviously doesn't stop with one's skin. "Make sure you get a new toothbrush every three weeks to support dental health," she said (via Poosh). "Your mouth is like the holy grail of your body, and it's so important to take care of your teeth. Don't forget to floss every night."
Jenner isn't shy about discussing her age and acknowledges that keeping a youthful glow might not be easy for more mature women, but it's certainly something worth striving toward. "I just think it's really important for older women to realize that if they just take care of their skin, it's not complicated," she said (via The Blast).
Of course, having millions of dollars at one's disposal doesn't hurt when trying to look great, either. In the past, Jenner has opened up about the cosmetic procedures she has undergone, including a neck lift, Botox, laser treatments, and fillers (via The Blast). 
Hey, whatever works and makes her happy, right?