The Shady Side Of Function Of Beauty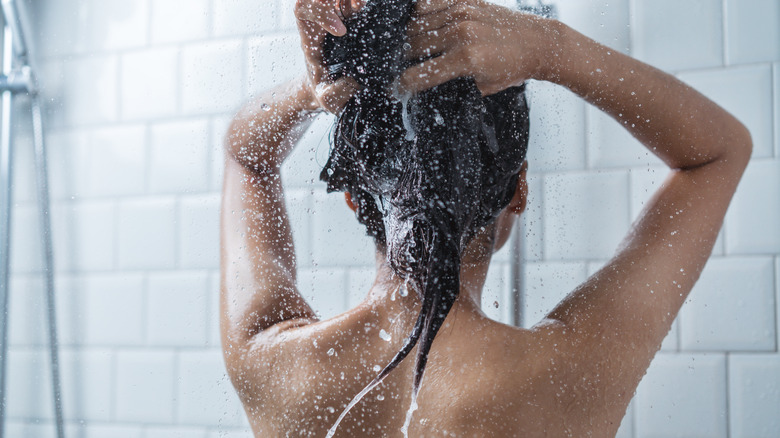 TORWAI STUDIO/Shutterstock
Before you make a beauty purchase, chances are that you spend time researching how good the product is and what other consumers' experiences using it are like. There's a plethora of beauty products on the market, aimed toward solving different issues and catered to specific skin or hair types. A quick search through Instagram's haircare hashtag offers up millions of beauty recommendations and first-person accounts of the best hair products to stock up your bathroom. After sifting through review after review and listening to your favorite influencers share their personal experiences, you make the decision to test it out yourself and see if it lives up to the hype. But the expectation doesn't always fit the reality.
There's one influencer-favorite haircare brand that is getting a lot of backlash for its alleged empty promises of healthy, hydrated hair. Since its launch in 2016, Function of Beauty has been featured on many beauty influencer's social channels, with its biggest draw being a custom formula that targets your specific hair goals (via Business Insider). But in spite of the FDA-approved brand's popularity and many influencers singing its praises, more consumer reviews are coming out that point to the complete opposite.
Some customers reported significant hair loss after using Function of Beauty
TikTok user and health and fitness coach Madison Hoover posted a video documenting her experience with Function of Beauty's haircare products. In the video, she shared that she turned to the custom haircare line to deep condition her newly dyed hair. But after just one week, Hoover claimed that her hair became dry, while her roots remained oily. Many people flocked to her comments section to share similar stories of damaged, tangled hair.
In an April 2021 interview with Vox, Hoover offered more insight on her experience with Function of Beauty. "I was just looking for a good hydrating moisturizing shampoo and conditioner and I had seen influencers promoting Function of Beauty for probably the past four or five years," she explained. "When you first head to the brand's website, it prompts you to take a hair quiz on your hair type, goals, fragrance, and color. The health and fitness coach told Vox that she requested products that "moisturize, give volume, and condition." 
But Hoover said the end results did not deliver as promised. "I went from having gorgeous hair to my scalp being incredibly super oily, but then the rest of my hair falling out and being so dry and brittle. I could not brush it. It was coming out like straw," she revealed. She's not alone. One reddit user noted that though they were initially happy with their hair texture after adding the products to their haircare routine, they also noticed significant hair loss.