What Miley Cyrus Really Looks Like Underneath All That Makeup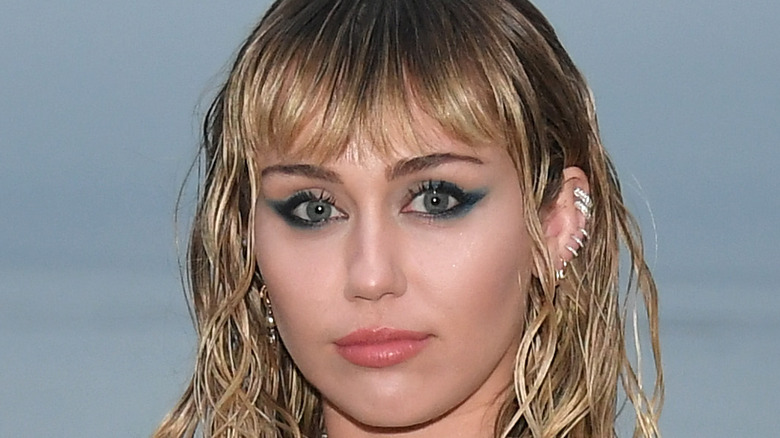 Neilson Barnard/Getty Images
Miley Cyrus has truly grown up in front of our eyes. From playing dual roles on "Hannah Montana" to shocking the world opposite Robin Thicke (remember him?) to finally emerging as a legitimate singer-songwriter, Cyrus has evolved into one of the most beloved pop stars in the world. Even more impressive, she's an openly queer, very vocal activist for LGBTQIA+ rights (via People) who's also been frank about her struggles with sobriety (via Elle). Put simply, the starlet who became famous for hiding her identity is among the realest celebrities we have. 
When it comes to beauty, Cyrus has admitted being in the industry so young impacted how she felt about herself. In an interview with Byrdie, the "We Can't Stop" hit-maker revealed, "I always had really bad skin growing up, so I'm obsessed with taking care of my skin. No matter what, I don't pass out in my makeup." As Cyrus explained, "Your skin affects so much of how you feel, and your confidence. [Growing up], I always felt like no matter what I had on, or where I was, everyone was always staring at my bad skin." Naturally, she looks stunning without anything on.  
The pop star glows from within without a face of makeup on
While chatting to Byrdie, pop star Miley Cyrus explained she prefers to do her own makeup because whenever other people handle it, she breaks out. When it comes to getting glammed up, the Nashville native is a self-described "'more is more' girl." However, Cyrus can strip it all back when the mood takes her, as evidenced by a makeup-free selfie she shared from the studio on Twitter. With her hair loose and a pair of headphones on, Cyrus stares straight into the camera and totally glows from within. She might've been insecure about her skin growing up, but the pop star looks totally flawless these days — "Ninety percent of the time I have on zit cream," Cyrus deadpanned to Elle. 
According to esthetician to the stars, Biba de Sousa, whom Cyrus has been going to for many years to partake in her $300-an-hour custom facials, the "Midnight Sky" hit-maker is a total master of skincare. In an interview with Beauty Insider, de Sousa explained that Cyrus really cares about her skin, which means they have in-depth chats while she's working on her. In fact, Cyrus is such a skincare nerd, she can quite easily do a facial on herself at home. No doubt dropping hundreds of dollars on a single treatment contributes to Cyrus's no-makeup glow, but considering how much effort she puts into taking care of her skin in general, it stands to reason she's reaping the benefits.