Inside Mike Richards' Controversial Decision To Step Down As Jeopardy! Host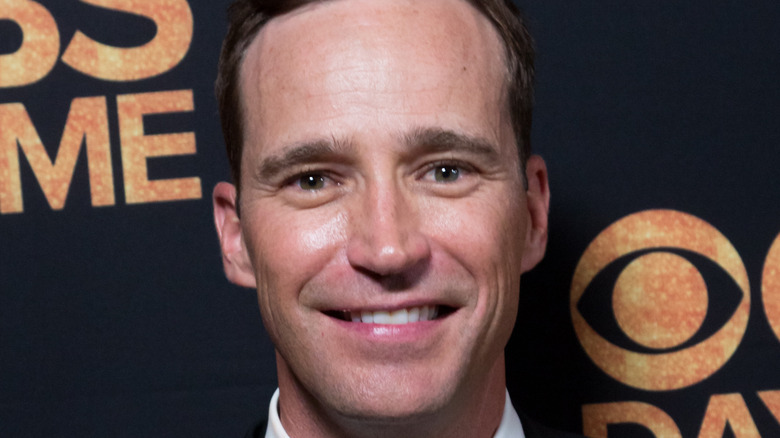 Greg Doherty/Getty Images
We'll take "Don't Let the Door Hit You" for $1,000. Less than two weeks after being named the successor to Alex Trebek as host of "Jeopardy!," Mike Richards has announced his resignation from the show. 
In a statement he wrote to the staff of Sony Pictures Television, Richards said in part, "I was deeply honored to be asked to host the syndicated show and was thrilled by the opportunity to expand my role. However, over the last several days it has become clear that moving forward as host would be too much of a distraction for our fans and not the right move for the show. As such, I will be stepping down as host effective immediately. As a result, we will be canceling production today." Richards added that the show will resume its rotation of guest hosts while the hunt for a replacement resumes. Details will be released next week. 
This sudden news comes as the result of an explosive report published in The Ringer on August 18, 2021. Journalist Claire McNear, who recently wrote a book about the classic game show, researched Richards' career history and found some startling details. In addition to serving as executive producer on "The Price Is Right" and "Jeopardy!," Richards hosted a podcast called "The Randumb Show" from 2013 to 2014. In the show, he continually made offensive jokes including jabs at weight, height, and the welfare system. He once asked his female cohost to show "booby pictures" on her phone, and repeatedly used terms like "ho" and "slut." 
As more information about Richards' past comments came to light, it was discovered that he had made disparaging comments about women, Asians, and Jewish people, prompting the Anti-Defamation League to call for an investigation into his actions. "Stereotyping is an entry point to hate and his apology lacks acknowledgment of its harm," the ADL posted on Twitter. 
Jeopardy! fans are hoping for a more popular host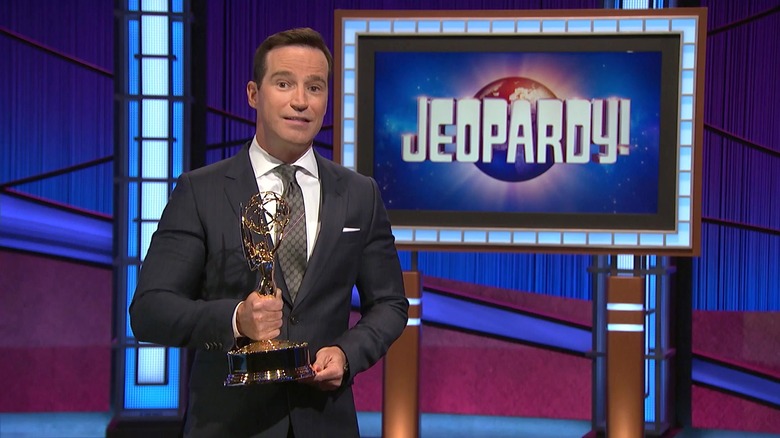 Daytime Emmy Awards 2021/Getty Images
The report published by The Ringer was damning enough on its own, but it wasn't the only time Mike Richards' behavior had been called into question. During his years on "The Price Is Right," his production company was sued by two models who accused Richards of discrimination and sexual harassment. After the "Jeopardy!" host decision was announced, news outlets brought up this past scandal, and Richards issued a statement defending himself. Journalist Claire McNear also quoted inside sources who claim that Richards may have tried to position himself as the frontrunner for host by putting more popular candidates — like LeVar Burton — at a disadvantage. 
Following this latest scandal, Richards once again found himself on the defensive, apologizing for his behavior on the podcast and vowing to do better But it was too little too late to salvage his rep. The news went viral, and this time, Richards became the target of jokes. On his late night show, Stephen Colbert poked fun at the host's apology, saying, "I know I drove drunk and plowed through your rose garden, and to prove I'm sorry, I recycled my empty liquor bottles," (via Mediaite).
Realizing that the iconic game show's ratings might suffer if he stayed on, Richards opted to step down. "I want to apologize to each one of you for the unwanted negative attention that has come to 'Jeopardy!' over the last few weeks and for the confusion and delays this is now causing," he concluded in his official statement. "I know I have a lot of work to do to regain your trust and confidence."