What We Know About Jesse Jackson's Battle With COVID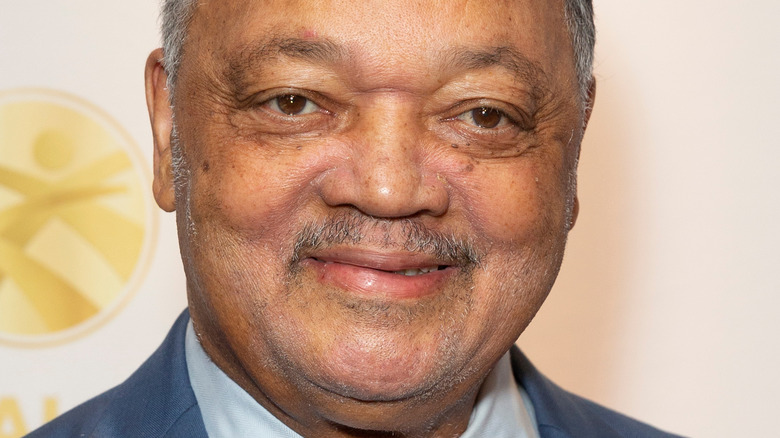 lev radin/Shutterstock
Every day, it seems that the COVID-19 pandemic has affected another famous name. A number of Olympic athletes saw their dreams crushed when they tested positive for the coronavirus soon after arriving in Tokyo; among them was tennis star Coco Gauff. Other celebs who have contracted the highly contagious virus this year include Melissa Joan Hart (via CNN), Reba McIntyre, Wiz Khalifa, Luke Bryan, Sarah Palin, Sen. Lindsey Graham, and Texas Gov. Greg Abbott (via People). 
Now there's another name to add to the list: Rev. Jesse Jackson has been hospitalized for the coronavirus, as has his wife, Jacqueline. The Rainbow PUSH Coalition — the multiracial social justice organization Jackson founded — announced the news on its Facebook page. The couple's son Jonathan said in a statement, "Doctors are currently monitoring the condition of both. Anyone who has been around either of them for the last five or six days should follow the CDC guidelines." He added that he would post updates as they become available.
Jackson joins the statistics of "breakthrough" COVID patients — people who have contracted the illness after being vaccinated. His age (he will be 80 in October) and health (he was diagnosed with Parkinson's disease in 2017) made him more vulnerable to becoming ill. Per the Chicago Tribune, Jackson was vaccinated back in January 2021 and encouraged the public to do the same: "Take the vaccine. Take the vaccine now."
Jesse Jackson was hard at work prior to his hospitalization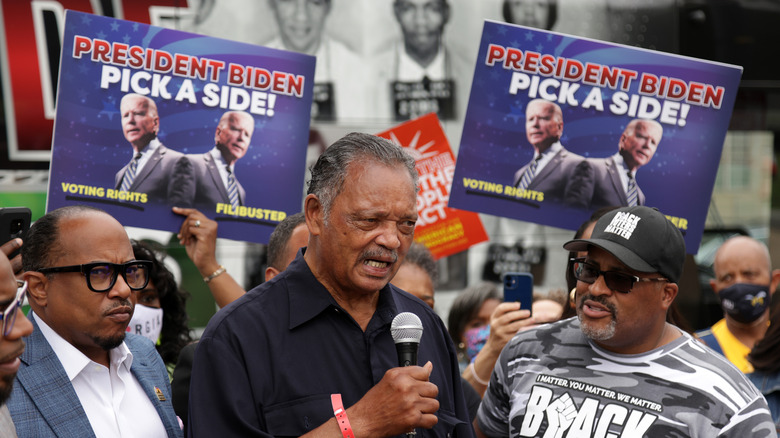 Alex Wong/Getty Images
The Rev. Jesse Jackson has been a leading civil rights activist for six decades. He marched with Dr. Martin Luther King Jr. in 1965, and was in the same hotel as King when he was assassinated (via Biography). The ordained minister went on to become involved in such causes as the anti-apartheid movement in South Africa and the push for democracy in Haiti. Jackson ran for president twice, only the second Black politician to do so at the time; although he never clinched the Democratic nomination, he did extremely well in the primaries. In 2000, Jackson also received the Presidential Medal of Freedom.
Although Jackson has faced health problems in recent years — in addition to his Parkinson's diagnosis, he underwent abdominal surgery this past February, per People — he has continued his tireless activism. Just days before his hospitalization, he attended the Bud Biliken Parade, a decades-old tradition celebrating the history and achievements of the Black community in Chicago. Jackson also attended a voting rights demonstration in Washington, DC (pictured here). 
Many supporters have sent their best wishes to Jackson and his wife of 59 years, including fellow activist Rev. Al Sharpton, who suggested we send our "sincere and intense prayers." Through her BeyGOOD account, Beyoncé said, "I was saddened to learn that both Rev Jesse Jackson and his lovely wife Mrs Jacqueline Jackson have both been hospitalized due to COVID. Our thoughts are with them and their family and our prayers are for their smooth and full recovery."