This British TV Presenter Has Strong Words For Meghan And Harry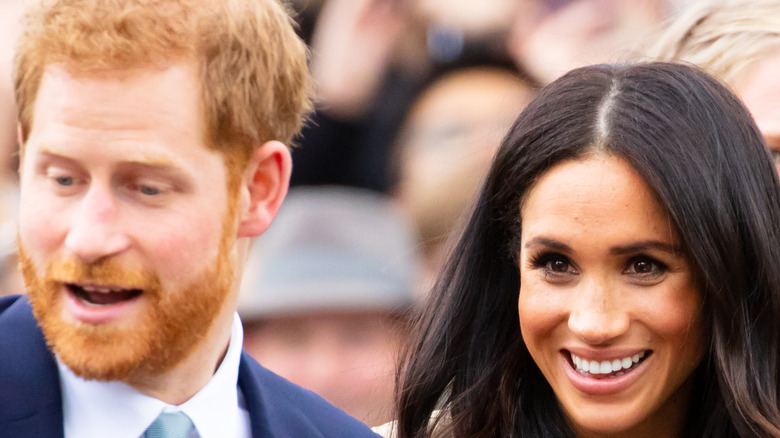 FiledIMAGE/Shutterstock
Is the tide turning against Prince Harry and Meghan Markle? The celebrity couple garnered worldwide sympathy when, after defecting from the royal family, they opened up to Oprah Winfrey about all the hardships they'd endured while living with them. Among many other things, Meghan confessed to having terrible mental health issues and receiving little to no help from higher-ups, while the couple's son, Archie, was allegedly the subject of racist debate from an as-yet-unnamed senior royal (via People). In the time since they stepped down, Meghan and Harry have turned their attention to more altruistic endeavors, predominantly through the non-profit arm of their Archewell foundation. However, there are persistent concerns that the Sussexes might be overstaying their welcome, with royal expert Katie Nicholl even suggesting their 15 minutes might soon be up. 
And now, polls from both sides of the Atlantic appear to confirm that the public is getting a bit tired of hearing about Meghan and Harry. According to OnePulse, U.S. respondents are equally as sick as U.K. denizens of the former royals commenting on global issues, while most people also feel the Duchess of Sussex should facilitate a reconciliation between Harry, his brother, Prince William, and their father, Prince Charles (via Express). For example of the former complaint, the Sussexes were recently criticized for their stance on Afghanistan. As a result, more than 50% of respondents on both sides of the Atlantic believe they should keep quiet. A British conservative news pundit totally agrees, and made her position clear in a lengthy monologue. 
Mercy Muroki is sick of hearing about Meghan and Harry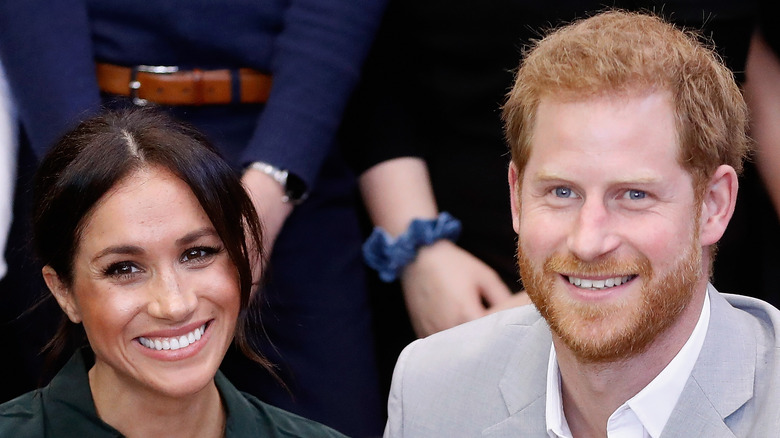 Chris Jackson/Getty Images
While appearing on GB News, Britain's recently-launched conservative television network, presenter Mercy Muroki laid into Prince Harry and Meghan Markle for continuing to court attention. Muroki revealed she "simply cannot summon damns to give" about them and their opinions (via YouTube). The pundit complained about how ubiquitous the Sussexes still are, despite relocating to California. However, the couple recently landed deals with both Netflix and Spotify, suggesting there's still a significant audience for their output (via The New York Times). Although Meghan and Harry have been embroiled in several libel lawsuits due to their harsh treatment by the British press (via BBC), Muroki argued they haven't done enough to distance themselves, saying, "Meghan and Harry say they want some privacy and space, but I'm starting to feel like it's us who need a bit of privacy and space from them." 
Muroki even listed all the ways the couple continues to dominate the airwaves, including their lucrative book deals. She also defended the queen's lack of a response about one of the most damning revelations from the Oprah interview, reasoning it's the Sussexes' fault for not naming and shaming the alleged racist. Muroki railed, "We're just expected to blindly swallow their narrative, whilst they give us no evidence about who was racist, or what was even really said." As far as Muroki is concerned, Meghan and Harry either need to back up their claims, or back away from the microphone.