Why Walking Your Dog Is Great For Your Brain Health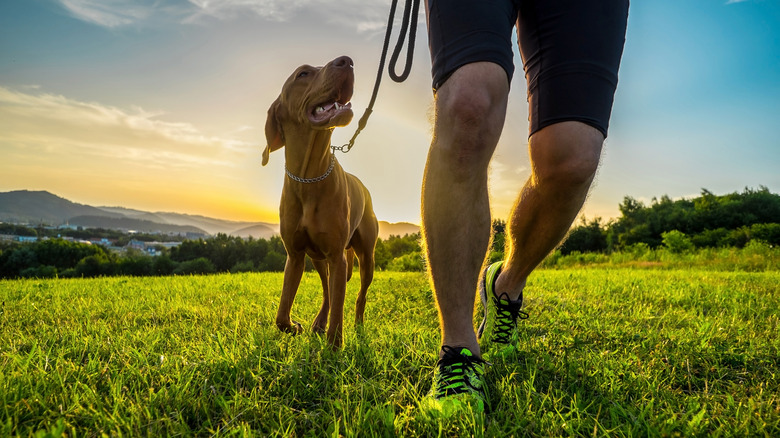 Andrey Yurlov/Shutterstock
Come rain or shine, if you've got a dog you'll know that you've got to go "walkies." Even on those cold winter mornings when you'd much rather have an extra hour or two in bed (perhaps to meet dogs in your dreams), you go out of the front door with your four-legged friend and explore the neighborhood, getting them some much-needed exercise.
While we take our dogs on walks for their benefit first and foremost, it's actually a win-win for everyone involved, as walking the dog can help you too — pets actually affect our bodies in some surprising ways. Whether you're taking your new puppy around the block for the first time or going on a good long walk with your furry friend, your health will certainly benefit. Sure, taking the dog for a walk might not always sound extremely appealing, but you get to exercise brain and body and spend some quality time with your pet too — here's why walking your dog is great for your brain health in particular.  
Getting exercise and spending time with dogs are both mood-boosters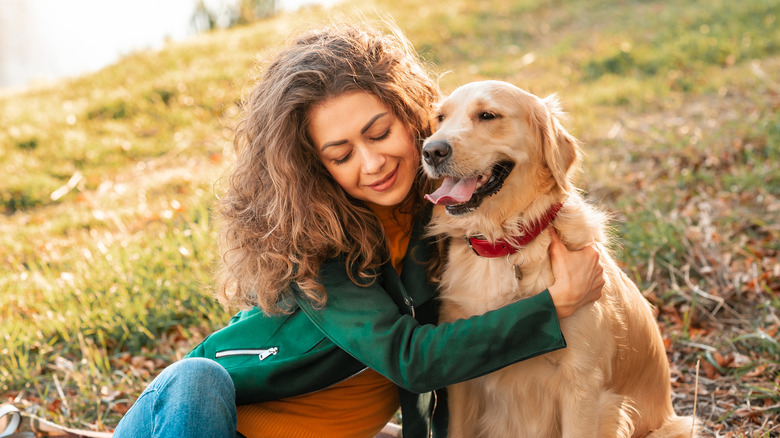 trofalenaRV/Shutterstock
Walking with your dog will improve your physical fitness — that's obvious, as walking every day is great for you — but can improve your mental health too. Often called "man's best friend" for a reason, dogs are often used as therapy, service, or emotional support animals, and walking a dog or even just spending time with one can improve your mood, and reduce symptoms of anxiety, stress, and depression (via HelpGuide). Of course, if you've ever played catch or fetch with a dog and witnessed their boundless energy, this won't be at all surprising.
Not only that, but sometimes it can be difficult to go outside. People living with mental health issues like depression and anxiety can find leaving the house difficult, but having a dog gives you a reason to go outside besides yourself. Take care of something else, and you can often find yourself taking better care of yourself too. According to Bupa, added potential benefits of dog walking include the social aspect — you can get to know other dog owners who walk their pooches in the same area — and being in nature, which can help you practice mindfulness.