The FDA Has Good News About The Pfizer COVID-19 Vaccine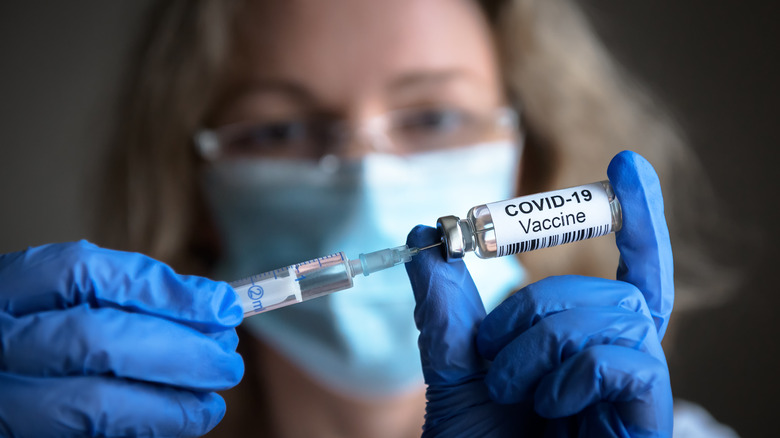 Viacheslav Lopatin/Shutterstock
The COVID-19 vaccination drive is well underway, and the Food and Drug Administration (FDA) has got some news about the Pfizer vaccine. According to CNN correspondent Omar Jimenez on Twitter, the Pfizer/BioNTech vaccine for people aged 16 and above is the first COVID-19 vaccine to be fully approved by the federal agency, and the decision should open the door to more vaccine mandates, while it'll be marketed as Comirnaty.
The vaccine will stay available for emergency use authorization, including for those aged from 12 to 15, and "for the administration of a third dose in certain immunocompromised individuals," according to an official FDA press release. The vaccine has been available under emergency use authorization in people aged 16 and over since December 2020, before those aged 12 and above were included. When something like the vaccine is under emergency use authorization, it can be used by the FDA during public health emergencies to help with preventing, diagnosing, or treating a disease, as long as the FDA feels that the benefits of use outweigh the risks. 
The vaccine meets the FDA's requirements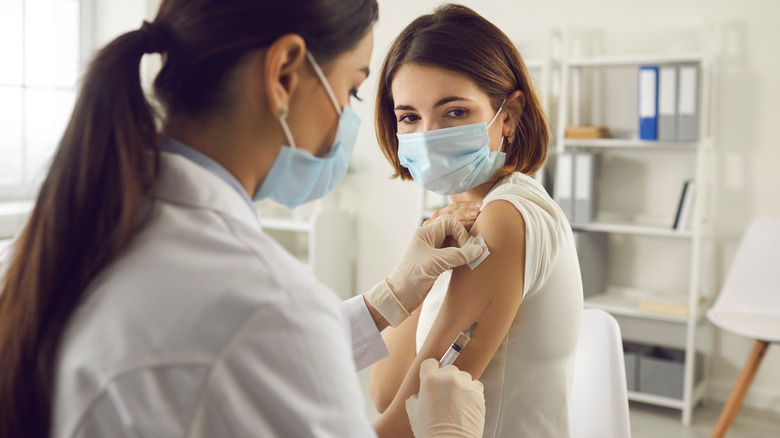 Studio Romantic/Shutterstock
In a press release, acting Food and Drug Administration Commissioner Janet Woodcock, M.D. said that the approval of the Pfizer vaccine is a "milestone" in the fight against COVID-19, and will stand as a testament to the vaccine's efficiency and importance in our public health fight. "While this and other vaccines have met the FDA's rigorous, scientific standards for emergency use authorization, as the first FDA-approved COVID-19 vaccine, the public can be very confident that this vaccine meets the high standards for safety, effectiveness, and manufacturing quality the FDA requires of an approved product," Woodcock stated. She went on to say that while many people have received the Pfizer vaccine, vaccine hesitancy is still extremely prevalent. Her hope is that the FDA stamp of approval will help those with doubts gain "additional confidence to get vaccinated." "Today's milestone puts us one step closer to altering the course of this pandemic in the U.S.," she said. 
For a vaccine to become approved by the FDA, it undergoes processes in which the quality, safety, and effectiveness are reviewed. The FDA evaluates data as set out in the vaccine manufacturer's biologics license application, to make sure that it meets their standards — clearly, the Pfizer/BioNTech vaccine has now been judged to be safe. Make sure you don't lose your vaccine card!