Donald Trump's Vaccine Endorsement Gets A Surprising Response From Supporters
Chip Somodevilla/Getty Images
If there is one thing we're guessing that former president Donald Trump isn't used to hearing, it's a sign of disapproval from crowds that gather to hear him speak at a MAGA rally. This is why we're guessing that he might have been taken aback by the reaction he got when he told his supporters in Alabama that it might be time to protect themselves against COVID-19 by taking a shot. 
"I believe totally in your freedoms, I do, you gotta do what you gotta do, but I recommend take the vaccines. I did it. It's good," he said, drawing loud boos from the crowd. 
From there, he decided to change tack by acknowledging that the crowd's "freedoms" were paramount. "That's okay, that's alright. But I happen to take the vaccine. If it doesn't work, you'll be the first to know. But it is working. You do have your freedoms, you have to maintain that," he said (via Newsweek).
Alabama is struggling with low vaccination rates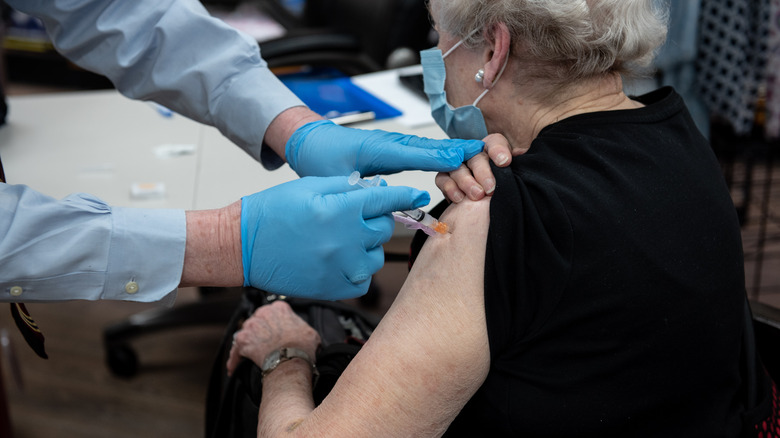 Bloomberg/Getty Images
To have even Donald Trump's pro-vaccine message fall on deaf ears in Alabama shouldn't be surprising, because the state has the lowest number of fully vaccinated people — only 36% have received both shots in arms, while 46% have received at least one shot. The state's public health department has said that 21,000 cases were reported across the state in the past week alone, and that no more intensive care hospital beds were available (via USA Today). 
WBRC reported that there are a number of reasons why people have chosen to remain unvaccinated in the state, and these include misinformation and personal politics. A few also said they want to see vaccines cleared for use by the FDA before they step up to take a shot (via WBRC). This could mean vaccination rates could go up after the FDA officially cleared the Pfizer vaccine for use. 
Twitter had thoughts about the crowd's reaction to Trump's suggestion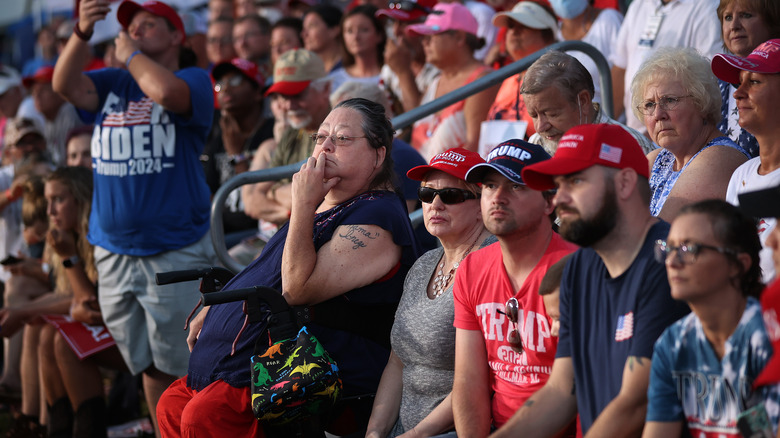 Chip Somodevilla/Getty Images
Social media helpfully offered up their thoughts (and emojis) over the news that Donald Trump had gotten booed in Alabama. USA Today's opinion columnist Michael J. Stern tweeted, "Trump suggested at his rally that the vaccine is good. Trump got booed. He created a monster. Now he cannot control it."
Others, like Keith Olbermann, were far less introspective. Olbermann said, "LOL Trump told his slime to get vaccinated and they booed him."
Reporter Hugo Lowell pointed out that the booing showed the relationship between the former president and those that voted for him. "Trump was booed at his own rally in Alabama last night for telling people to get the vaccine — demonstrating the effect of repeated lies from Fox News but also how Trump really is led more by his supporters."
Lowell echoed the thoughts of conservative American commentator Bill Kristol who somberly pointed out that, "In the face of boos, Trump quickly backs off urging vaccination: 'That's all right. You got your freedoms. But I happened to take the vaccine.' This is the mainstream GOP — not quite embracing anti-vaxx lunacy, but not willing to speak truth to their followers. Even to save lives."