Kate Middleton And Prince William Once Broke Up In The Most Relatable Way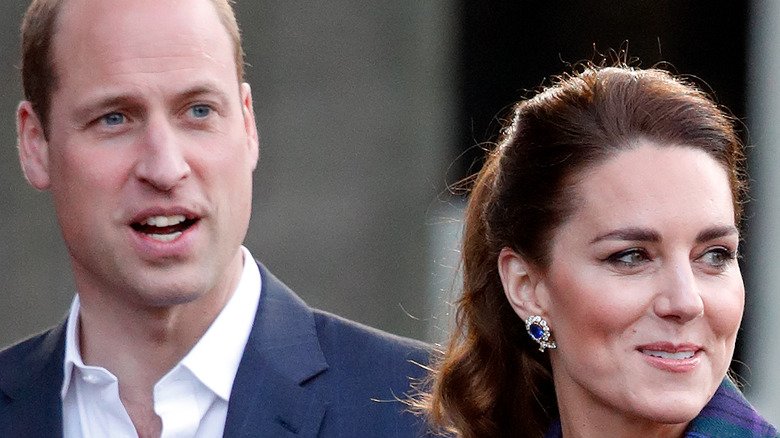 Max Mumby/indigo/Getty Images
Prince William and Kate Middleton celebrated their 10th wedding anniversary in 2021, and the couple appears to be stronger than ever (via Daily Star). The Duke and Duchess of Cambridge walked down the aisle in 2011, and now share three children together, Prince George, Princess Charlotte, and Prince Louis. In celebration of their milestone anniversary, the couple shared some sweet portraits of themselves with the public, and an expert revealed that the photos offered telling details into their relationship. Body language expert Judi James analyzed William and Kate's old photos and compared them to their most recent snapshots, per The Mirror.
"The couple in the most recent photos are people you'd want in your social bubble, popping in for drinks around the BBQ. Happy and incredibly relaxed together, they look like they'd be the best fun. Some couples grow apart during a decade of marriage but William and Kate's body language suggests they have grown closer and learned to enjoy life openly and with confidence," James explained. "The biggest change is in William who seems to have stepped off his royal pedestal to smile in what looks like relief (and even disbelief) that he chose so well and is now sharing his life and his royal destiny with a perfect match for both himself and his country," she added.
However, things weren't always so easy for William and Kate. In fact, they went through a rough patch early on in their romance.
William and Kate broke up over the phone early in their relationship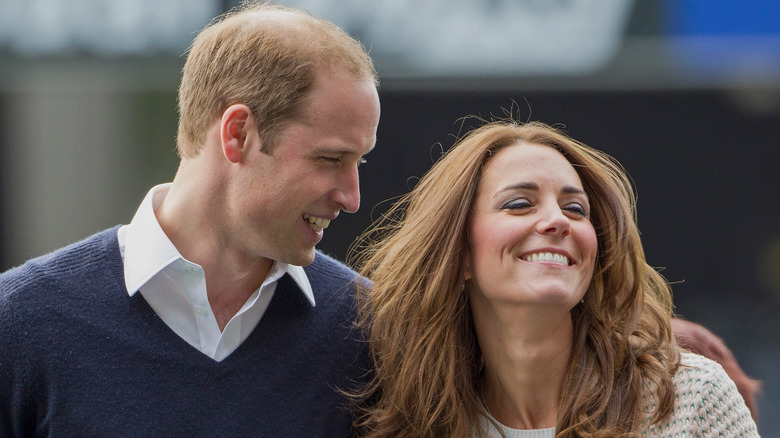 Pool/Getty Images
Prince William and Kate Middleton met when they were students at St. Andrews University in Scotland. Following their graduation in 2005, William headed to the military and Kate took a job as an accessories buyer at Jigsaw, per The Mirror. However, just two years later, the couple's relationship went through a rocky period that led to a surprising breakup. One of Kate's former co-workers revealed that the Duke and Duchess of Cambridge once had a heated phone call during work hours.
"Around the middle of the day, she was pacing the car park outside the office on her mobile," the insider said. "A few people noticed because it's a pretty unusual thing to do. She'd deliberately gone outside to take the call because she didn't want to be overheard. Kate was walking up and down and looking upset as if she was having an argument. But she didn't cry. Word went round that it was William and they were having problems," the source explained. After Kate was finished with the phone call, she reportedly took the rest of the day off. "We didn't think anything about it at the time. But looking back, the call was definitely a girlfriend-boyfriend tiff," said the insider.
Royal author Robert Lacey wrote about the incident in his book "Battle of Brothers," where he claimed the breakup lasted about ten weeks before William realized that he missed Kate and her family. Of course, the rest is history.