What Tyra Banks Really Looks Like Underneath All That Makeup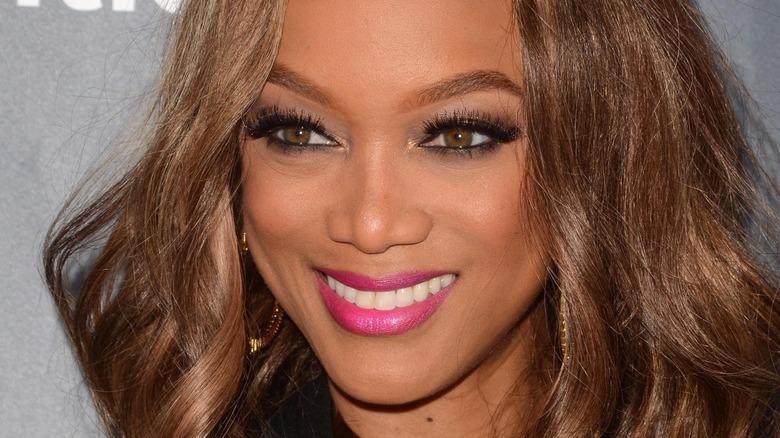 Kathy Hutchins/Shutterstock
Perhaps one of the greatest models to date, Tyra Banks is known for many things: creating "America's Next Top Model," being the host of "Dancing with the Stars," and her fabulous face of makeup (via the Daily Mail).
There's nothing wrong with wearing a bit or a lot of makeup — who's to judge? But sometimes, it's nice to see a famous celebrity, especially one with a lot of influence in the beauty scene, show their natural face. So, we bet it was shocking to see Banks' no-makeup selfie on Instagram.
For those who haven't seen it, the iconic model posted a selfie wearing a bare face, natural hair, and wide eyes, per E! News. And, let's just say it: she looked gorgeous! As for why the model suddenly decided to bear it all? In the comment under the post, she wrote, "You know how people say #nofilter but you know there's a freakin' filter on their pic? Or maybe there's a smidge of retouching going on but they're lying and saying it's all raw & real?" Banks wrote. "Well, this morn, I decided to give you a taste of the really real me."
We're loving the real you, Tyra!
Tyra Banks had her own beauty website
Tyra Banks has both beauty and brains! After going to Harvard Business School, Banks started her own beauty line titled, "Beautytainer" per The Cut. The line, which sold everything from eyeshadow packets to contour kits, first began opening its door in 2014, InStyle reported. The brand also included makeup tutorial videos, instructed by hers truly, Banks. Essentially, her line promised natural beauty, per E! News. And, though her brand has ceased its operations, that promise still reigns true.
Look at Banks' bare-it-all selfie for example! Even supermodels like Banks still get nervous showing their acne scar, hyperpigmentation, texture, and more. "I wanted to smooth out my dark circles so badly!!!" she wrote under the bare selfie post. "But I was like, 'Naw, Ty. Show 'em the REAL you.' So ... here I am. Raw. And there YOU are...looking at me, studying this picture. Maybe you're thinking, 'Whoa, she looks ROUGH.' And if you are, great! You deserve to see the REAL me. The REALLY real me. #RawAndReal."
And real, she definitely is.