Reggie Bush Has A New Wendy's Commercial And The Internet Loves It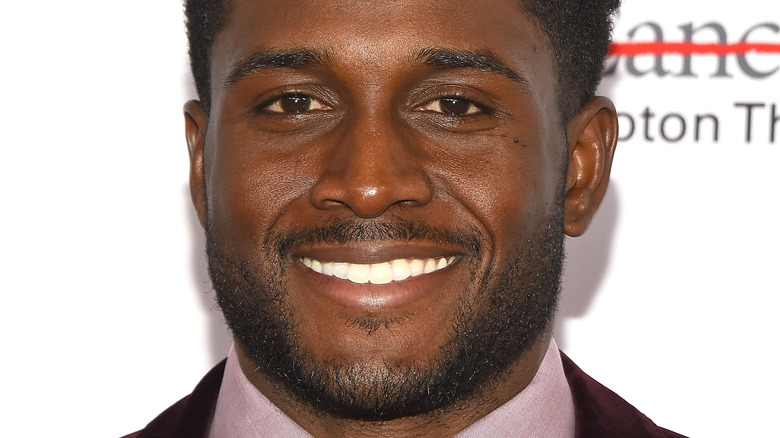 Araya Doheny/Getty Images
Reggie Bush is back in the headlines. The former NFL player was a breakout college star at USC and ex-boyfriend of reality star Kim Kardashian (via Pop Culture). Now, he's killing it with his brand new commercial (via YouTube) for fast food giant Wendys. Bush's latest project includes endorsing Wendy's breakfast, which has been successful for the chain, per Fansided. In the commercial, it's revealed that Bush is a super fan of Wendy's breakfast, as viewers can see him tailgating in the parking lot, wearing Wendy's gear, and cheering on the employees at his local restaurant.
"Reggie Bush used to eat breakfast somewhere else, but then he tried Wendy's breakfast," the ad states as Bush is seen getting overly excited about the food items. "It's always bacon season over here," the athlete is seen shouting from the back of a red pickup truck as he rocks a gray Wendy's hoodie and a pair of coordinating sweatpants. At one point, Bush even runs up to a Wendy's employee and asks for an autograph on his takeout bag. "Don't sell that online," the worker tells Bush after signing it.
The commercial then cuts to closeups of their breakfast croissants before Reggie hilariously stands in front of a Wendy's sign as he holds the sandwiches and wears a large smile on his face. Now, after seeing the commercial run on television, fans have something to say about the ad.
Reggie Bush fans are loving his new Wendy's breakfast commercial
It appears that fans were thrilled to see Reggie Bush back on their television screens in his new Wendy's breakfast commercial. The former NFL player brought the laughs with the ad, and fans weren't shy about sharing their thoughts on the TV spot on social media. Although there were a couple of online haters, the majority of people appeared to love the commercial and thought it was funny and entertaining.
"The new @Wendys commercial with @ReggieBush is hilarious ... 'Don't sell that online,'" one Twitter user wrote, adding crying laughing emoji for emphasis. "I just saw the @Wendys breakfast commercial featuring @ReggieBush and laughed my a** off. I will be having a Baconator tonight!" another person tweeted. "@ReggieBush @Wendys not enough people are talking about how great that commercial is. Currently my favorite," another Twitter user commented. "I love the @Wendys commercial with @ReggieBush. It's too funny to me. Also, he's my all time favorite football player ever," tweeted a fan.
It appears that the masses approve of Bush's latest endorsement deal. It may not be football-related, but it seems to be giving his fans a good chuckle.