How To Style Your Bangs When You Have A Cowlick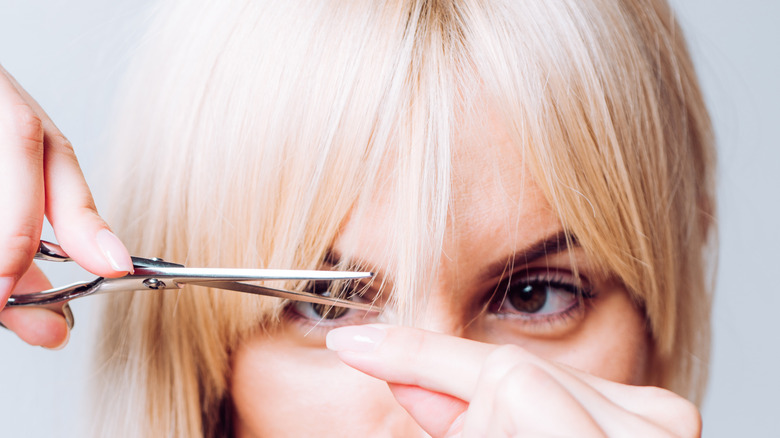 Volodymyr TVERDOKHLIB/Shutterstock
Bangs are a dream or a nightmare, depending on whether you've cut the hair yourself or you've allowed a professional to manage the process for you. We vote to let your hairstylist cut your chic curtain bangs (speaking from experience) as you want to enjoy your gorgeous look, not feel like you need to wait six to eight months before you can leave the house again. Once you've gotten the fringe you've been yearning for, you'll need to master the art of styling them properly. This is a daring feat for anyone, but it becomes even more complicated when you have a cowlick.
Bangs are one of the recommended hairstyles for people with a cowlick, since baby bangs and heavy fringes help incorporate the unruly patch of hair into the carefully styled fold. Bear in mind these important tips when you're drying and styling your bangs to ensure you're achieving this properly, and you'll be feeling like fringe queen Dakota Johnson in no time.
Use these simple steps to style your bangs when you have a cowlick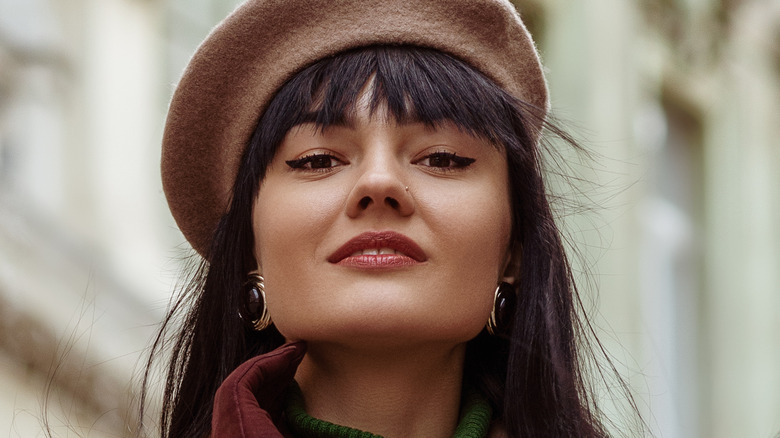 Victoria Chudinova/Shutterstock
According to hairstylist Halli Bivona, it's easiest to style your bangs when they're wet. "Start by wetting your bangs. If you don't have a cowlick, they should be between 60% to 80% wet, and if you do, between 90% to 100% wet" (per Byrdie). If you're taking the time to dry your bangs, Bivona recommends using the blow dryer nozzle to direct the flow of air. Point the dryer downward on a medium to low setting and keep the nozzle up against your hair. This keeps the bangs in the correct shape and prevents the cowlick from taking over (per Hairstyle Camp).
Next, apply a light spritz of hairspray to your bangs and concentrate on the area where the cowlick occurs. You don't want to oversaturate the hair, and it's best to avoid oil-based products, according to Bivona. Use a few duckbill clips to hold the hair in place once the hairspray has been applied, as this helps keep the shape of your bangs intact and encourages the cowlick to follow suit. Leave the clips in while you do your makeup and finish getting ready, then remove them right before you head out the door.