What Britney Spears Really Looks Like Under All That Makeup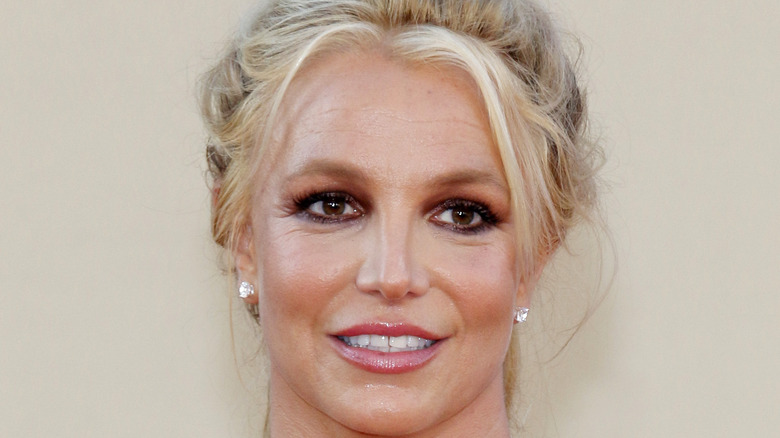 Tinseltown/Shutterstock
The world has been seeing Britney Spears in makeup ever since she was a tween appearing on "The All-New Mickey Mouse Club," a gig she landed when she was just 11 years old. That was the same year the young girl got all glammed up to appear on the talent competition series "Star Search." By 1998, Spears was a bona fide pop star with professional hair and makeup done for public appearances (via Biography).
With her signature long, blonde locks and impeccably made up face, Spears appeared flawless as a teen and when she's stepped out to perform or attend a celebrity event in recent years as a grown woman in her 30s, she also looks flawless. However, photographers have forever been following Spears and have frequently caught her in non-makeup moments. Spears herself has shared snaps of her face sans all those cosmetics, revealing a radiancy underneath where you can see her true self.
The beauty routine that keeps Britney Spears looking so amazing
Believe it or not, Britney Spears is not a big fan of makeup in her everyday life. Perhaps it's because she's been getting her face ready for public appearances since she was a child, but she told Vogue that makeup is not often her thing.
"Less is more. I don't really like a lot of makeup. I have to do that for my show, for presentation, but in my day-to-day life I'm a T-shirt kind of girl," Spears said. "Because I have to wear so much makeup in the shows, when I'm off I wear mascara and that's it. Too Faced's Better Than Sex is my favorite."
However, she seems to have her skincare routine down to a science, with one product to keep things fresh after a good workout session. "I like toners. I'm all about a good astringent toner before I put my moisturizer on. I can't just put moisturizer on — I have breakouts because I work out," Spears told Vogue. "I don't actually get zits or acne, I just get these red marks where it's, like, about to break out and it shows up like a rash on the side of my face. So I like for it to feel like zingy clean with astringent ... I usually use Elizabeth Arden astringent, or I use Neutrogena ... I use a couple of different astringents actually. And I love to play with products too."
Looks like the star — who is fighting for her legal freedom — has her skin down to an art.