Ways To Make Broccoli Less Terrible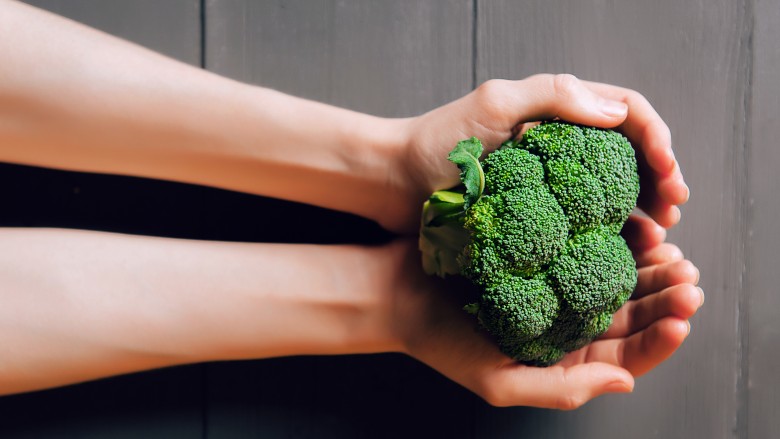 Shutterstock
Personally, I think broccoli is delicious — it's one of my all-time favorite vegetables. But broccoli has a long line of haters dedicated to their dislike of the veggie, not the least of whom is former President George H.W. Bush, who even at 92-years-old, publicly eschewed the green cruciferous plant in 2016.
The truth is, all those little green nubs can get caught in your teeth, and if you're not a big fan of veggies to begin with, raw broccoli can be hard to take. But that doesn't mean you shouldn't eat it. Broccoli is packed with vitamins and minerals (particularly vitamins C and K), it's a good source of fiber and folate, and a cup of raw broccoli even offers up four percent of your daily calcium allotment. In other words, it's worth learning to like.
And as is true of almost all veggies, one of the easiest paths to eating more of them is to "hide" the flavor by combining them with other foods. If you're looking for a way to amp up your broccoli intake, consider trying one of these nine delicious recipes. Even the broccoli haters will have a hard time hating it now.
Broccoli, ham, and cheese pastries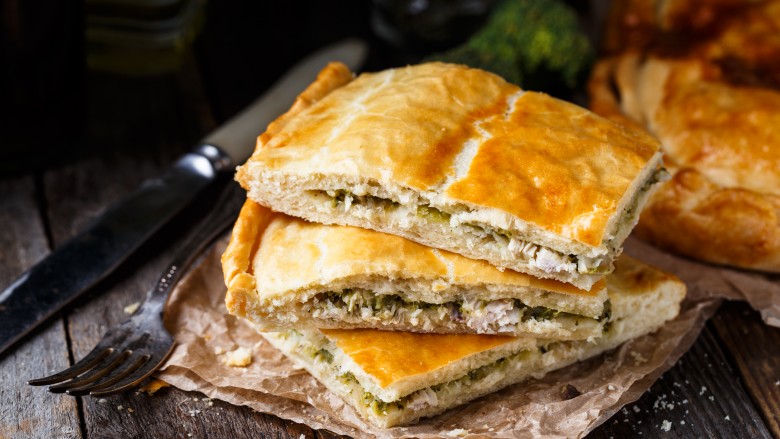 Shutterstock
Skip the preservative-laden Hot Pockets sold in the freezer section at the grocery store and make your own hand-held pastry pies inspired by this recipe on Cacique.
All you have to do is take a pre-made pie crust, cut it into quarters, then fill two of the sections with ham, cheese, chopped broccoli, and fresh herbs. Seal the filled sections with the remaining pastry, brush the sealed sandwiches with egg wash, then pop them into the pre-heated oven for about 12 minutes. Just like that, you've got a tasty, hot sandwich you can make ahead to enjoy for your mid-week lunches.
Granted, there's not a whole lot of broccoli in each sandwich, so you won't get credit for a full serving of veggies, but it's a step in the right direction. And the best part about this recipe is you can switch out the cheeses and meats, add other vegetables, and just generally get creative. Shoot, over time, you could skip the meat altogether and double up the broccoli. All-in-all, it's a good way to ease into your broccoli habit.
Broccoli and cheese stuffed chicken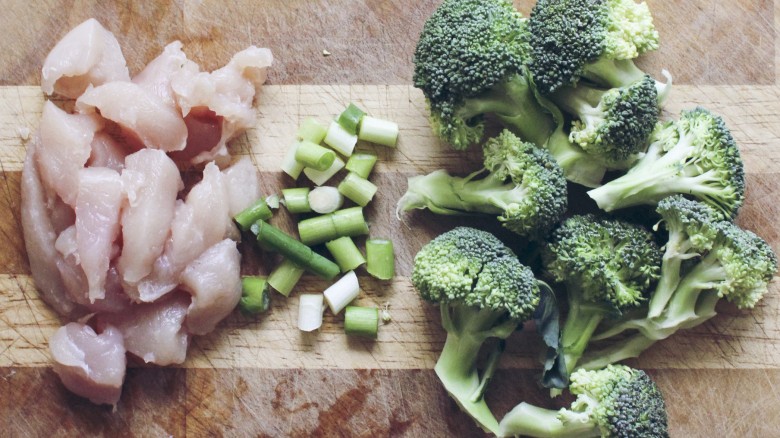 Shutterstock
This broccoli and cheese stuffed chicken recipe is a bit like the broccoli and cheese pastry idea, but it uses chicken as the wrap to hold the cheese and broccoli inside.
In addition to ditching the refined carbs found in the pastry, this method could be considered "phase two" of your broccoli eating program, as it allows for a larger serving of broccoli and a smaller number of competing flavors. It's a great choice as a relatively easy weeknight dinner idea, especially when served alongside a hearty salad.
Beef and broccoli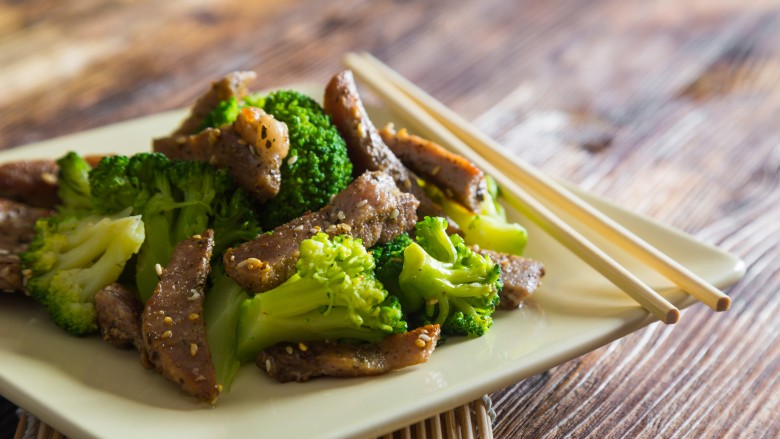 Shutterstock
Beef and broccoli is a classic way to enjoy the cooked green cruciferous veggie. Of course, you can order delivery from your favorite Chinese restaurant, or you can whip up a batch of your own at home.
This recipe from Savory Tooth takes less than 30 minutes to make and it tastes every bit as good as takeout. The sauce, which combines soy sauce, brown sugar, beef stock, and cornstarch, all but hides the slightly bitter flavor of the broccoli. And when paired with beef and rice, the knowledge that you're getting your veggies is overshadowed by the meal's delicious flavor.
Vegan Korean fried broccoli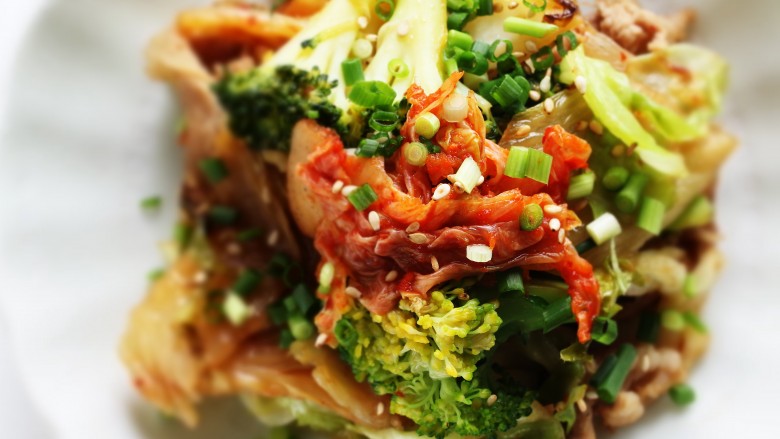 Shutterstock
Deep-fried anything is delicious, right? The theory certainly holds true for this vegan Korean fried broccoli recipe from Rabbit and Wolves.
After dipping broccoli florets in a spicy vegan-buttermilk batter, then coating them with panko crumbs (bonus points if you use whole wheat panko), you pan fry the florets for a few minutes before drizzling them with a spicy-sweet homemade sauce. Seriously, it's good enough to be a main course, no meat required!
Roasted broccoli bites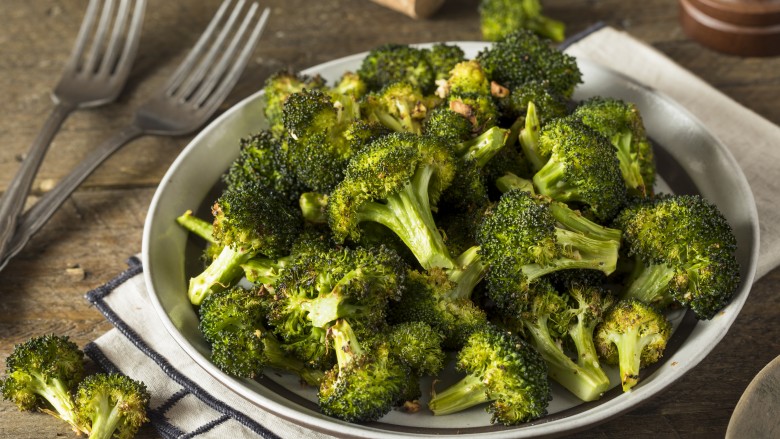 Shutterstock
Roasted broccoli may look like raw broccoli that's been slightly charred, but you're going to have to trust me here — it's delicious. You can make a couple heads of the stuff in about 30 minutes, using nothing more than a little bit of oil and the seasonings of your choice.
Fresh out of the oven, it's the perfect, healthy hot snack — just pop the pieces straight into your mouth. Or if you'd prefer, drizzle a plate with ranch dressing and almond slivers and enjoy as a warm, pre-dinner salad.
Broccoli crust pizza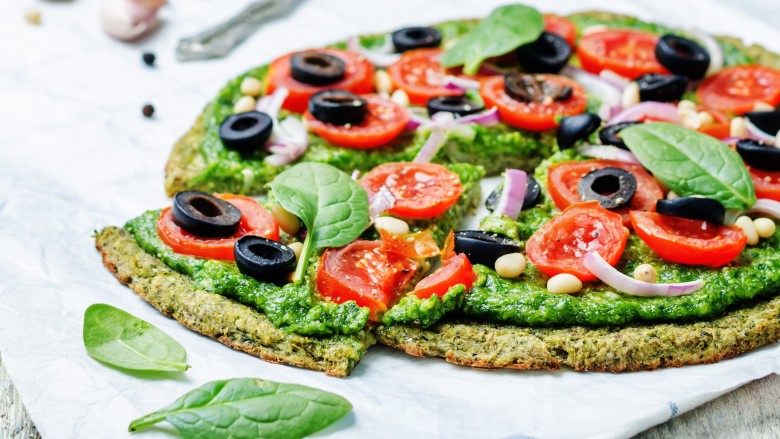 Shutterstock
If you're trying to revamp your eating habits and cut down on refined carbs without completely giving up your favorite foods, check out this recipe for broccoli crust pizza. Yes, it's exactly what it says it is — pizza crust made from broccoli.
The recipe uses riced broccoli, eggs, cheese, and seasonings to make the crust and once the crust is baked, you simply layer it with your favorite toppings and bake again, just as you would with a pre-made crust from the store. In addition to being a gluten-free choice for individuals with gluten allergies or sensitivities, it's also just a really cool way to sneak more veggies into your diet.
One quick caveat, though: don't expect a pizza crust made from broccoli to taste like a crust made from bread. This doesn't mean the crust will taste bad, necessarily, it just means it'll taste different. Try to appreciate the crust for what it is, rather than what it isn't.
Broccoli and cheddar twice baked potatoes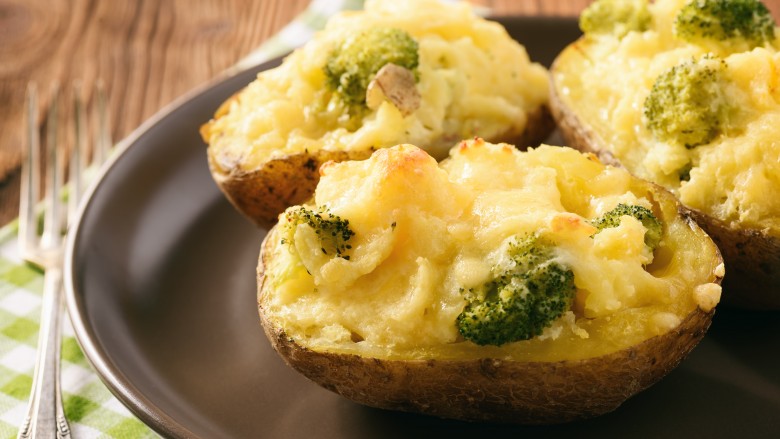 Shutterstock
When you want to up your baked potato game, look no further than these broccoli and cheddar twice baked potatoes from Baker by Nature. Each potato half contains just under a quarter cup of cooked broccoli, so if you eat two halves (the equivalent of a full potato), you'll rack up a little less than a full serving of broccoli. And chances are, you won't even notice the flavor.
The beauty of these twice baked potatoes is that they feature a crispy outer shell, and a creamy, cheesy filling that ticks all the boxes for comfort food. They do take a little while to make — almost two hours — but you can prep them on the weekend and store them in the fridge during the week. When you want to eat one, just pop it in the oven for 20 to 25 minutes and just like that, you've got an easy, delicious dinner.
Broccoli cheese soup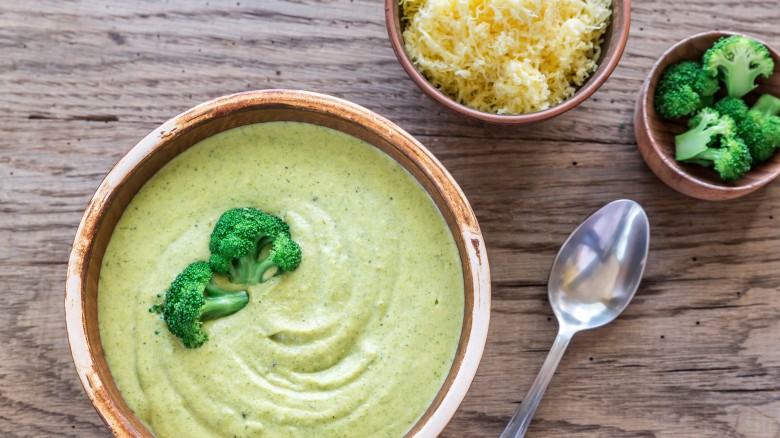 Shutterstock
Speaking of comfort food, how can you possibly go wrong with the warm, creamy goodness of broccoli cheese soup? Granted, eating green-colored soup might be off-putting to some people, but if you can overlook the soup's hue, it's hard to hate the flavor.
This "Panera copycat" recipe from Diethood includes a full bag of frozen broccoli florets, an onion, and three large carrots, so its veggie content is solid. But chances are you'll hardly notice, what with the cheddar cheese, milk, and spices used to give the soup its creamy flavor. Pair with half a slice of crusty bread for the perfect, easy lunch.
Broccoli quiche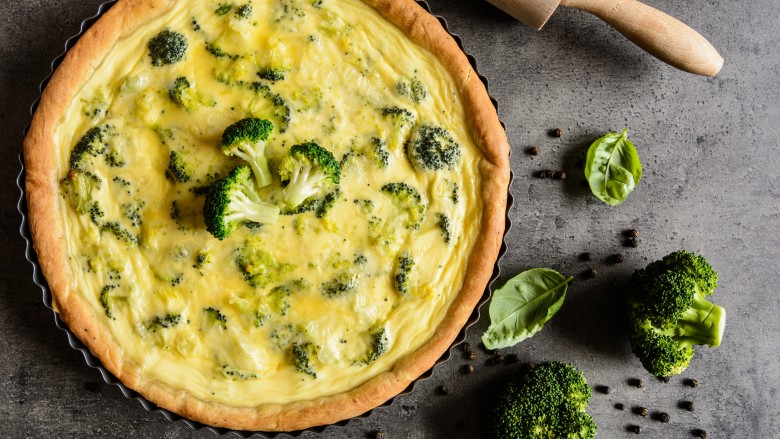 Shutterstock
My brother-in-law is from Israel, and he's always appalled at the lack of vegetables in the traditional American breakfast. In Israel (and in his house), breakfast is always packed with cucumbers, tomatoes, potatoes, avocado, onions, and even eggplant.
While broccoli doesn't make a frequent appearance, there's no reason it shouldn't, especially when recipes like this low-calorie broccoli quiche from Foodie Fiasco are so easy to make ahead. All you need is cheese, broccoli, egg whites, salt and pepper, and about an hour to prep and bake the dish. The result is a perfect, 65-calorie, portable breakfast you can grab from the fridge, heat in the microwave, and eat on-the-go.
Adding broccoli to your diet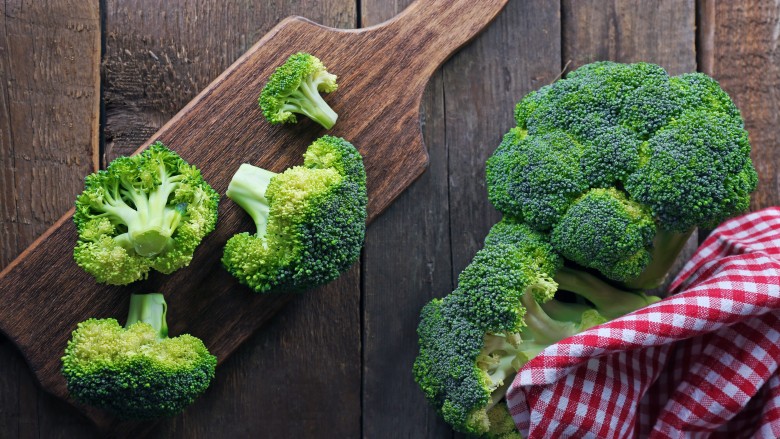 Shutterstock
Just because you don't like raw broccoli doesn't mean you shouldn't seek out other ways to incorporate it into your diet. The combination of its low-calorie but nutrient-dense profile make it an excellent choice for anyone who wants to lose or maintain weight while maximizing overall nutrition.
So go ahead and chop some up and throw it in a soup, a stir fry, or a hot sandwich. It may take a couple tries, but you may discover broccoli doesn't taste as bad as you think it does when you combine it with other flavors.