Here's How Many Grandchildren Dr. Ruth Has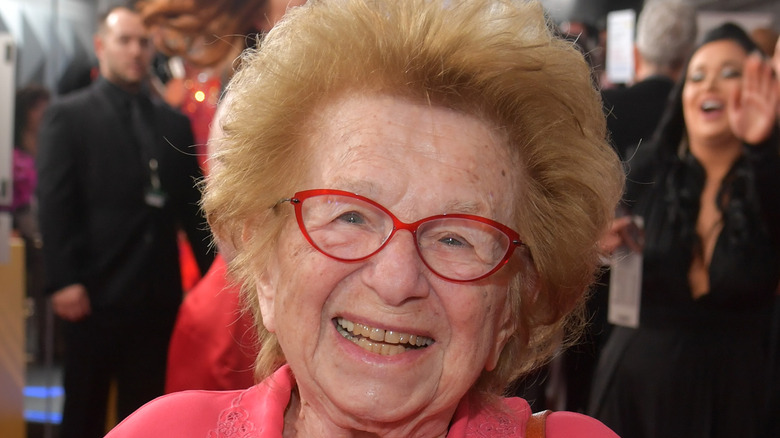 Lester Cohen/Getty Images
In the 1980s, Dr. Ruth Westheimer burst onto the television and radio scene as a pint-sized, German-accented sex therapist tackling topics that seemed taboo at the time as she brought frank talk about sex into the mainstream. Known just as Dr. Ruth, she started on a local New York radio show in the 1970s, but her WYNY weekly broadcast became so popular that by 1983 her show "Sexually Speaking" had more than 250,000 listeners. Dr. Ruth was on her way to superstardom when her little show became nationally syndicated.
Dr. Ruth was born Karola Ruth Siegel on June 4, 1928, in Germany to an orthodox Jewish family, but the perils of World War II sent her to a Swiss boarding school, and she never saw her family again. Biography reports that Dr. Ruth has since said she believes her family perished at the Auschwitz concentration camp, but her lack of familial support didn't stop her. 
She eventually emigrated to Israel and watched it become its own nation-state before finding her way to the United States, where she worked for Planned Parenthood in the 1960s and eventually became a sex education teacher for the City University of New York's Lehman College and Brooklyn College. 
Her life wasn't all work, however. Dr. Ruth also married and raised a family, which turned her into an "omi," a German word often used for "grandma." Here's how many grandchildren Dr. Ruth has.
Dr. Ruth was a single mom before she found true love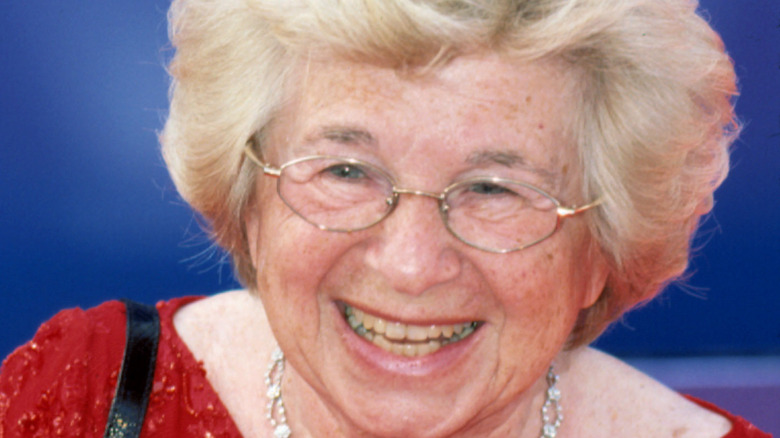 Everett Collection/Shutterstock
Always a little ahead of her time, Dr. Ruth Westheimer was a single mom before it was acceptable in society and wrote about it for Moment Mag. "In the winter of 1960, my friends and I pooled some money together for a ski trip to the Catskills," she wrote. "I was already a mother — a single mother when it was not so popular as now. I had been married twice already, and had my little girl, Miriam, with my second husband whom I had divorced shortly before the trip. She was about two years old at the time and I sent her to stay with friends for the weekend."
That's when she met her third husband, Fred Westheimer. She said it wasn't love at first sight as she doesn't believe in such things. But, a year later, she became Dr. Ruth Westheimer when she married Fred and had one more child, son Joel. Fred even adopted Miriam, and they raised a family together. Sadly, Fred died in 1997, but their two children gave her four grandchildren.
Dr. Ruth talks all about being a grandmother in a book on the topic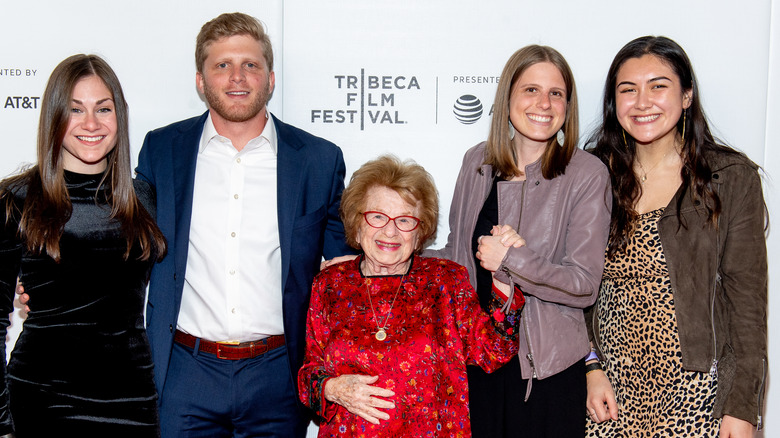 Roy Rochlin/Getty Images
In 2000, Dr. Ruth published the book "Grandparenthood" and discussed her life as a grandmother, telling The Baltimore Sun about why the book was so personal to her. "I wanted in this one to make it clear why this [being a grandparent] is so important to me," she said. "It is like setting a gravestone for my parents and grandparents, who don't have one. I wanted to give my inimitable advice in a fun way, which I usually try to do, as well as in a serious way."
Two decades later, Dr. Ruth reflected on her past in Europe during World War II and shared the thoughts that come to mind when she sees her four grandchildren: three granddaughters and one grandson. "When I look at [my grandchildren], having been an orphan of the Holocaust, I know that Hitler and the Nazis are dead, and my grandchildren are thriving," she told From The Grapevine.