What Jennifer Aniston Really Looks Like Under All That Makeup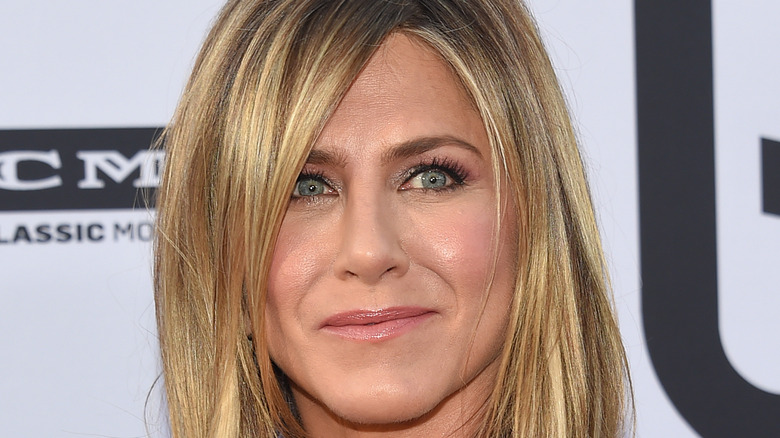 DFree/Shutterstock
In the 1990s, it seemed like everyone wanted to look like Jennifer Aniston. Her shag hairstyle — known to many at "The Rachel" — was all the rage after "Friends" first premiered in 1994, as it was the epitome of easy, chic, and casual. It's even getting a 2021 update (via Vogue). Eventually, Aniston also became the epitome of glamour, growing her layered locks out, adding blonde highlights, and wearing makeup so perfectly applied it doesn't even look like she is wearing any.
As Aniston's career took her from sitcom star to movie star, she'd step out on the red carpet in gowns most women could only dream of, looking impeccable in every photo with a sunkissed glow, but that doesn't mean Aniston wears makeup every moment of the day. Like many women, she also likes to go natural and will sometimes even share photos of herself sans makeup on social media so her natural beauty can shine through. 
In fact, her most recent makeup-free photo on social media invokes "Friends," as she wears a cap claiming, "We were SO not on a break." And if you were a "Friends" fan, you know all about the big break debate between Rachel and Ross (via Refinery 29). Regardless, here's what Jennifer Aniston looks like without makeup.
How Jennifer Aniston keeps herself looking fantastic every day
In 2020, Jennifer Aniston channeled her knowledge of beauty and health to become the chief creative officer of Vital Proteins, a wellness brand offering collagen-based products for skin, hair, nails, and even exercise recovery, according to Byrdie. Aniston told the outlet that she makes smoothies with the products and also drinks their strawberry-flavored collagen water.
Aniston believes in a whole body wellness plan and admits she became addicted to Pilates when suffering from an injury. "I started doing pilates last fall because I had a terrible back injury. I ended up falling in love with it," she told Byrdie. "The great thing is, it's like dance, meditation, and an ab workout in one. Let's not forget about the dreaded plank. I'll do it but I don't love it."
She's also a fan of intermittent fasting and loves dragging former "Friends" co-star Courteney Cox with her to the gym so they can sit in the sauna together. Aniston is also a strong proponent of emotional health and takes it seriously daily.
"Be thankful to wake up. Be grateful for your health. Overall, I remember to practice gratitude. I journal in the morning, and I write gratitude lists," she told Byrdie. "After getting through this past year and watching the unfortunate things people endured, it's important to remind ourselves how fortunate we are. Even the little things in life — like seeing the sunset and rise reminds me to be grateful."